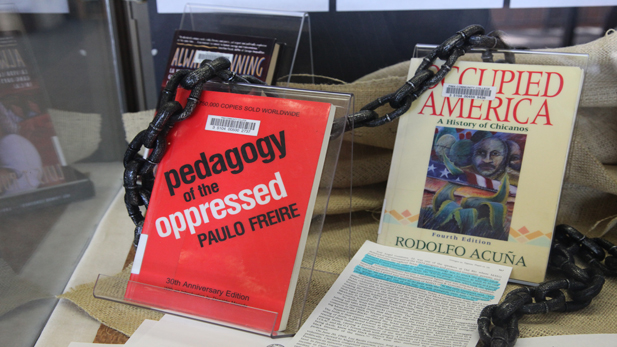 Display at the University of Arizona Library of books used in the Mexican American Studies classes. (File photo, 2010) (PHOTO: Mark Duggan )
Latino literature organization Nuestra Palabra is traveling from Houston to Tucson bringing what group members say are books banned in the Tucson Unified School District.
District officials deny that books have been banned, saying they remain in school libraries although they were taken from classrooms after the state ruled TUSD's Mexican American Studies classes were illegal.
When Arizona Superintendent of Public Instruction John Huppenthal ruled the TUSD Mexican American Studies classes violated state law, he required TUSD to take the teaching materials out of the classrooms.
TUSD spokeswoman Cara Rene says those materials include the seven books in question. They were taken off classroom shelves and were initially stored in a warehouse, she says. Libraries from 11 schools requested the books, and Rene says there are now 112 copies of the books throughout the district.
This week, Nuestra Palabra, which bills itself as "Latino writers having their say," organized a caravan that, according to its website, will "smuggle banned books back into Arizona."
Nuestra Palabra's "librotraficante", or book-trafficking caravan, left Houston Monday and is expected to arrive in Tucson Friday afternoon.