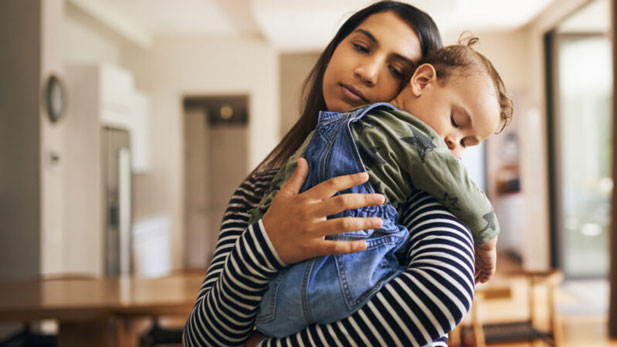 Burnout is inevitable when you are facing an impossible task, such as parenting during a pandemic.

PBS Parents
Nap times are sacred, most parents would agree. So when my toddler refused to nap and the baby wouldn't let me put him down, I lost it. I crawled into bed with the baby in my arms, ignored my toddler who was literally climbing the walls, and texted my husband: "Whatever. I don't care. These kids can take care of themselves."
The past year has been tough. Families are having to adapt and respond to what seems like a never-ending year of abnormalities. It's no wonder that I'm facing burnout, along with millions of others.
What is burnout?
"Burnout is not an attitude or a mindset or a state of mind — it's a psychological condition that occurs when certain conditions are met," Dr. Robyn Koslowitz, a clinical psychologist and founder of the Targeted Parenting Institute, explained. "You can't will yourself to not have it."
Dr. Koslowitz describes parental burnout as having three categories:
Exhaustion: No matter how many periods of rest you have, you still feel exhausted by the demands of parenthood.

Detachment: You take less pleasure in the day-to-day interactions with your child.

Inefficiency: Parenthood feels like too big of a task that you are incapable of accomplishing.
It might seem that I was overreacting about a missed nap, but those few precious minutes of alone time would have helped me fend off parental burnout. Dr. Koslowitz says that burnout occurs when "the job takes out more than it puts in."
Burnout is inevitable when you are facing an impossible task, such as parenting during a pandemic without established coping mechanisms or a support system.
"This has been hard. It will continue to be hard," said Dr. Sheryl Ziegler, Doctor of Psychology and author of Mommy Burnout: How to Reclaim Your Life and Raise Healthier Children in the Process. "There aren't boundaries. It doesn't feel like there is a start and end to the day."
There is no cure for parental burnout, but you can make a plan to prevent it.
How to prevent parental burnout
"If you want to delight in spending time with your kid, you need to delight in something else," Dr. Koslowitz said.
Whether it's adding whipped cream to your morning coffee or serving sandwiches for dinner so that you can FaceTime with a friend, "you can't feel like you're being frivolous or entitled," Dr. Koslowitz said. "You can find fun on any budget."
It's important to draw a distinction between self-care and self-maintenance. If going for a run or painting your nails feels like more of a chore than a joyful experience, it's self-maintenance. Your idea of self-care doesn't need to include face masks and pedicures, it can look like reading, painting, or bingeing a reality show.
"Whatever brings you a ridiculous amount of joy — do that," Dr. Koslowitz said. "You have to do what works for your family, you have to do what works for you. Parents will know when they're over burnout when they're able to have joyful experiences with their kids again."
Children can also experience burnout
Children are also facing difficult tasks such as remote learning and missed playdates. If you're noticing that your child is beginning to crack under the pressure, you can help. The saying still rings true: you have to put on your oxygen mask before helping others. Your child can prevent burnout by following your example. Here's how to help them deal with burnout:
Get silly.
When kids seem overstimulated, it typically means that they need to let off steam to fend off burnout. If your child is acting goofy at bedtime, don't try to squash their antics immediately. Join in and help them wiggle those wiggles out for a few minutes and then declare that the "silly monster" has left the room. When parents join in on the fun, kids feel validated and understood. "Kids are natural joy finders," Dr. Koslowitz said. "We have to flip the script, if you can't beat them, join them."
Create a schedule.
A schedule can help stave off burnout, so long as it's not too rigid. It's useful to create a structured schedule to break up the monotony of spending most days at home. Whether it's 10 minutes of electronic-free quiet time or a weekly pizza movie night, these scheduled events can provide a sense of routine and normalcy. You can create a schedule, but be ready to throw it out. Parents need to be ready to meet their family's needs for that specific time. Pizza movie night might need to be canceled in favor of a socially distanced hang out with friends or a family game night. "It's a good time to be flexible and adaptable," Dr. Ziegler said. "There's plan A and then B and sometimes C and D."
Talk it through.
Most children are finding the classroom a little different these days. This can make school seem unnecessary and frustrating for kids. Help them understand how current schoolwork will help their future selves. "Create a conceptual link between what they're learning, why they're learning it, and how they're going to use it in life," Dr. Koslowitz said. Dr. Ziegler suggests placing less emphasis on academic success to remove pressure from what is already a stressful year for students.
And when all else fails, drop everything and listen. Provide a judgment-free space where kids can cry, vent, and be angry. "Empathize. You don't have to have the answers but kids do need to know that their parents are listening and parents are trying to do the best they can," Dr. Ziegler said.
---
​Brianna Griff is mama to two boys, wife, adjunct professor, writer, and marketing consultant. She's trying to raise mindful, compassionate kids and loves sharing with others what she's learned about parenting. You can follow her on Instagram @bri_mcgriff.