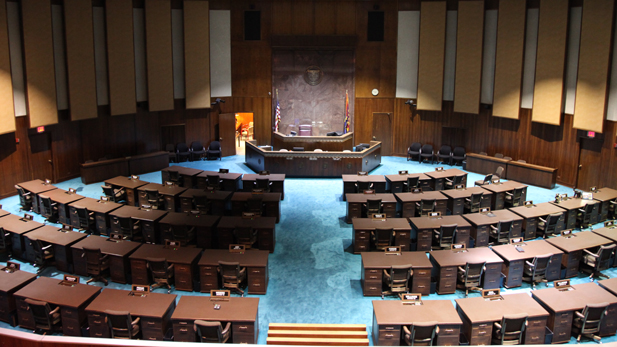 The Arizona House of Representatives chamber.
The Arizona Legislature is in the final weeks of its regular session, and this week's committee schedule reflects the work is winding down. Two notable pieces of legislation are pending -- the 2012-13 budget and the governor's coveted state personnel reform package.
Four Senate committees and three House committees have posted agendas for this week's meetings, and most of those agendas are brief.
One hearing of interest likely will be over additional funding for the Arizona Independent Redistricting Commission, with a Senate Rules Committee hearing Monday and likely action in the House Appropriations Committee Wednesday. The commission is out of money and has threatened to sue to get more.
Other items of note are the House Appropriations Committee Wednesday hearing on SB1495, which would require drug testing of people who apply for unemployment payments and the Senate Appropriations Committee hearing Tuesday on HB2571, state personnel system reform.
The latter bill is a high priority for Gov. Jan Brewer, and it passed the House last week. Its passage in the Senate could be linked to negotiations between Brewer and the Legislature over their differences on the state budget for 2012-13.
Those negotiations have been underway quietly for a couple of weeks. Brewer has said the state's surplus should be used in part to spent more on education and prisons, while legislative Republican leaders have said they want to save as much of it as possible for projected future fiscal problems.
Legislative leaders have said they hope to adjourn in mid April, about the same as last year's 101-day session.