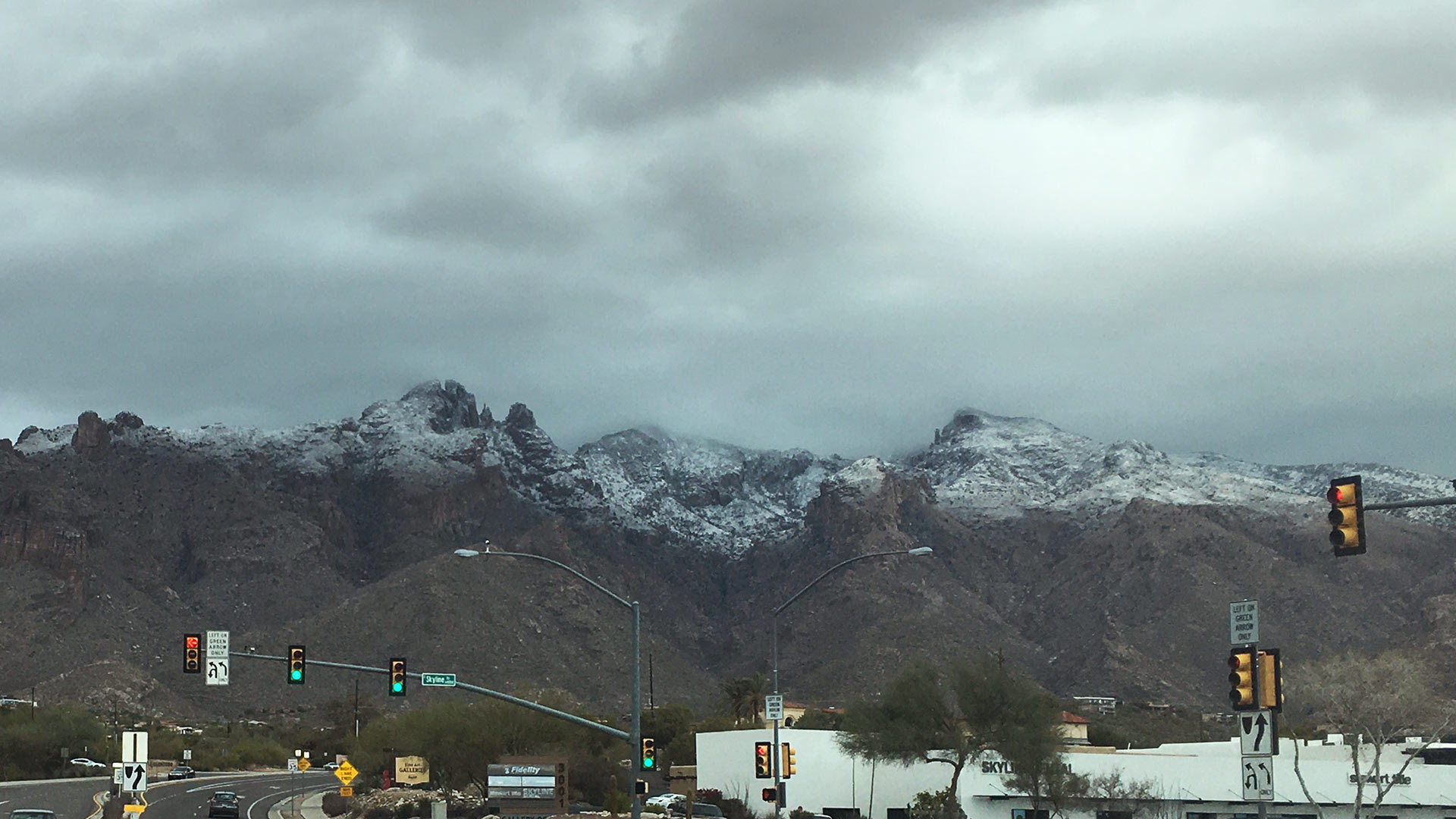 The view of the snowcapped Santa Catalina Mountains at Campbell Avenue and Skyline Drive in Tucson Jan. 25, 2020.
Carolyn Yaussy/AZPM
The National Weather Service in Tucson is warning this could be the "most significant" storm of the season for Southeast Arizona.
There were 14 inches of snow in Summerhaven and the Tucson Metro area saw on average two-tenths of rain by Monday afternoon. Over the weekend, a tenth to three-quarters of an inch of rain fell over the city.
Ken Drozd, a meteorologist with the National Weather Service in Tucson, said after a dry start to the month, precipitation totals are pretty close to the January norm, which can be as much as an inch.
He said this rain feels like an anomaly due to the Pacific Ocean temperatures, known as La Niña, which brings a drier than normal winter.
"If the La Niña pans out to be drier than average for February through April, that's going to kind of erase some of these short-term gains that we've seen," Drozd said.
Unfortunately, the extra moisture can only provide temporary relief from the region's long-standing drought.
He said the impact of the next week or two of rainy weather will be minimal. Right now, the area is experiencing some of the highest categories of drought — extreme to exceptional levels of drought.
"It took a long period of dryness to reach that level, and it's going to take extended periods of precipitation to be able to get out of that as well," Drozd said.
He says 2020 was Tucson's driest year on record with a little over 4 inches of rain, 6 to 8 inches below the average. He said the 2020 monsoon was the second driest on record.
Drozd says there will be freezing temperatures Tuesday night. He suggests bringing in pets, and to cover plants or exposed pipes.