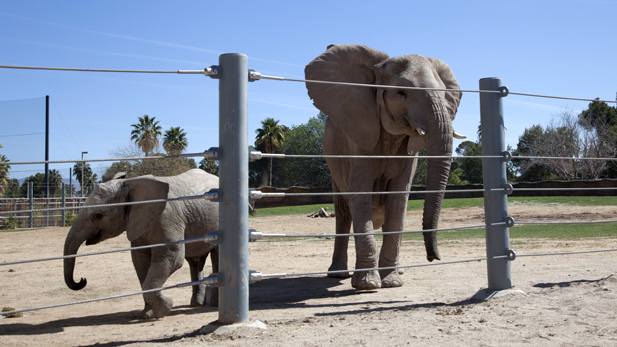 PHOTO: Kelly Hultgren
Semba and offspring Sundzu at Reid Park Zoo. Semba gave birth to a female calf Wednesday night.
By Kelly Hultgren and Fernanda Echavarri
Reid Park Zoo's "Exhibition Tanzania" is open to the public, and for the first time, Tucson zoo visitors will see an entire family of elephants interact with each other.
The herd: Mabu, the lone bull; Lungile, the aunt; Samba, the mom; and Samba's calves, 1-year- Sundzu and 5-year-old Punga, now call Tucson home.
Zoo keepers say the family, which came from the San Diego Zoo's Safari Park in early March, has adapted to the new environment in a short time.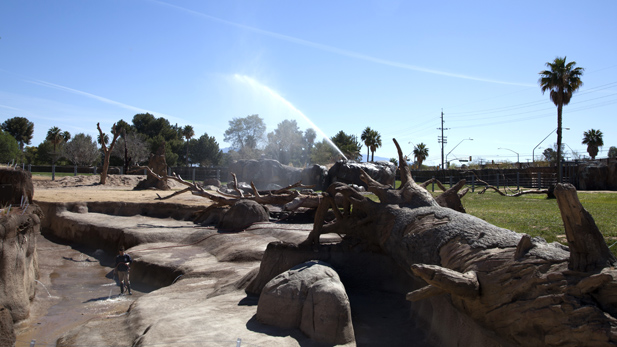 PHOTO: Fernanda Echavarri
A zoo staff member cleans the 98,000 gallon pool before the opening of "Exhibition Tanzania" at Reid Park Zoo.
"When they first arrived they were very hesitant to move throughout the exhibit," Reid Park Zoo Area Supervisor Sue Tygielski says. "They were hesitant to play but now we're watching them when we shift them from one side of the exhibit to the other they go running and exploring seeing if there are any treats seat out for them."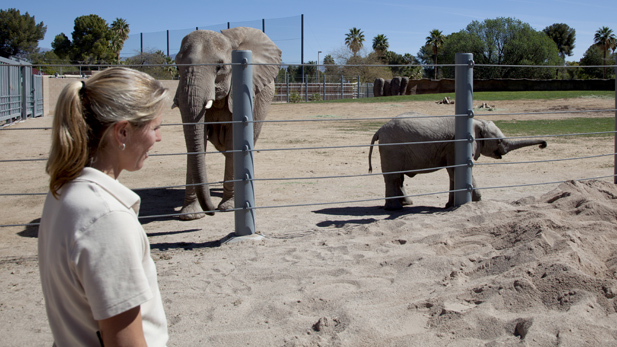 PHOTO: Fernanda Echavarri
Reid Park Zoo Area Supervisor Sue Tygielski walks on the main part of the exhibit while Sundzu and his mother Samba walk around the training area.
The new exhibit is three times the size of the old elephant exhibit at the Tucson zoo. It features a 98,000-gallon pool, a splash stream, interactive educational areas and a training wall which will allow visitors to watch closely as trainers examine the elephants.
A half-dozen cameras will be installed throughout the exhibit in the near future to monitor the elephants' activity, zoo officials say. That video may also be streamed online for the public.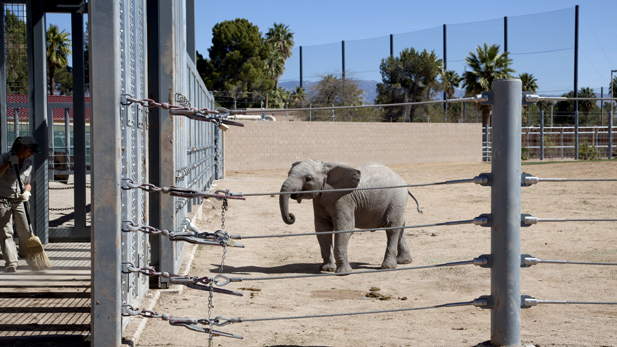 PHOTO: Kelly Hultgren
One-year-old Sundzu interacts with a zoo keeper in the training area of the main exhibit at Reid Park Zoo. The elephants were not out in the main open area of the exhibit during our visit.
Read more about construction at the exhibit