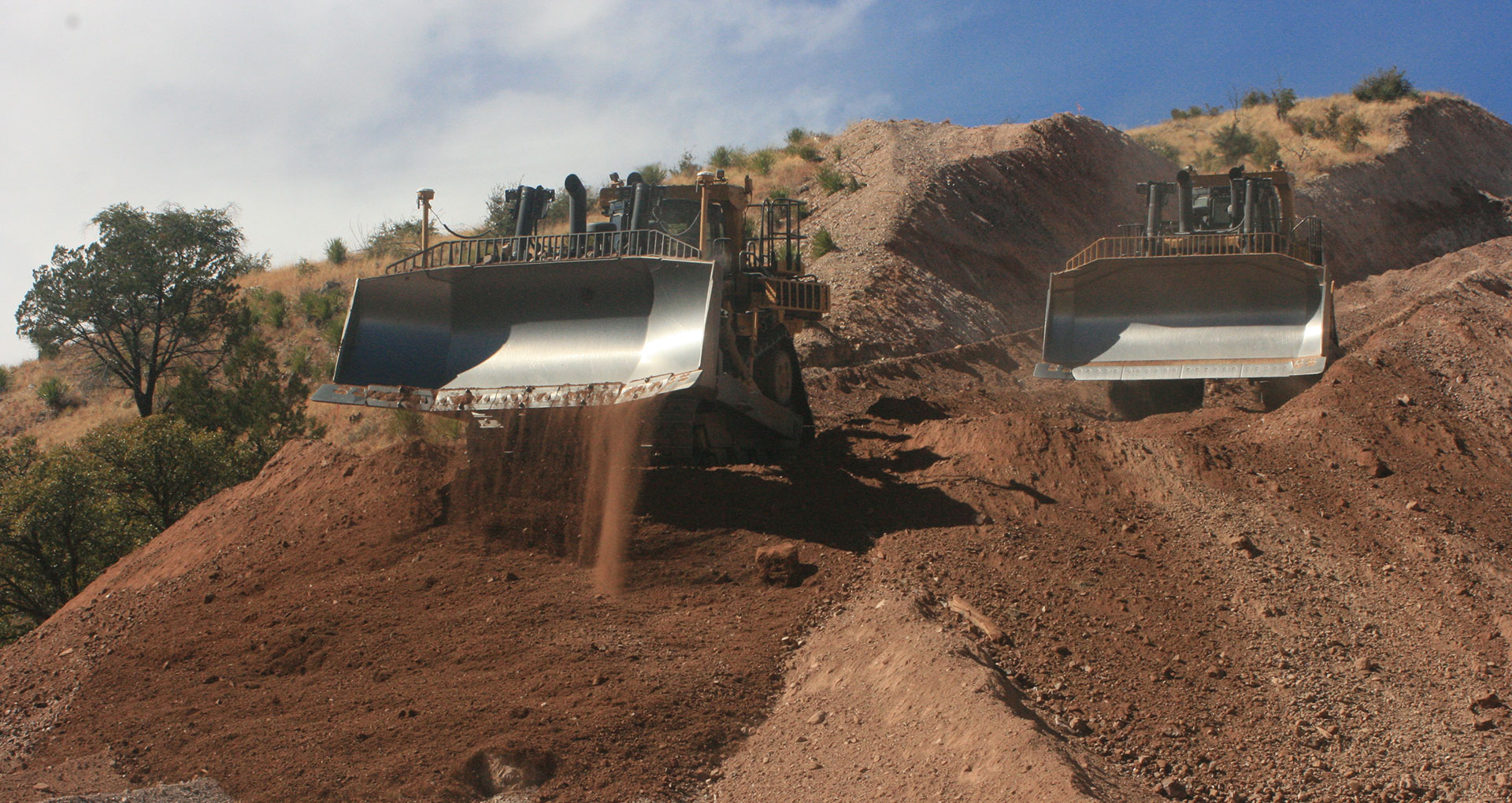 Border wall construction near Walker Canyon, east of Nogales.
Brian Best, Tucson Samaritans.
U.S. Customs and Border Protection says footage released earlier this month showing construction trucks working along Arizona's border wall is part of safely suspending work, rather than continued construction on the bollard fence.
Hours after his inauguration in January, President Joe Biden temporarily suspended all construction on his predecessor's 30-foot steel bollard wall and gave contractors seven days to comply with the order. Since then, environmental groups have fanned out across the border to ensure that's happening.
This month, groups said they were still documenting open trenches and barbed wire left behind at sites. Footage showed a construction vehicle pushing dirt across a raised mound in the Pajarito Mountains between Nogales and Sasabe.
"Bulldozing the mountains, filling in the canyons, long long after that seven day grace period expired," said Dan Millis with the Sierra Club. "And we have footage from February 10 of two enormous bulldozers and a huge excavator ripping through the mountains of the Coronado National Forest."
A spokesperson with Customs and Border Protection said any work that is still ongoing is for site stabilization, including transporting heavy machinery and storing and securing wall materials. In response to the footage shot in the Pajarito range, he said construction crews there were delayed by the weather and still preparing for the suspension.
Still, with Biden's temporary halt set to expire in another month, Millis said groups are concerned construction crews are waiting to resume work as soon as it does.
A statement from the U.S. Army Corps of Engineers spokesperson Jay Field said all construction was suspended, but crews were still carrying out work related to securing the site's safely. He said that could include filling in trenches, securing equipment and setting up erosion mitigation.
"Under this suspension, contractors are still required by the terms of their contracts to maintain safe and secure job sites, but all work in furtherance of construction has been suspended," Field said in an email.
But to Millis, a lack of transparency is a problem that still looms. He said he's tried reaching out to the Army Corps himself about ongoing activity. But so far communities are still being left in the dark.
"The people who are most impacted who live near there should be notified first and most frequently about what's going on," he said. "Yet we're here, making our own maps. That's not how democracy is supposed to work."