The booming growth of the Latino population in Arizona is being matched by its achievements, presence in the workplace and the social structure overall, but educational improvement continues to lag.
Those are the collected assessments of four people interviewed for Friday's Arizona Week, marking Cesar Chavez Day in Arizona. Chavez was an iconic labor leader whose work brought Latinos to the forefront of the fights for civil rights, political power and economic equality.
Saturday is Cesar Chavez Day and the day he would have turned 85. He was born in San Luis, near Yuma, and died in 1993.
Michael Nowakowski, one of two Latinos on the Phoenix City Council, said his election and that of dozens of other Latinos in Arizona is evidence that Latinos are beginning to take a share of political power.
"Here in Phoenix, we have made a lot of progress," Nowakowski said as he walked in a Cesar Chavez parade on Thursday. " ... It's incredible. It's about getting out there, knocking on doors and getting people out there to vote."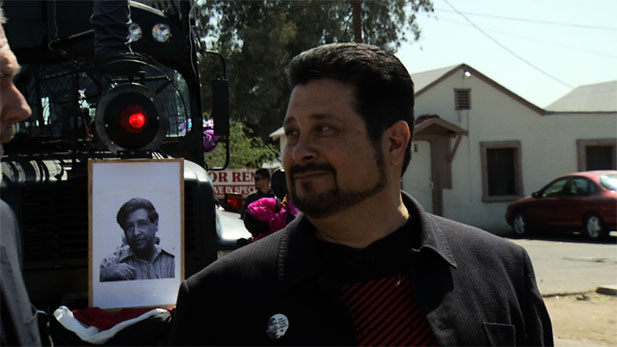 Phoenix City Councilman Michael Nowakowski, walking in the Cesar Chavez Day Parade in south Phoenix. (PHOTO: AZPM)
He said voter participation increased 500 percent in a west side mostly Latino district and 200 percent in his south side Phoenix district.
The National Association of Latino Elected Officials reported in its primary election profile of the state in February that the state had 351 elected Latino officials in 2011 at all levels of government, including two members of Congress. That's an 18 percent increase in 15 years.
Nowakowski said that while there are Latinos who want to blame the state's political atmosphere and politicians like Maricopa County Sheriff Joe Arpaio for their problems, he feels differently.
"You know people say Joe Arpaio has really hurt the immigrant and the Hispanic community," Nowakowski said. "I think he's done us a favor. He kicked us in the behind and he got us out to vote. He got us out to vote, and now we're seeing Latinos voting in historic numbers."
That empowerment is being matched in economic and social circles, others said in Arizona Week interviews.
"While our political leadership in the state seems to be kind of disconnected from the reality that the Latino population is increasingly important, the corporate leadership gets it," said James E. Garcia, director of communications for the Arizona Hispanic Chamber of Commerce.
Garcia said Arizona Latinos had $40 billion in purchasing power last year, 22 percent of the state's GDP. Additionally, they own and operate 60,000 businesses--one-third of which are owned by women--in the state and more are being added daily.
Arjelia Gomez, chief economic development officer for Chicanos Por La Causa, echoed Garcia's sentiments about the progress in the state's Latino population.
"I think the way that the progress is demonstrating itself is not just in the political field, and I think that will demonstrate itself further in the next two to three years," Gomez said. "But I think the fact that people are registering to vote ... and when you look at education and the numbers of Latinos that are going to college and crossing the stage with their diplomas."
Yet education is one area in which the state's Latinos continue to lag, said Julio Cammarota, a professor of Mexican American Studies at the University of Arizona.
Cammarota acknowledged that although high school completion rates for Latinos in the state had risen from 60 percent to 68 percent in the last 10 years, there was no catchup with the rate of non-Latino white students. They graduate at an 83 percent rate, he said.
Lack of adequate instruction for Arizona's large group of children who are not yet proficient in English is a significant part of the achievement gap, Cammarota said.
Reporter Michael Chihak further explores the progress of Arizona Latinos on Arizona Week. Watch it now: