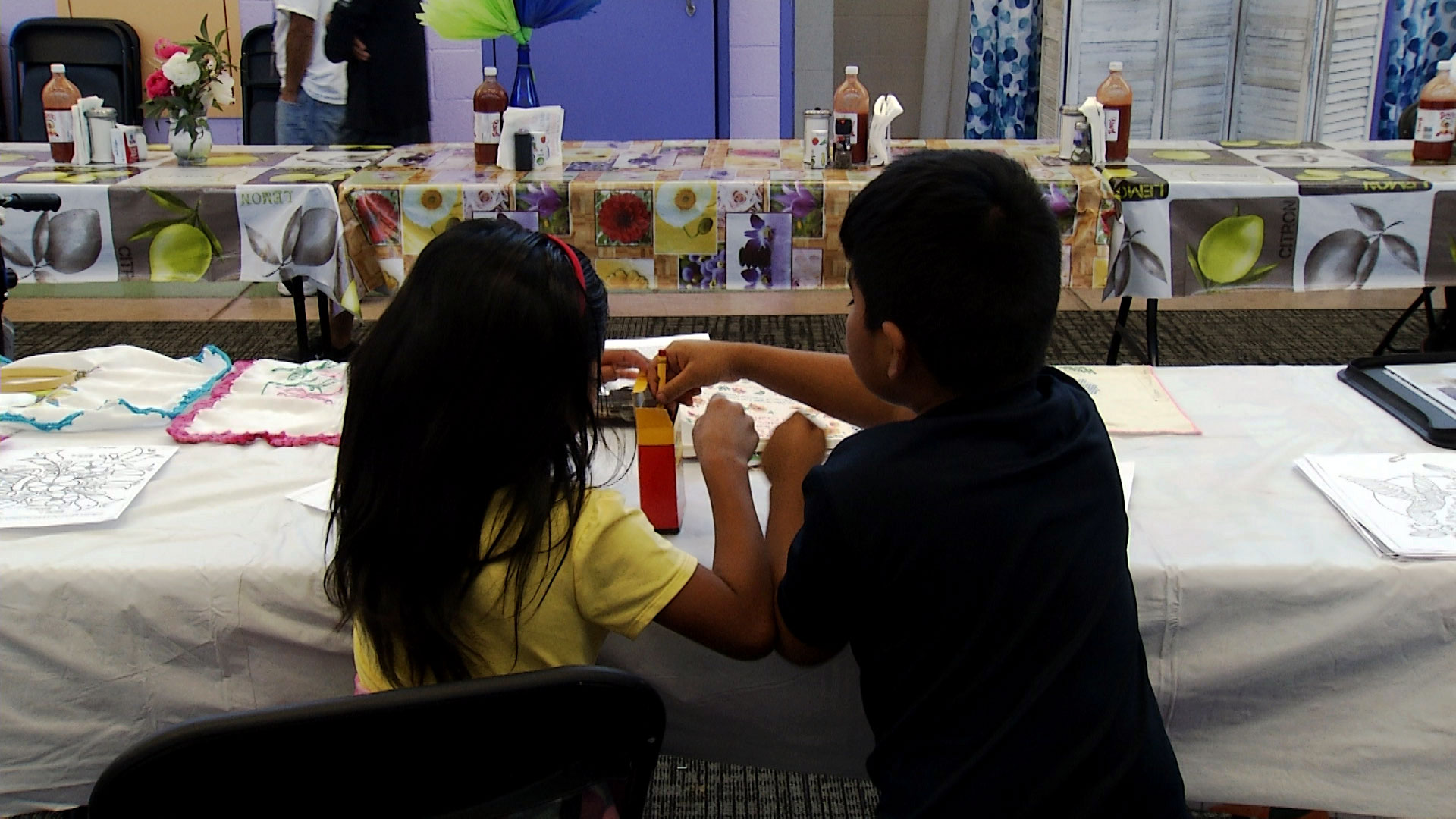 Two children color at Casa Alitas' shelter for migrants and asylum-seeking families on Sept. 30, 2019.
AZPM Staff
This month CNN reported a record 100,000 apprehensions took place across the border with Mexico over the last four weeks. And amid that increase, Arizona cities are seeing more migrants arriving after being processed.
Officials began releasing migrants into Yuma County in February, citing concerns with holding large groups of people for an extended period of time during the COVID-19 pandemic. Instead, Customs and Border Protection officials say they're returning to an old policy in which people are processed and served a Notice to Appear before being released and allowed to await immigration hearings with family or sponsors.
But in Yuma County, there's no shelter in the area to house them while they make those travel arrangements. Teresa Cavandish with the Tucson shelter Casa Alitas said that's one reason her facility stepped in to help.
"If we are receiving folks from Yuma, then we are receiving anywhere from 50 to 80 people a day," she said.
Casa Alitas also hosts people released from immigration detention and those came through another Arizona port to claim asylum. She estimates hundreds of people are now being released in Yuma every day. A coalition of advocates there help bus some of them to Tucson and Phoenix.
Cavandish said once at her shelter, migrants are tested for COVID-19 using rapid tests provided by Pima County. Usually people are there only for a few days, barring any need to quarantine. The facility is currently running within capacity and is able to take in new arrivals from Yuma. But Cavandish said border officials have warned that agents could start releasing migrants into small border communities like Ajo if numbers continue to rise.
"At this moment, Border Patrol is still able to gather up the folks from Ajo and include them with the people who are released in Tucson. But that really is anticipated to change," she said.
In a Facebook address earlier this week, Gila Bend Vice Mayor Chris Riggs said officials informed the town of the possibility of migrants being released into that community as well. He said the town didn't have the resources to house them, and wasn't receiving federal money to fill the gap. Immigrant advocates also warn against releases in those areas because they lack reliable transportation for migrants to get to their next destinations.
Still, those releases haven't happened so far. Dora Rodriguez, a humanitarian advocate in Tucson who runs a migrant aid group called Salvavision, said hers and other groups have been in contact with Biden administration officials and CBP to make sure they can continue to avoid it.
"We have been advocating for Border Patrol to drop off people where there's transportation." she said, adding that groups were able to work out a similar situation in Yuma, where anywhere from 50 to 100 people were being released every day.
A CBP spokesperson said the agency is working with nongovernmental partners to coordinate releases.