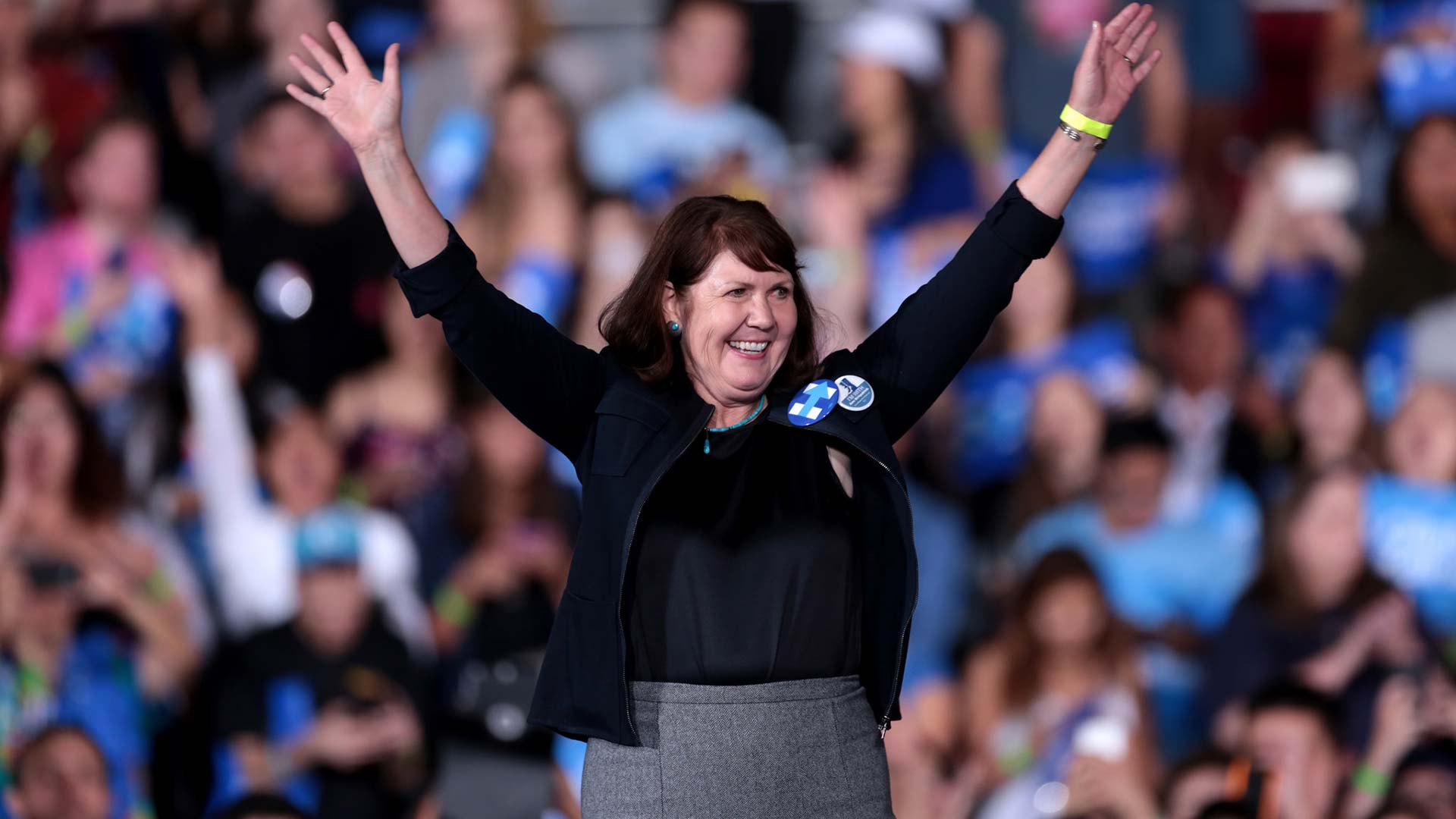 U.S. Congresswoman Ann Kirkpatrick speaking with supporters of former Secretary of State Hillary Clinton at a campaign rally at the Intramural Fields at Arizona State University in Tempe, Arizona.
Gage Skidmore, CC 2.0
Rep. Ann Kirkpatrick announced, Friday, that she will not seek another term in office. The announcement sets up a rare, open-seat race for Congress. The Southern Arizona Democrat said she expects a crowded field next year.
"There are plenty of very competent people in Southern Arizona who can run for this seat, so I'm not endorsing anyone, you know I'll just let the people choose who they want," said Kirkpatrick.
Election watchers, pundits, and strategists expect the race to represent Southern Arizona in Congress will be one of the most hard-fought races in the country during the 2022 election cycle.
"I would expect both the national groups that support congressional candidates for Republicans and Democrats to spend heavily depending on the candidate," said Barrett Marson, Phoenix-based Republican strategist.
Democrats agree with Marson's assessment and they are ready to defend the seat.
"Arizona is a battleground state and I think this district has been in the eye of both Republican and the Democrats for many, many years so I am sure that this is a district that both parties have on their list," said Raquel Terán, Chair of the Arizona Democratic Party.
History shows that midterm elections are often difficult for the party in power. As a result, support for the eventual Democratic candidate could include campaign visits from President Biden who will be trying to expand a narrow Democratic margin in the House and Senate.
"Right now, we're making sure that we're building the infrastructure with the Democrats on the ground, but we always welcome the support from the leaders of our party," said Terán.
The Second Congressional District, which Kirkpatrick represents, has been one of the most competitive in the country for the last 10 years, but the district is changing.
Arizona's Independent Redistricting Commission is beginning the process of redrawing the state's congressional district boundaries. The redistricting process , which takes place after each census, could cause problems for all potential candidates because the commission has not yet received the necessary data from the Census Bureau to begin drawing the maps.
"We just don't know what it's going to look like so that should put a little bit of a damper on people. They may want to start laying some of the groundwork but wait until October, November, and December when at least you get a sense of where the Redistricting Commission is going," said Marson.
As soon as Kirkpatrick announced she will not seek another term in office speculation began about who will run.
"There will be no shortage of current legislators who will look in the mirror and see a Congress person staring back at them," Marson said.
The field will not be limited to state lawmakers. Current and former office holders from all levels of government in Arizona are expected to explore a run for Congress in the Southern Arizona district.
Even though Kirkpatrick said she will not endorse a candidate in the primary and she is retiring from elected office, she is not getting out of the political game.
"I've got some money left in my campaign account, I'm going to set up a political action committee and I really want to mentor moms, young moms, who want to run for Congress," said Kirkpatrick.
In the meantime, Kirkpatrick said she will not miss being followed by trackers watching her every move for a slip up that can be used as a political advantage. Now, she said, they will have to move on to someone else.