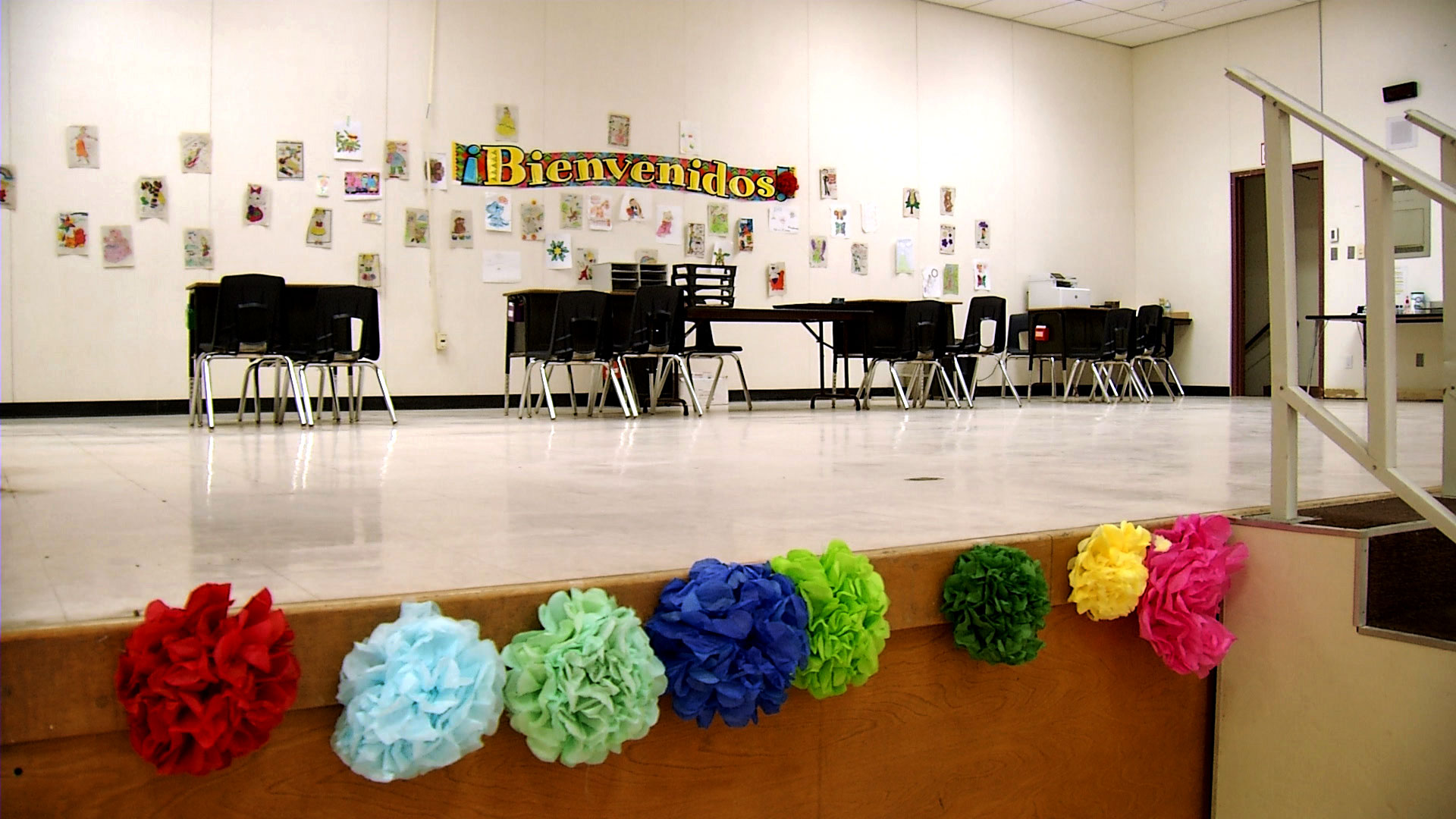 A stage inside the former Ann Ott Elementary School in Phoenix now serves as the intake area for staff and volunteers with the International Rescue Committee who process asylum-seeking families staying at the former school-turned shelter.
AZPM Staff
In a statement this week, Department of Homeland Security Secretary Alejandro Mayorkas said the U.S. expects to see a record number of asylum seekers along the border. As in the past, aid groups in border states like Arizona are stepping in to help. But in the wake of the coronavirus pandemic, officials in rural communities say the federal government is asking them to step into roles they feel ill-prepared to do.
Gila Bend Mayor Chris Riggs said his town of about 2000 is scrambling to plan for the possibility of asylum seekers being dropped off at a park in town.
"Number one, we have no services to offer," he said. "We have no shelters, we have really nothing to help these people as they're being dropped off."
While there is a Border Patrol facility in Gila Bend, Riggs said there's no shelter to house asylum seekers or aid groups to assist them. That's why border officials usually bus families to aid centers in Phoenix and Tucson, where they can make travel arrangements to await immigration hearings with family or sponsors in the U.S.
But the pandemic has complicated that process. Facilities are forced to curb capacity now for social distancing, and migrants who test positive for COVID-19 need to stay there longer to quarantine. Riggs said this month, border officials said families could be dropped off in Gila Bend if regular networks fill up. Town officials were told to expect anywhere from 10 to 1000 families, according to Riggs. He said the town is working to put together small meals and water for when they arrive, but city funds are tight.

"We can't deny people at least a little meal when they get here," he said. "We realize they're going to be hungry, they're going to be thirsty, we need to give them something, but where do we [it] take from?"
Riggs said he's asking for federal funds to help fill the gap, but so far nothing's come up. This week, Yuma Mayor Douglas Nicholls said communities in Yuma County were also in need of federal funds.