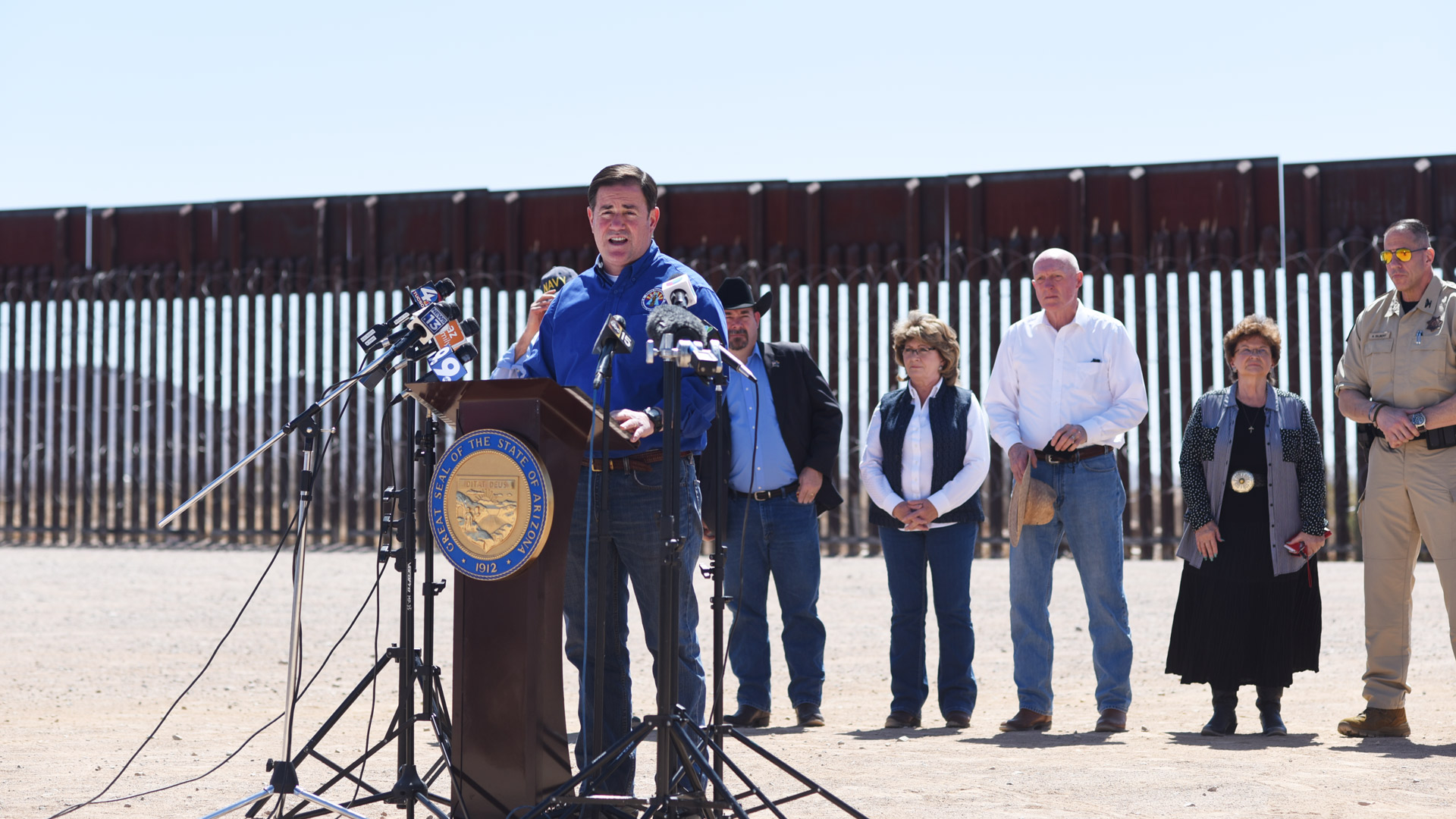 Governor Doug Ducey addresses members of the media in front of a portion of border wall near the Douglas Municipal Airport on March 19, 2021.
Alisa Reznick/AZPM
Governor Doug Ducey spent the day in Douglas Friday touring the border and meeting with local leaders to discuss what he called a "man-made crisis," and "the worst situation" he's seen along the border.
The governor was joined by Senator Rick Scott of Florida and a group of law enforcement officers in Cochise County. They began with a helicopter tour before addressing the media in front of a portion of border wall lined with concertina wire.
"The Biden administration's immigration policy decisions directly impact the state of Arizona, and we're left to pick up the pieces," he said.
Ducey cited Department of Homeland Security Secretary Alejandro Mayorkas' recent statement that the U.S. was on pace to see the highest number of border apprehensions in two decades, and a record number of migrant children in DHS custody.
"Our NGOs are simply not prepared to be helpful in this crisis," Ducey said.
But aid groups working in the Agua Prieta and Douglas area say they weren't contacted about the governor's visit. Mark Adams with the faith-based aid group Frontera de Christo said his organization said he reached out to Ducey's office to try to set up a meeting, but never heard back.
"Border Patrol has contacted us about the possibility of releasing folks here in Douglas in the future, and so we've organized here to have a Douglas welcome group and there's been a tremendous response from the community," he said. "It would be great to talk to the governor about how our community is preparing."
Adams said border officials told Douglas aid groups anywhere from 80-100 migrants a day could be released in Douglas in the future. Other small towns in Arizona have also been told those releases might occur. Adam said Douglas doesn't have the resources larger cities like Phoenix and Tucson do. Still, his group has spent years working with aid groups across the border in Agua Prieta and is working Douglas officials to prepare for the possibility of hosting people there.
On Friday, Ducey said the growing number of migrants at the border was creating a humanitarian crisis and accused federal officials of being out of touch with the realities on the ground. After addressing the media, he met with local officials like Douglas Mayor Don Huish and Cochise County Sheriff Mark Dannels.
Adams said if Ducey really wants to understand the situation, he should have reached out to the people addressing it. But despite his request, his organization didn't get an invite.
"You didn't see people who were responding to the humanitarian need present, or speaking," he said. "You didn't have the politicians speaking to people who are actually interacting with people who are coming."
This month's American Rescue Plan Act of 2021, Congress' latest COVID-19 stimulus package, set aside $110 million in FEMA funding for communities and organizations aiding migrants at the border during the pandemic. Humanitarian aid groups and municipalities can apply to receive a share. Adams said his organization is looking into the process.
More than 100,000 people were encountered along the southwest border in February, according to Customs and Border Protection data.
In February, the Biden administration began processing some migrants as part of the Migrant Protection Protocols, the Trump-era policy that forced asylum seekers to await their immigration hearings in Mexican border towns. But that processing is so far limited to three ports, none of which are in Arizona.
This month in a statement, Secretary Mayorkas said unaccompanied children appearing at the border will also being processed, along with some migrants who present an "acute vulnerability." The the vast majority of those apprehended are still being expelled under the pandemic-era policy Title 42.