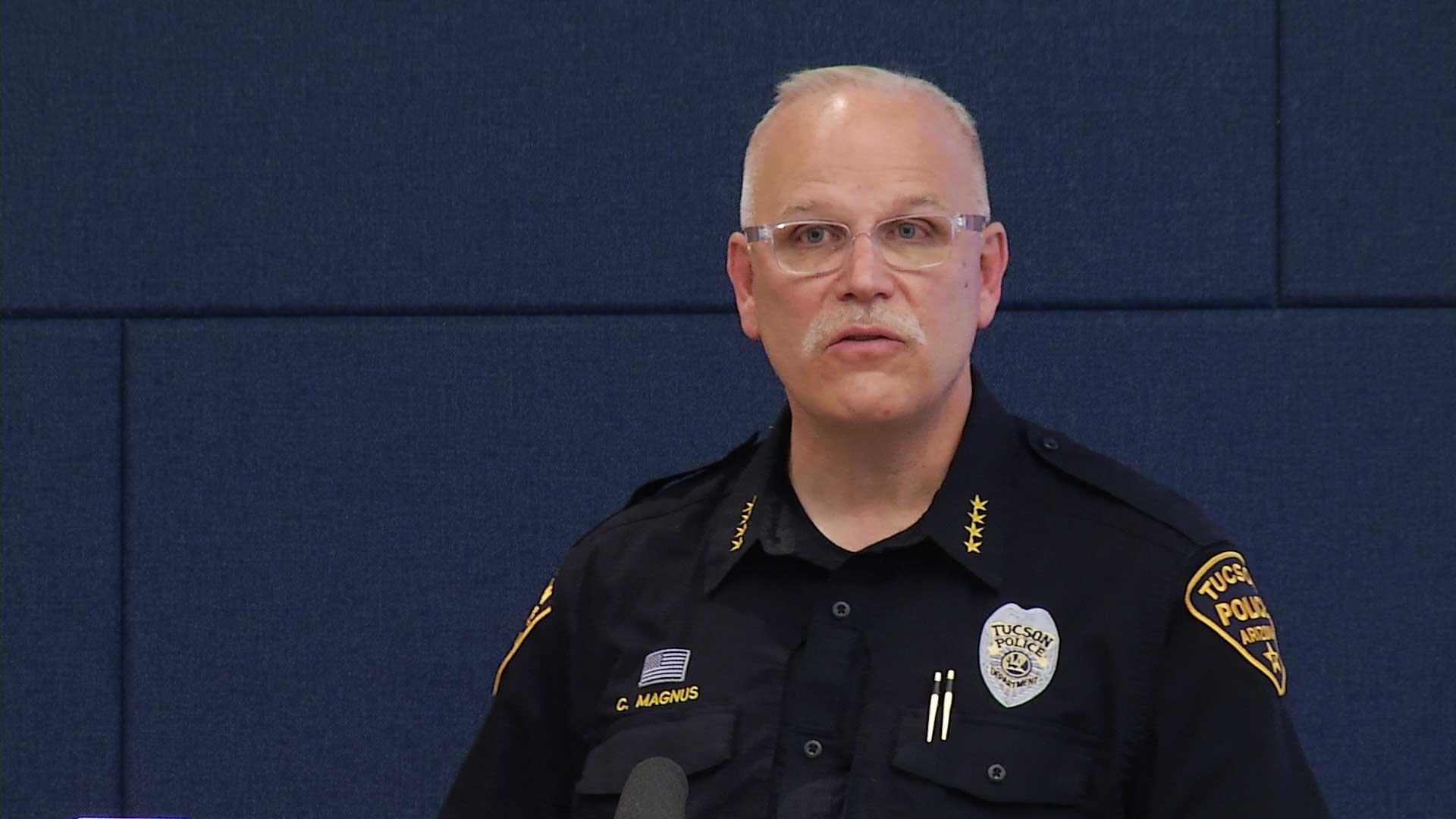 Tucson Police Department Chief Chris Magnus, at a June 24, 2020 media briefing.
Martín Rubio/AZPM
The White House announced Monday, President Biden will nominate Tucson Chief of Police Chris Magnus to be the next Commissioner of Customs and Border Protection.
If confirmed, Mr. Magnus would play a central role in how the Biden administration handles a record number of border crossings – including thousands of unaccompanied children - a number that is projected to increase in the coming months.
Chief Magnus received national attention when a photograph of him in uniform holding a Black Lives Matter sign during a protest in Richmond went viral.
Last June, he offered to resign as TPD chief as he released a video in which a 27-year-old Latino man, Carlos Ingram Lopez, died in police custody. Tucson Mayor Regina Romero expressed confidence in Mr. Magnus and did not accept his resignation.
Magnus is also a critic of former President Donald Trump, publicly criticizing the immigration policies of Trump and his first attorney general, Jeff Sessions, as hindering police efforts to crack down on crime.
"The harsh anti-immigrant rhetoric and Mr. Sessions's reckless policies ignore a basic reality known by most good cops and prosecutors," Mr. Magnus wrote in a New York Times opinion piece in 2017. "If people are afraid of the police, if they fear they may become separated from their families or harshly interrogated based on their immigration status, they won't report crimes or come forward as witnesses."
The official White House announcement portrayed Chief Magnus' experience and track record.
In part it says that Magnus has "a reputation as a progressive police leader who focused on relationship-building between the police and community, implementing evidence-based best practices, promoting reform, and insisting on police accountability. During his time in Richmond, Magnus played a key role in rebuilding community trust in law enforcement and dramatically reducing the number of shootings and homicides. In Tucson, Magnus implemented de-escalation training, sentinel event review processes, and programs to promote officer health and wellness. Because of Tucson's proximity to the border, he has extensive experience in addressing immigration issues."
The Tucson Police Department said the chief will not be giving interviews at this time but did issue a statement from Magnus.
"As I've told our department members, serving as Tucson's Chief of Police has been, and continues to be one of the best experiences of my career in policing. Tucson is a special community and TPD is a professional, community engaged police department," Magnus' statement said.
Magnus faces a confirmation in front of the full U.S. Senate.