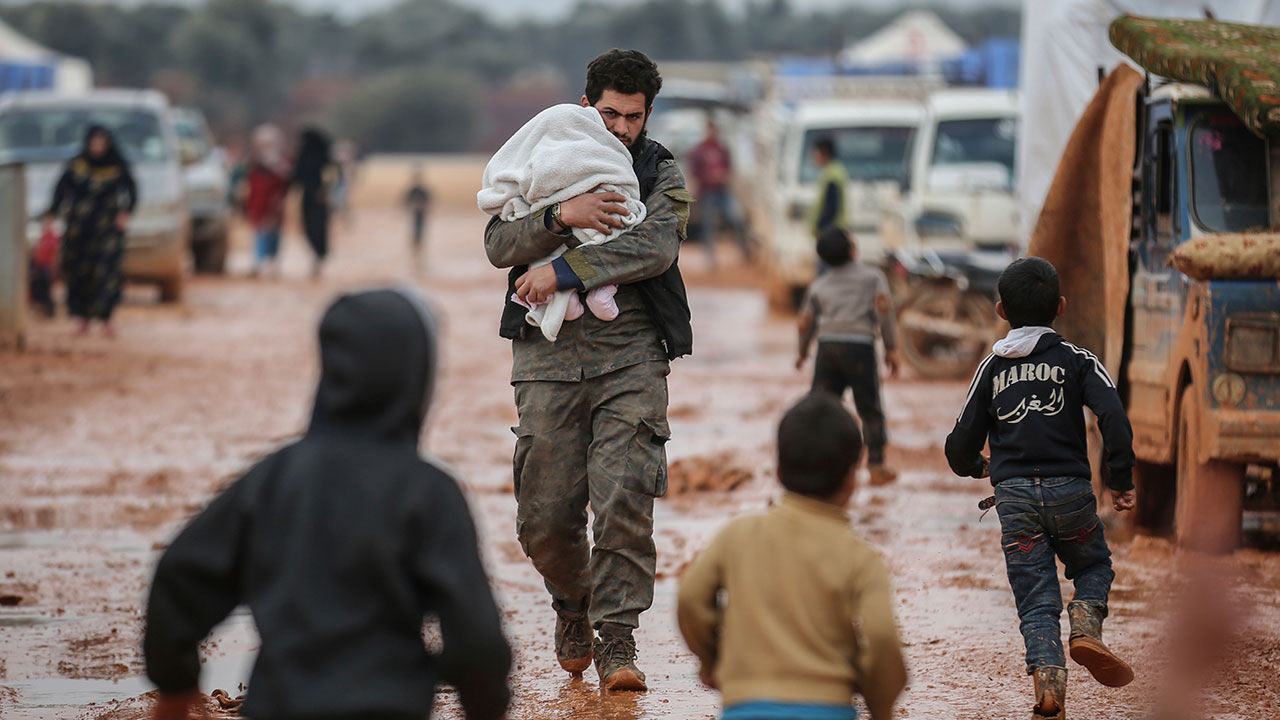 A Syrian man carries his baby at a makeshift camp for families displaced from Idlib countryside as a result of the bombing and military operations on Feb. 18, 2020.
Anas Alkharboutli/AP Images
The Biden administration is walking back a plan to keep a historically-low refugee admissions cap for the fiscal year 2021 after receiving major blowback on Friday.
The admissions cap is determined each year by the U.S. President. Under the Trump administration, it dropped from 85,000 to a record low 15,000, and restrictive measures like the travel ban slowed the process down further.
Biden pledged to overhaul the system and upend Trump's changes on the campaign trail. Then, to Congress in February, he proposed raising the admissions ceiling to 62,500 for the fiscal year of 2021, and to 125,000 in 2022. Instead, his declaration Friday morning removed restrictions for some countries to speed up admissions that had languished under Trump, but kept the low cap.
Stanford Prescott with the Arizona office of the International Rescue Committee (IRC) said that came as a major disappointment to organizations trying to help.
"These aren't just numbers, these are human beings, these are families, that are looking for freedom and safety here in the United States," he said. "There's a real human cost to having this lower refugee arrivals number."
Families have already been impacted by Biden's delay raising the cap.
Only 51 refugees have been resettled in Arizona so far in the fiscal year, which started last October. Prescott said the IRC ramped up resettlement plans after Biden pledge the increase in February. But since then, 700 U.S.-bound flights for refugees already vetted and ready to resettle have been cancelled, including more than 30 that were supposed to come to Arizona.
"Those pathways moved forward under the assumption that the president's announcement was going to have an impact on legal reality," he said.
In a reversal late Friday, the White House said a final, "increased" admissions cap would be announced by May 15. As the Associated Press reported, White House press secretary Jen Psaki said the 62,500 cap proposed in February was now "unlikely" because of the "decimated refugee admissions program" left by Trump.
Prescott said his organization is calling on the Biden administration to fulfill its original pledge. Congressional representatives, including southern Arizona's Raúl Grijalva, also penned a letter to Biden Friday urging a return to the original proposed ceiling of 62,500.