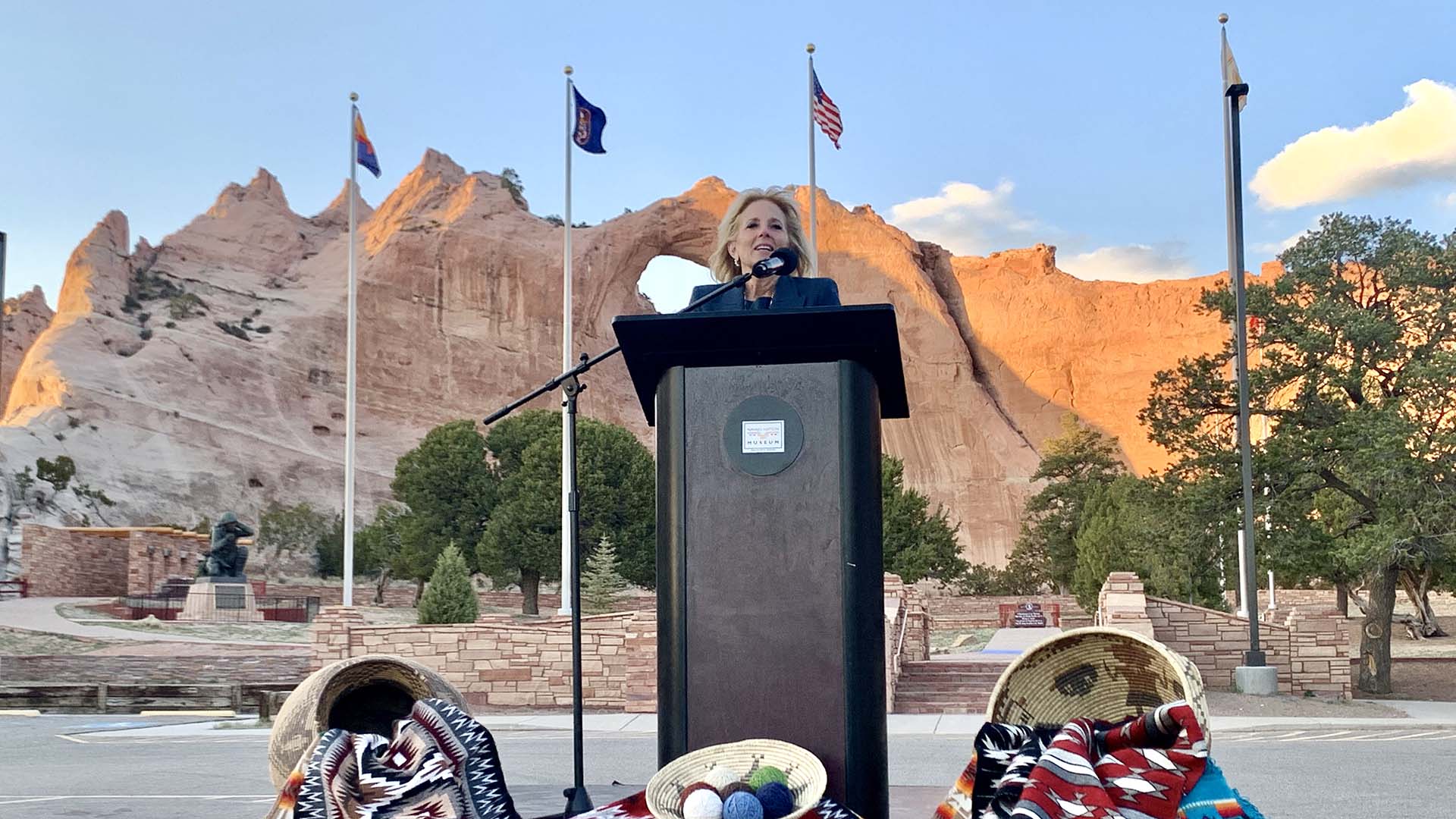 First Lady Dr. Jill Biden travels to Window Rock, Arizona, within the Navajo Nation April 22-23, 2021, to learn about the needs of the tribal nation.
Courtesy of the Navajo Nation
U.S. First Lady Dr. Jill Biden visited the Navajo Nation Thursday and Friday to speak with tribal leaders and advocates about the pandemic and a variety of societal needs.
This trip is Biden's third to the nation since 2013. As the Second Lady of the United States, she visited college students at Navajo Technical University and later opened a cancer center in Tuba City in 2019 — the first of its kind in a U.S. tribal reservation. Biden recounted in her speech to tribal leaders at Window Rock Navajo Tribal Park and Veteran's Memorial that the latest COVID relief package included "the largest single investment ever made in Indian Country," which will fund projects like providing running water in tribal communities.
"As you govern, our administration will work in partnership with you, honoring the solemn trust responsibility to tribal nations," Biden said.
First Lady Jill Biden visits the Navajo Nation today in Window Rock. @FLOTUS @navajotimes pic.twitter.com/iCAEA7dvco

— Sharon Chischilly (@Schischillyy) April 23, 2021
She also discussed the American Jobs Plan that she said proposes broadband, electricity and new roads — much need infrastructure for the nation.
"I met with President Biden and Vice President Harris last October, at that time, nominee Biden promised to listen to Native American people and understood the importance of the government-to-government relationship and in November the Navajo people came out and delivered the State of Arizona on election day, even in the midst of this terrible pandemic," said Navajo Nation President Jonathan Nez.
Earlier Thursday evening, Biden joined Navajo women at the Navajo Nation Museum to discuss needs they see from their roles as government officials, educators, advocates and business owners.
Thank you @FLOTUS for visiting Hunters Point Boarding School and speaking with our Diné youth about their experiences during the COVID-19 pandemic. Our youth are strong and resilient and we will overcome COVID-19 together! Ahe'hee' pic.twitter.com/Py3w1cJI4T

— Navajo Nation President Jonathan Nez (@NNPrezNez) April 23, 2021
"Together, as mothers and leaders, we are committed to calling attention to focus areas that impact our Navajo families, including early childhood development and education, culture preservation, health and wellness, single parenting, foster parenting, reducing trauma of children and women, behavioral and mental health issues, violence against women and children, and many others," said Navajo Nation First Lady Phefelia Nez.

Amber Kanazbah Crotty is a Navajo Nation council delegate who chairs the sexual assault subcommittee. She told Biden the nation needs resources for law enforcement and full funding from the federal government.
"What we want is our children not to ask when they're going to be a victim. What do they do when they're victimized. We want them to think about their future. We want to sow those seeds of hope," Kanazbah Crotty said.
According to the Missing and Murdered Diné Relatives working group and Sovereign Bodies Institute, there have been 164 missing Navajo people from 1951-2019, 70% of them male. Approximately half of the missing or murdered cases occur in urban areas, 10% outside of the nation and 41% taking place in the Navajo Nation.
Biden said her husband, President Joe Biden, is responding to these needs.
"All of the things you're talking about, I feel like Joe heard you," Biden said.
The Navajo Nation had the highest per capita COVID-19 infection rate in the United States in May 2020. As of April 9, 2021, it had fully vaccinated 91,278 people against COVID-19 — President Nez said "well over half" of adult residents.
"With few resources, reaching people in some of the most remote areas, the Navajo Nation is a leading example of the COVID response in the United States," Biden said. "You're doing the work, now the federal government must work for you."
She also visited a local boarding school and [vaccination site] (https://www.facebook.com/NezLizer2018/videos/463913744686333) during her trip.