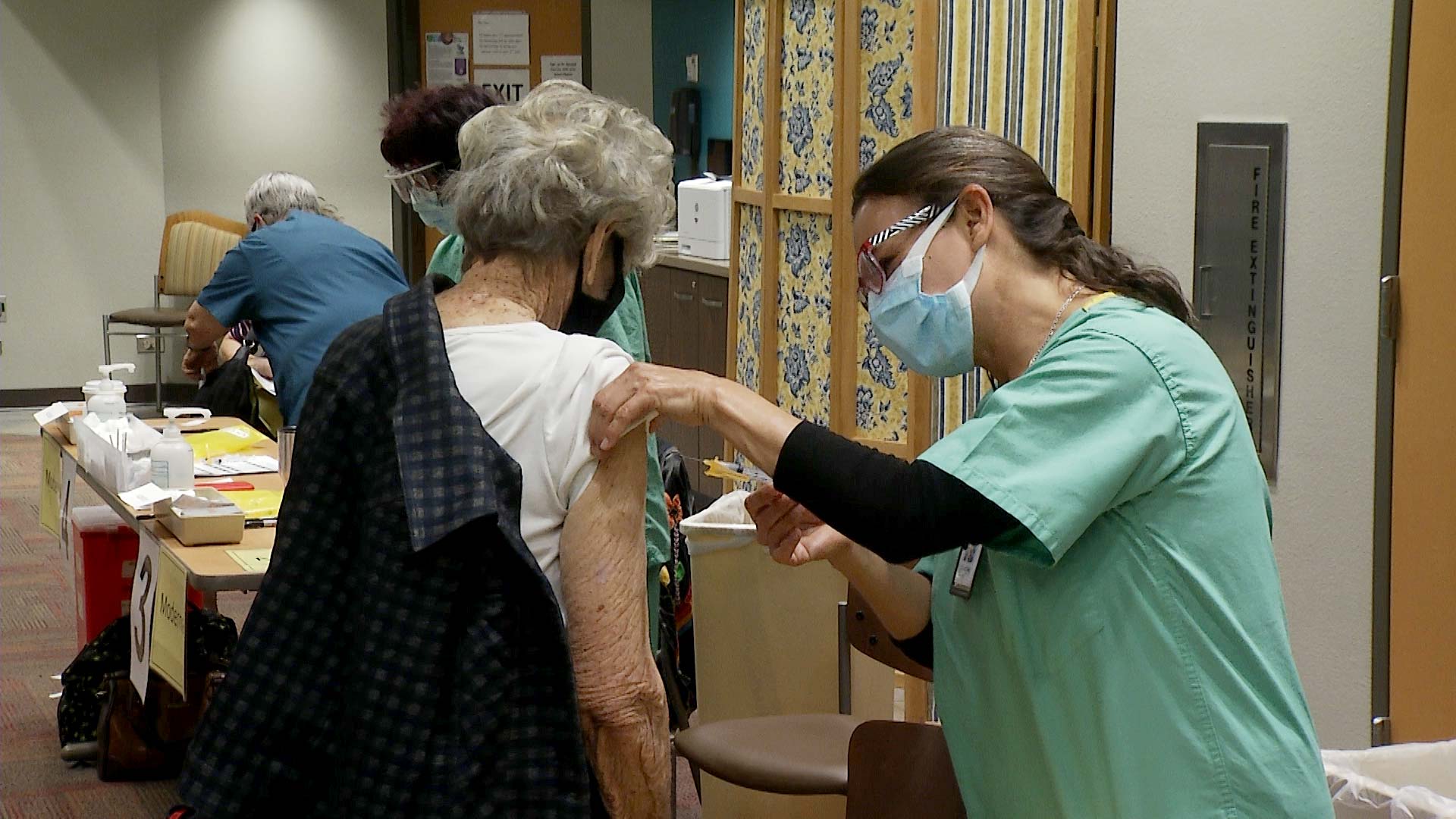 A woman receives a COVID-19 vaccine at Tucson Medical Center. January 2021.
AZPM Staff
Community organizers who reached out to about 100,000 people to promote voter participation in the 2020 general election are now tackling COVID-19 vaccine hesitancy.
Anna Rojo Keene is the vaccine campaign manager for the Arizona Center for Empowerment. She said for now she's looking to hire six canvassers to knock on people's doors and make calls to talk about the COVID-19 vaccine and answer any questions people may have.
"We're providing resources to people in a way that they don't have to disclose their status — economic status, citizenship status, any other personal identifiers — but we're letting people know that regardless of those factors they can still get the vaccine," Rojo Keene said.
She said within the next three months they want to knock on 10,000 to 20,000 doors with hopes of 100,000 in Tucson before the end of the year.
They'll be focusing on Black, brown and Indigenous communities within the southern and western communities in Tucson.
She said she expects the team, which she hopes to grow to 16 people, will hear a litany of reasons why people have not gotten the vaccine from distrust in the government to don't knowing how to sign up.
Rojo Keene said last week she called a woman who didn't have an email and didn't know how to sign up for a vaccine without one.
"We can help bridge the barrier, so somebody who may not have internet access — we can call or knock on their door and help them get the appointment they need or schedule an at home visit, which is what we did for the person I spoke to last week," Rojo Keene said.
If possible, she'd like to see canvassers be able to bring people to temporary vaccine sites in their neighborhoods or bring the vaccinator to their door. While they go out in the community, they'll be wearing masks and maintaining social distance.
The campaign also plans on documenting the stories they hear, and sharing people's experiences getting the vaccine or any barriers they've faced.