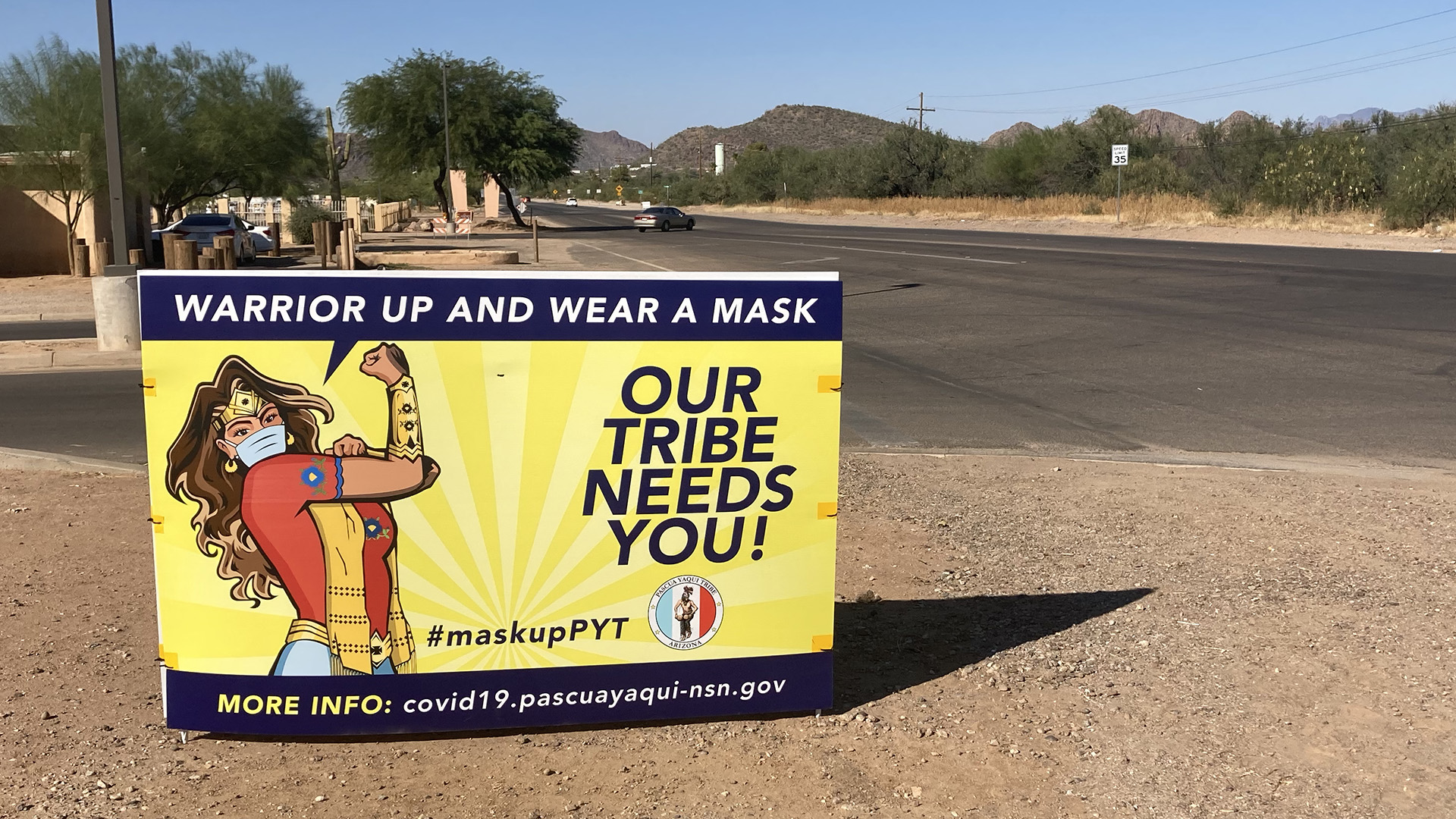 Sign in the Pascua Yaqui Tribe's lands urging tribal members to wear a mask during the COVID-19 pandemic.
Emma Gibson/AZPM
The Pascua Yaqui tribal government is offering fully-vaccinated members living in Arizona $100 starting Thursday, if they can prove they're vaccinated.
Members 12 years old or older who still need to get their shots can go to one of the tribe's clinics July 22, Aug. 5, Aug. 12, or Aug. 19 at Casino of the Sun. According to a Facebook post from the tribe, people attending these clinics who want to qualify for the "Vax Ca$h" need to have a valid ID, an enrollment update form, and if they're getting their second vaccine dose, their vaccine card. Minors need a legal guardian or custodial parent with them.
The tribe will give the funds claimed by qualifying minors to their legal guardian or parent enrolled in the tribe.
Tribal members fully vaccinated at Pascua Yaqui sites don't need to do anything. They'll receive a check in the mail within 30 days to the address on their vaccine form, according to the post. However, members fully vaccinated at non-Yaqui sites will need their information verified starting July 26. People in the Tucson area can bring their vaccine card and ID to the tribe's Enrollment Department at 7474 S. Camino De Oeste, Tucson, AZ, 85757. Residents near Guadalupe can go the Enrollment Annex at Itom Hiapsi, and members living outside of Pima and Maricopa counties can send in copies of their vaccine card and ID to the Enrollment Department for verification.
"By choosing to get the COVID-19 vaccine, we are caring for the health of our community, families and ourselves," according the post. "When you provide your vaccine information you are helping the tribe to verify the accuracy of our Yaqui vaccination rates."
As of April 22, the tribe had recorded 4,978 total vaccinations, and on May 28, it reported a total of 1,890 cases from the Tucson area and 36 deaths.