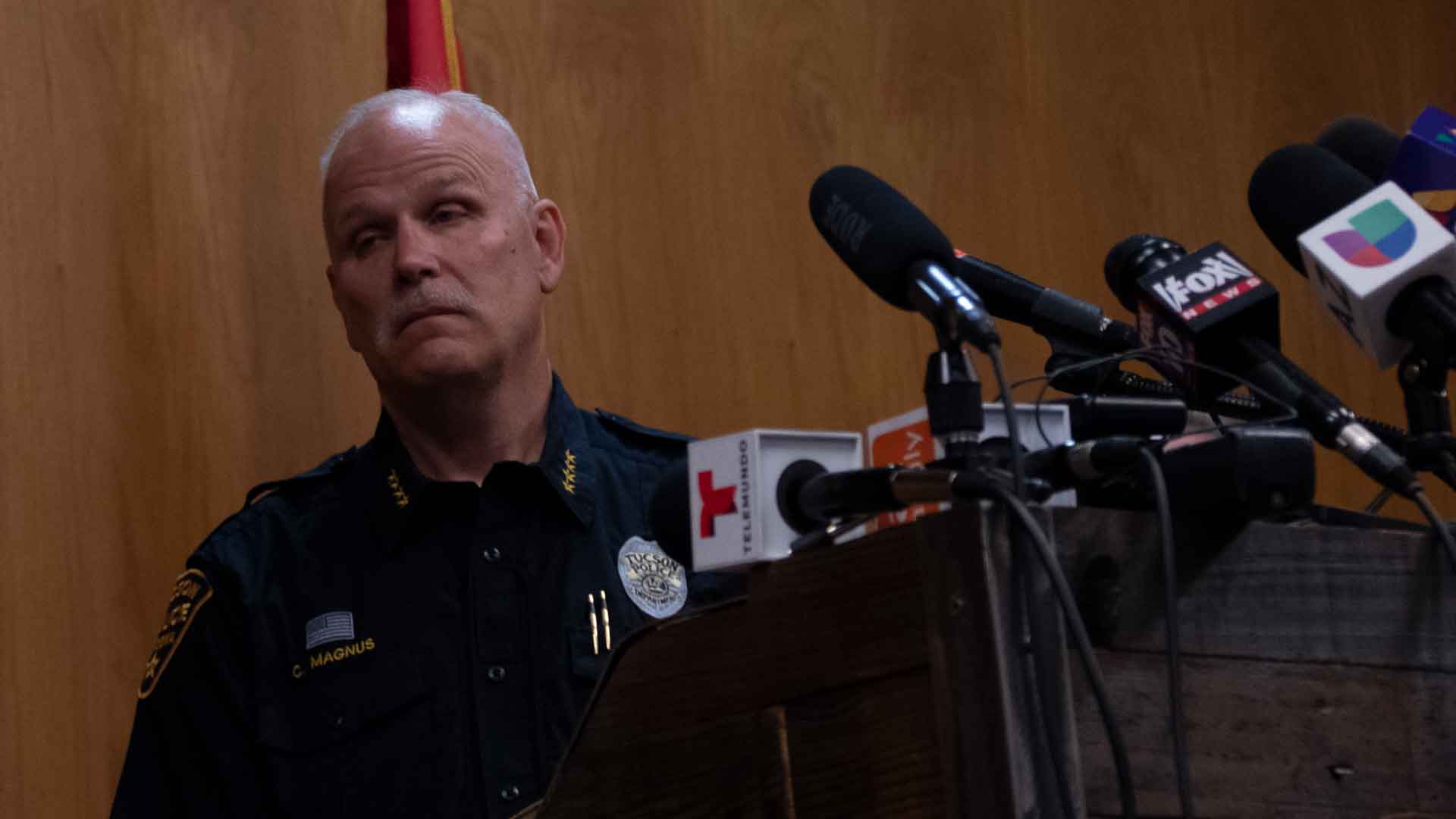 Tucson Police Chief Chris Magnus watches body camera video from a TPD officer who shot a suspect accused of shooting multiple people on Sunday, July 19, 2021.
Christopher Conover/AZPM
Tucson Police officials said during a Monday afternoon news conference that they still are still piecing together what happened Sunday that resulted in two EMTs, a firefighter, the suspect, and neighbors being shot. One person was declared dead at the scene while others were clinging to life at the hospital.
Investigators said they still have no motive for the shootings.
The suspect was shot by a Tucson police officer after the suspect, identified as 35-year-old Leslie Scarlett, rammed a police car with his vehicle and opened fire on responding officers. Tucson Police Chief Chris Magnus said the incident should change thinking,
"A 20-year-old EMT sitting in an ambulance in a park waiting to help with a totally unrelated medical call should not be fighting for his life in an ICU. His AMR EMT partner and a Tucson firefighter should not be dealing with the physical trauma of gunshot wounds. If this isn't a, if this incident isn't a call to action, I am really not sure what is," said Magnus.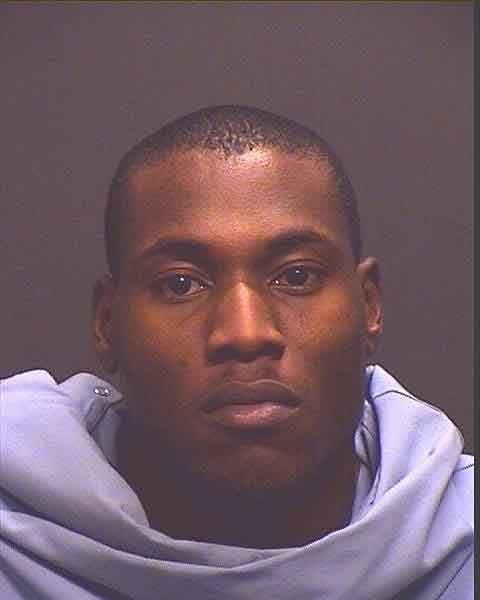 VIEW LARGER Leslie Scarlett is accused of a shooting rampage in Tucson on July 19, 2021. The photo is from a 2016 booking on unrelated charges.

Tucson Police Department
Magnus said Scarlett is legally prohibited from owning a weapon because he served six years on felony armed robbery charges. The chief said the suspect also had a history of mental illness.
"The real question we should be asking is how can we coordinate the work of our criminal justice and mental health systems to prevent these terrible attacks? Who are these ticking timebombs and is there anything we can do working together instead of in silos to predict their level of risk?" Magnus said.
In recent months, gun-related crimes have increased across the country and in Tucson according to city officials.

"I look forward to working with Chief Magnus, Chief Ryan, and the gun violence prevention task force that I have assembled to explore expanding existing efforts in making necessary efforts investments in violence prevention strategies focusing on neighborhoods where we see violence occurring the most," said Tucson Mayor Regina Romero during Monday's news conference.
TPD released body camera video of when the suspect was shot. It came from the camera worn by the officer as his car was rammed and he got in a shootout with the suspect. In addition to the crash and shooting, It also shows officers beginning to render aid to the suspect.
The incident began with firefighters responding to a house fire. The radio calls from the fire were released by the city. Firefighters begin by describing the fire and then one says "shots fired" and asks for police assistance. Tucson Fire Chief Chuck Ryan said he listened to the incident as it unfolded.
"I could not be more proud of our men and women. This is so far out of the realm of what is normal that it is unconscionable, and it is difficult to not be intensely angry about what occurred," Ryan said.
Firefighters were forced to flee the scene or hide in neighbors' homes while the suspect shot at them.
"The perpetrator was actively moving around the ladder truck to shoot at them," said Ryan. Firefighters and the Tucson Police Department train together for active shooting incidents. But Chief Ryan said those scenarios do not include firefighters as the victims.
"We will continue to serve this community professionally and proudly but I will have to tell you that it is an incident like this that can shake your trust a little bit and it is going to take a little bit of time to get back to good, as they say," Ryan said.
After the incident is reviewed, Ryan said it could result in a change in training for firefighters.