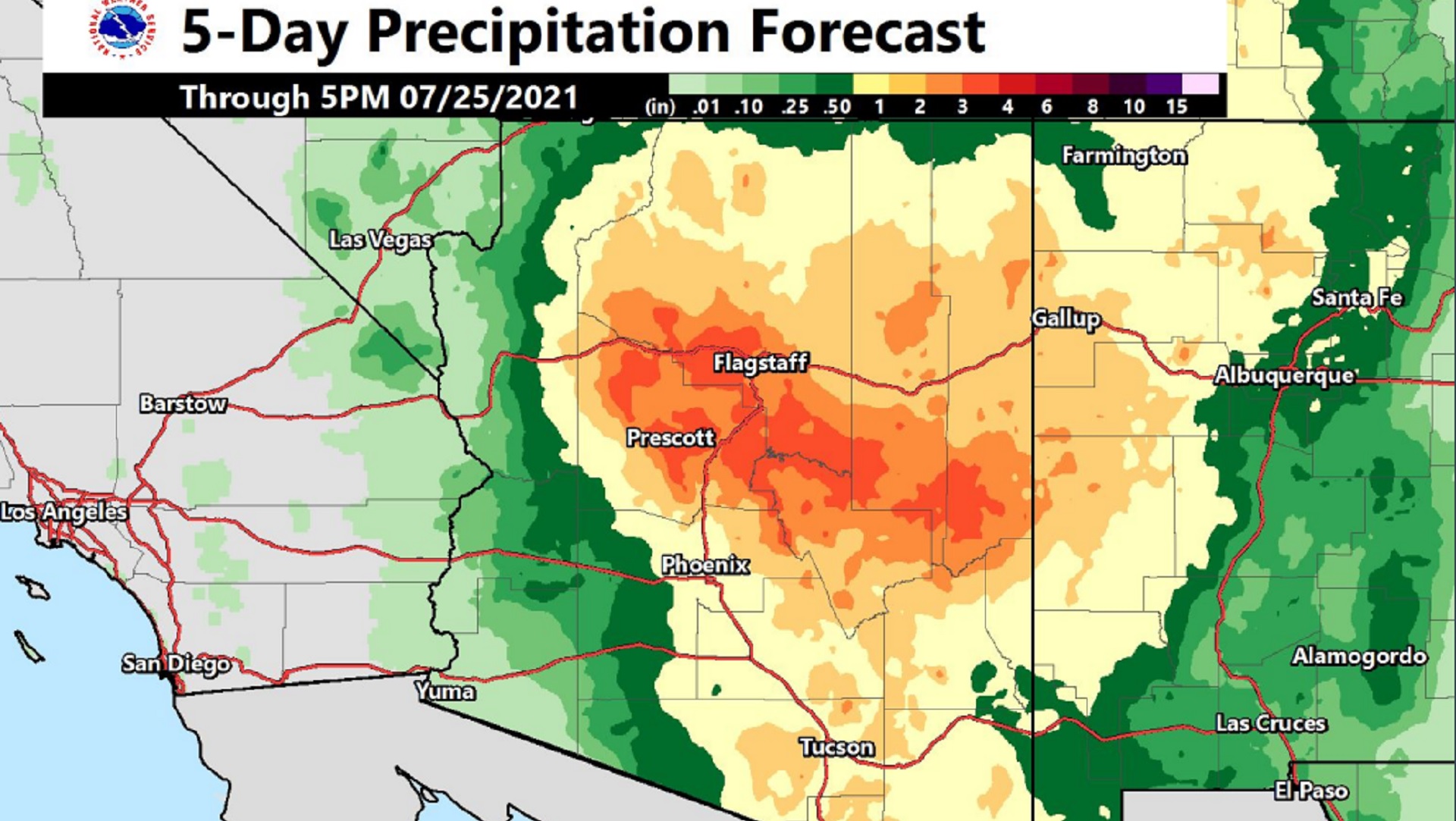 This five day precipitation forecast map released by the National Weather Service on July 21, 2021 shows that much of the state's midsection is expected to get at least one inch of rainfall, with some areas receiving up to three inches, by Saturday night. Nearly all of the state is under a flash flood watch through 11:00 p.m. Saturday.
National Weather Service/screengrab
All of southern Arizona is under a flash flood watch through Saturday. The weather service is warning of the worst flooding potential in fifteen years.
An upper-level low pressure zone is straddling the Arizona/New Mexico state line. The weather pattern is nearly identical to one seen in 2006, just before a massive storm system dropped nearly four inches of rain on Tucson in five days.

Meteorologist Rob Howlett says after two years of disappointing monsoons, people may not be prepared for what's about to happen.
"We've been active for the past week plus, and soils are already saturated from the recent rains. So that's playing into some of our concerns for these, the flooding potential, flash flooding or aerial flooding, and it's been a few years since we've seen a really decent flood event like this," Howlett said on a briefing Wednesday.
Tucson has already received more rain in 28 days, 1.6 inches, than in the entire 2020 monsoon. The coming series of storms could add another 1-2 inches.
Most of the state, from the Mexico border to north of Maricopa County, is under a flash flood watch. Heavy rain is expected though Friday night and possibly into Saturday. Virtually the entire state, and the western half of New Mexico, are forecast to get more than an inch over the next five days, with three inches or more around Flagstaff and Prescott.
Drivers are warned, as always, to stay away from flooded roads. Even a few inches of running water has the power to wash away a person or a vehicle.