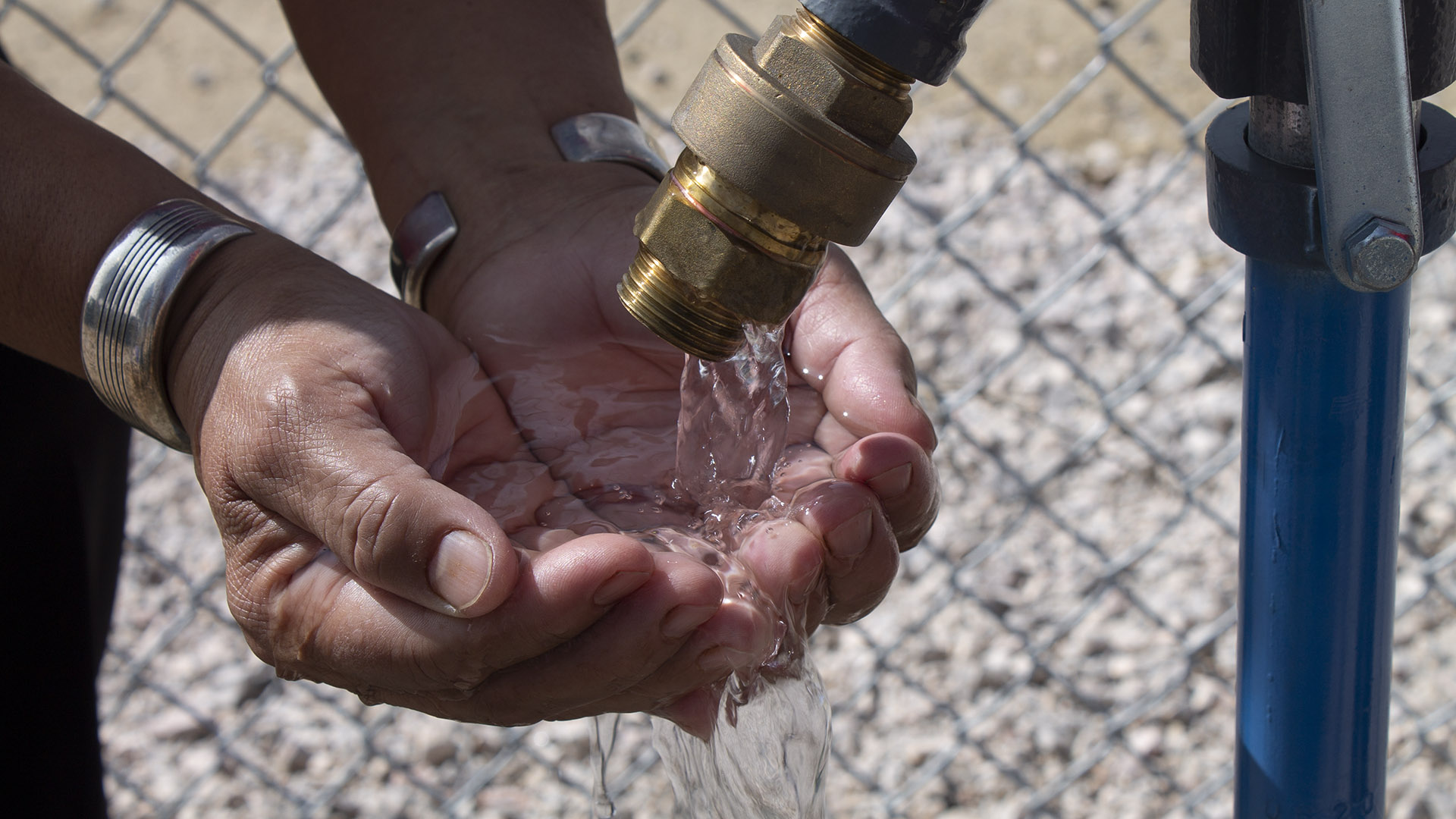 Member of the Navajo Nation retrieving clean, drinking water at the local well during the COVID-19 pandemic.
Courtesy of Nikki Tulley via the Colorado River Water and Tribes Initiative
A bill recently introduced in the U.S. Senate aims to provide billions of dollars to improve access to clean water in tribal lands.
One of the senators who introduced the bill, Sen. Michael Bennet, D-Colo., wrote in the foreword of a report about tribal water access within the Colorado River Basin that one estimate states 48% of households within tribal lands lack clean water or sufficient sanitation.
Anne Castle is with the Colorado River Water and Tribes Initiative, the group that produced that report in April 2021. It also helped shape SB 2369 that the Arizona Republic reports could provide approximately $6.7 billion for water infrastructure. Castle highlighted funds proposed to go to a division of the Indian Health Services focused on creating sanitation facilities, including clean water infrastructure.
"The need far exceeds the previously available funding, and SB 2369—it's intended to fund that full level of unmet need for this clean water infrastructure," said Castle.
She said IHS estimates it would need a little over $3 billion to construct the needed infrastructure, but she said their annual budget for these projects is usually around $100 million. Sens. Bennett and Martin Heinrich, D-N.M., who introduced the bill, allocated other funds within the bill to the U.S. Department of Agriculture Rural Development, Bureau of Reclamation and the Environment Protection Agency.
During the pandemic, the lack of clean water across tribal lands made national news, and Castle said this is the moment to take legislative action and deconstruct barriers to hand washing, cleaning, potable water and indoor plumbing.
"It's literally a matter of life and death," said Castle. "We're in a moment in time where there's been recognition of the lack of access to clean water in Indian Country, and there's a focus on improving our infrastructure across the country."
She also added that the increased attention on racial equity issues could create an opportunity for progress. Native American homes are 19 times more likely than white households to not have indoor plumbing, according to an analysis of Census data by the U.S. Water Alliance and Dig Deep.
"Access to a reliable and clean drinking water supply is — that's an essential human right," Castle said.