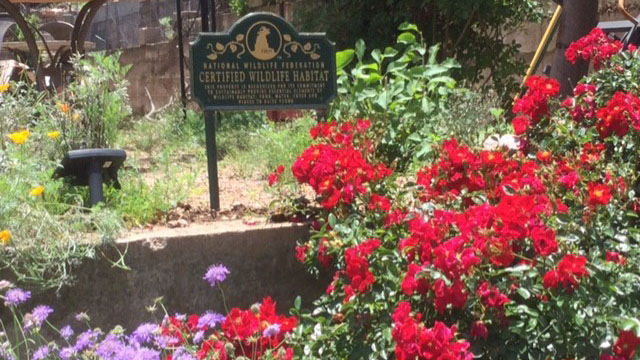 A combination of annual or perennial plants can be turned into colorful and fragrant attractions in gardens.
courtesy Bisbee Bloomers
Featured on the August 26th, 2021 edition of ARIZONA SPOTLIGHT with host Mark McLemore:
Many organizations that had to suspend activities in 2020 because of the pandemic are trying to resume. In southeast Arizona, The Bisbee Bloomers are opening up eight private gardens to the public beginning Labor Day Weekend. Tony Paniagua offers a preview of what's in store for The 19th Annual Bisbee Garden Tour.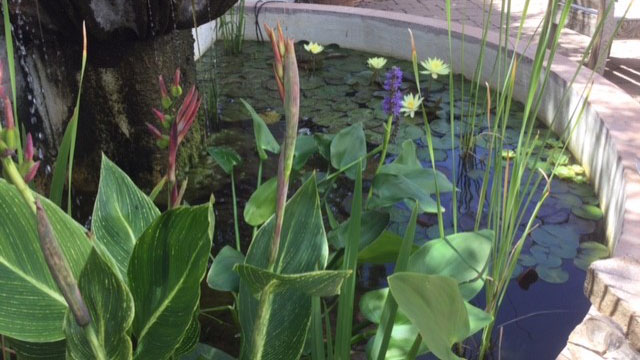 Water features can provide colorful and peaceful oases for gardens.
courtesy Bisbee Bloomers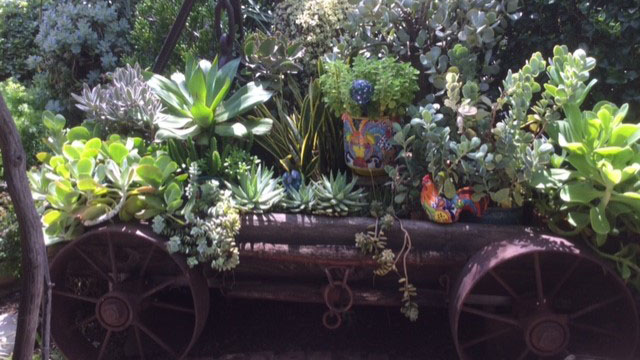 Many gardeners like to experiment by reusing or recycling objects in their gardens that create useful and visual decorations.
courtesy Bisbee Bloomers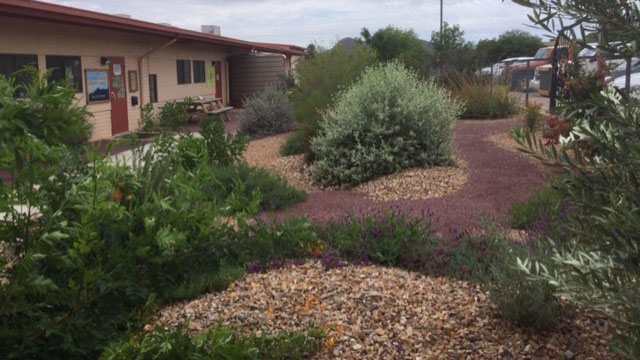 A landscaped backyard in Bisbee illustrates some drought-tolerant plant options that can be used.
courtesy Bisbee Bloomers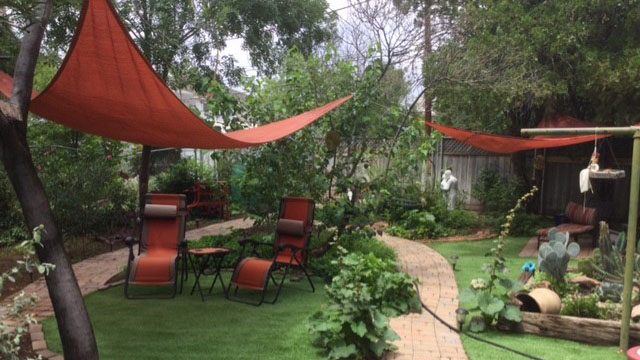 Shaded areas are welcome spaces in the desert, allowing residents to extend their comfortable times outdoors.
courtesy Bisbee Bloomers
Mark McLemore offers his own quick reflection on the mystique of rock 'n roll drumming legend Charlie Watts...
"When I began to play drums around the age of 16, I started keeping my ears open for classic rock that I thought might be good to learn from. Because my mom had bought me a bright blue, extra-loud cowbell to go with my first set of drums, I was attracted to "Honkey Tonk Woman", by The Rolling Stones.
Being young and naive about how music was recorded, I didn't know anything about multi-tracking. I just assumed that drummer Charlie Watts was playing both the drums and the cowbell pattern at the same time -- he was not. But, I was determined to learn how to do it, and the beat that eventually developed sounded good enough to fake it. It remains my best musical party trick, but I'm not alone - you can go to youtube anytime to see other drummers doing their own versions.
Charlie Watts was an enigma to most people, always keeping his cards close to his very fashionable vest. He stood out in the Rolling Stones as being different, but outside of playing in one of his beloved big bands, it's hard to imagine Watts blending in with any rock group this side of DEVO. Even so, in reacting to his death on Tuesday at age 80, fans around the world are finding endless ways to praise Charlie Watts for what he meant to them. I haven't heard a soul suggest that the Stones would have been better off with anyone else behind them during their 58 years together.
In photographs, you don't often see Watts offering more than a polite smile, except when he was with his wife, and daughter, or near his beloved Arabian horses. He guarded his privacy, and never gave a damn what anyone else thought. He lived life doing exactly what he wanted, on his terms, and he inspired many others to try doing the same. Charlie Watts did not share the same appetites as his bandmates Mick and Keith, and I don't doubt for a second that he died a very satisfied man."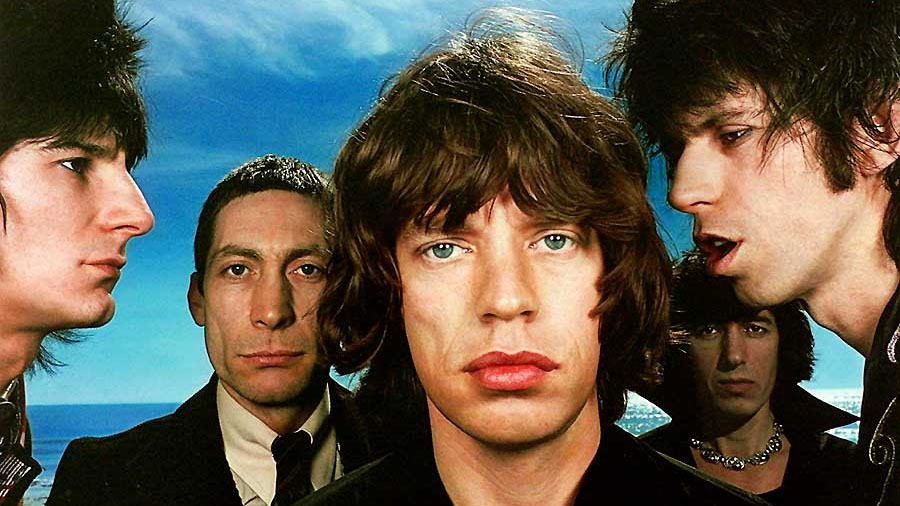 (From left to right) Ronnie Wood, Charlie Watts, Mick Jagger, Bill Wyman, and Keith Richards: The Rolling Stones in 1976.
And, audio drama returns to the airwaves as The Rogue Theatre presents the radio play A White Heron, adapted from an 1886 short story by Sarah Orne Jewett. For the first time, a little girl finds her love for the natural world challenged by a stranger's question, and must decide for herself how much keeping a secret is truly worth.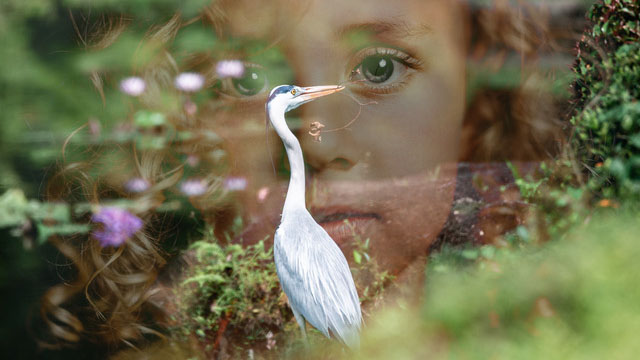 The short story "A White Heron" was written in 1886 by Sarah Orne Jewett, and adapted for radio by Cynthia Meier in 2021.
courtesy Rogue Theatre
"A White Heron" was adapted by Cynthia Meier from the 1886 short story, written by Sarah Orne Jewett.
Starring Bryn Booth as Sylvia, Carley Elizabeth Preston as Mrs. Tilley, Hunter Hnat as The Stranger, and Cynthia Meier as the Narrator.
Directed by Joseph McGrath, music adapted and performed by Russell Ronnebaum.
This Rogue Theatre presentation was supported in part by The Arts Foundation for Tucson and Southern Arizona, and Marianne Leedy.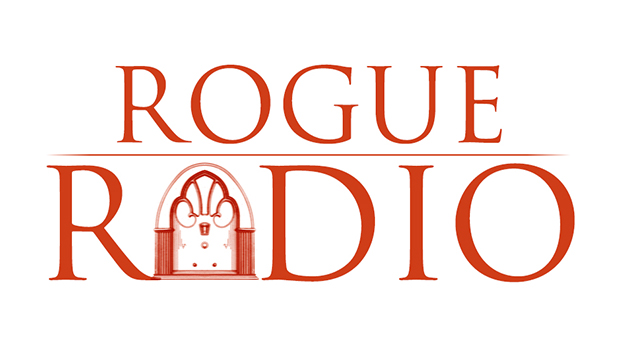 Radio Rogue is a project of the Rogue Theatre in Tucson, bringing audio drama back to the Southern Arizona airwaves.