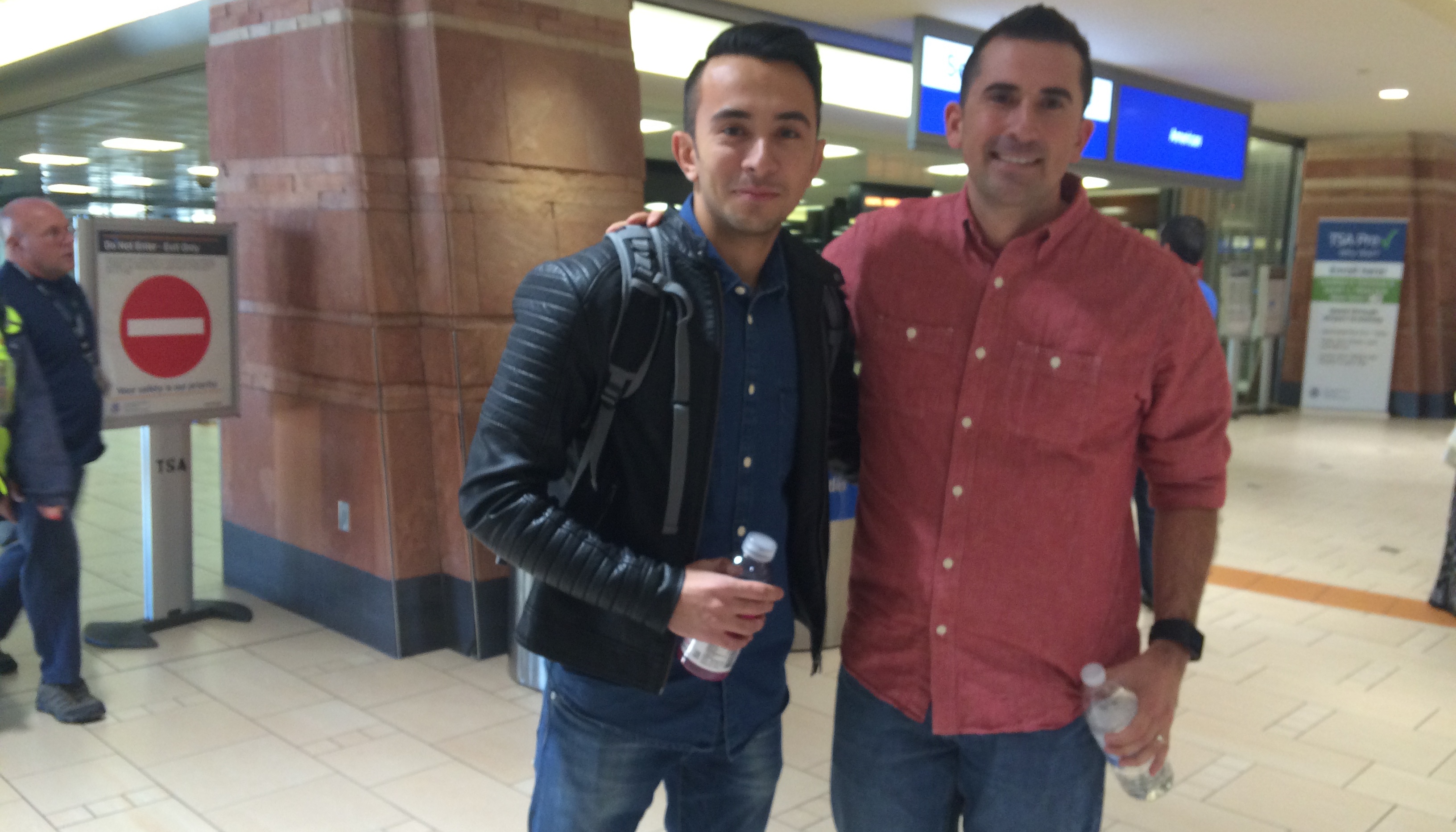 Aaron Marquez (right) and his former interpreter Alex (left), reunited at Phoenix Sky Harbor Airport in 2015. In the wake of the U.S. withdrawal from Afghanistan, the Biden administration says it plans to resettle tens of thousands of Afghans in the U.S., including many who helped American troops.
Jude Joffe-Block
This week, Governor Doug Ducey announced that Arizona had welcomed its first group of Afghan evacuees on Sunday, and more are on their way.
The arrival is part of a plan by the Biden administration to resettle tens of thousands of people who fled the country over the last few weeks.
Aaron Rippenkroeger with the International Rescue Committee (IRC) in Arizona said his organization is helping 18 Afghans so far and he expects hundreds more to resettle in Phoenix or Tucson in the coming months.
For years, groups like the IRC have worked with the U.S. government to resettle refugees.
But Rippenkroeger said unlike some other refugee populations, who may have spent years in refugee camps before U.S. resettlement, many of the Afghan families arriving now are reeling from extreme trauma they experienced in just the last few weeks.
"The scenes from the Kabul airport are a clear example of that," he said. "Things are still going to be really raw for them, and they're still going to be processing what they've just been through for some time to come, it's just going to be really important that we find ways to support them through that process."
Rippenkroeger said the IRC is looking into how to bulk up mental health services and support to help families address that trauma. He also said in the harried effort to flee their country, many people have visas with missing information, or may have family elsewhere in the U.S. that they may need to leave Arizona to connect with. Those factors will change the way they are resettled, Rippenkroeger said, and it will take time.
Families receiving care from the IRC in Arizona and across the country are being flown to the U.S. from American military bases around the world after being air lifted out of Afghanistan. Rippenkroeger said there are still more families who didn't make it on those flights and may still be trying to get out through other means.
Rocío Castañeda, with the legal advocacy group Florence Immigrant and Refugee Rights Project, said her organization is trying to plan for the possibility of some families coming to the U.S.-Mexico border.
"We are preparing to see Afghans who were not able to make it out by the deadline given by the Biden administration, arrive at our border in Nogales," she said.
But she added that, like thousands of other waiting at the border, they will likely be stuck.
"We are preparing like we have with other asylum seekers to meet them ... and essentially give them the bad news that there is no access to asylum at the border," she said.
Castañeda said as long as policies like the Migrant Protection Protocols and Title 42 remain in place, all asylum seekers have to wait in Mexico, almost no one will have their claims processed for now. She said it's likely that will still be the case for Afghans.