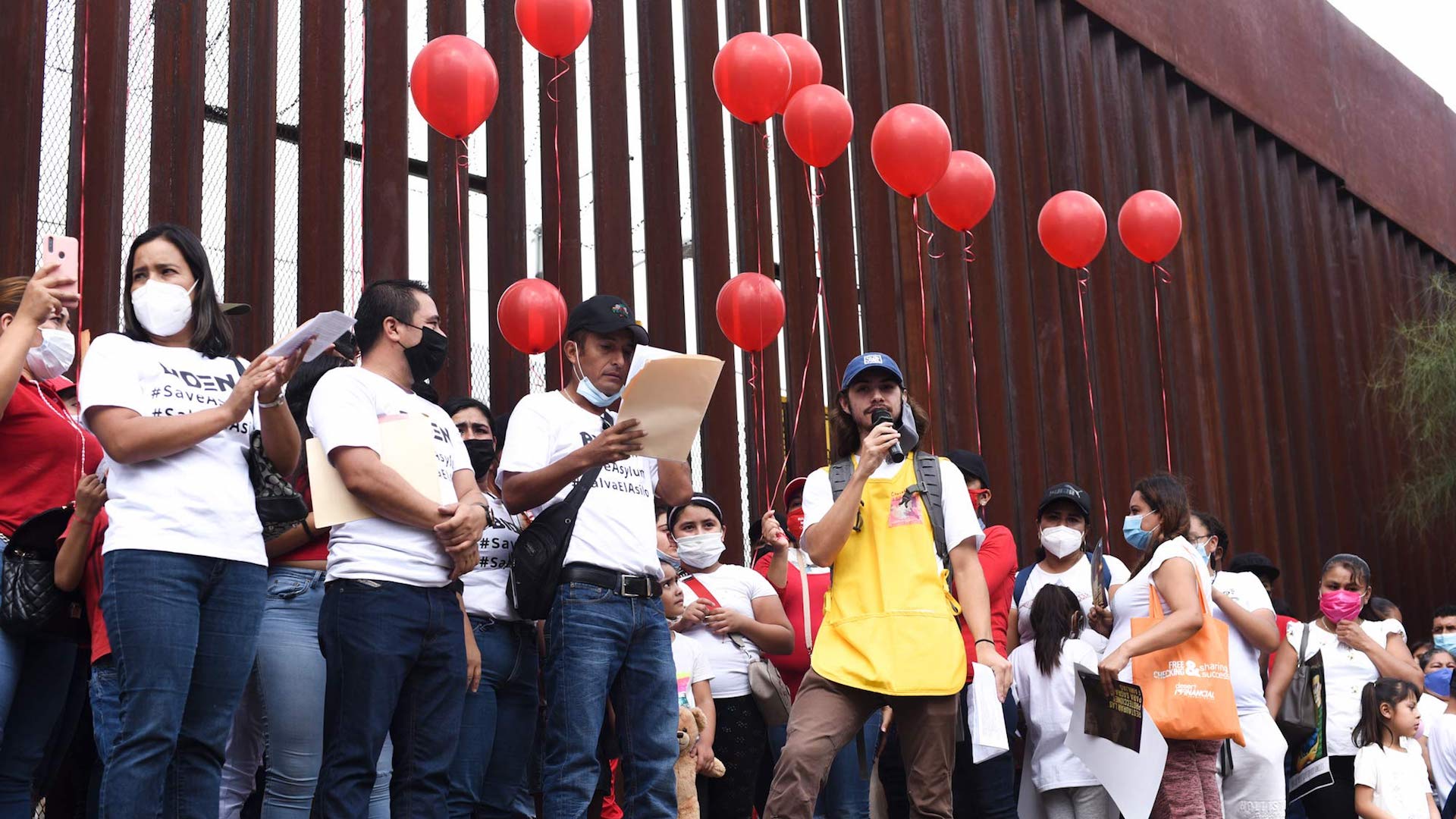 Migrants, advocates and faith leaders gather on both sides of the border wall in Nogales to read out the names of families seeking asylum and give testimonies.
Alisa Reznick/AZPM
A federal appeals court has ruled to allow the Biden administration to continue applying the pandemic-era protocol, Title 42, to migrant families at the U.S.-Mexico border. As that battle plays out in court, families at the border in Arizona are still trying to make their case for asylum.
Title 42 was enacted under the Trump administration at the onset of the pandemic last year and allows Border Patrol agents to rapidly deport almost all migrants apprehended along the border. The practice has come under fire because it makes it harder to apply for asylum, but Biden has continued to use it on some families and almost all single adults.
Thursday's decision is the latest in a lengthy legal battle the ACLU has mounted against the policy. A previous court ruled in the ACLU's favor, and gave the government two weeks to stop using Title 42 on families. That was supposed to happen Thursday, but the new order eliminates that deadline.
Hundreds of migrants and advocates rallied on both sides of the border in Nogales last weekend, asking the Biden administration to restore access to asylum. More than two dozen families planned to approach the port with their asylum paperwork, negative COVID tests and vaccine cards in hand.
But Customs and Border Protection closed the port temporarily after the first family tried to enter. Each of the families were turned away over the next few hours.
Migrants have continued to mount protests against the policy since then. Videos shared with Arizona Public Media show dozens of people holding banners and signs during demonstrations in a plaza near the port in Nogales, Sonora. Other videos show more families trying to approach the port with lawyers, only to have the gate closed again.
Carlota is a Mexican mother from Guerrero who gave a pseudonym because she's worried speaking could affect her chances for asylum. Speaking from one of the demonstrations on Friday, she said families like hers will keep trying to get traction for their cases at the port.
"Many people support us," she said in Spanish. In the background, car horns beeped and people cheered in recognition.