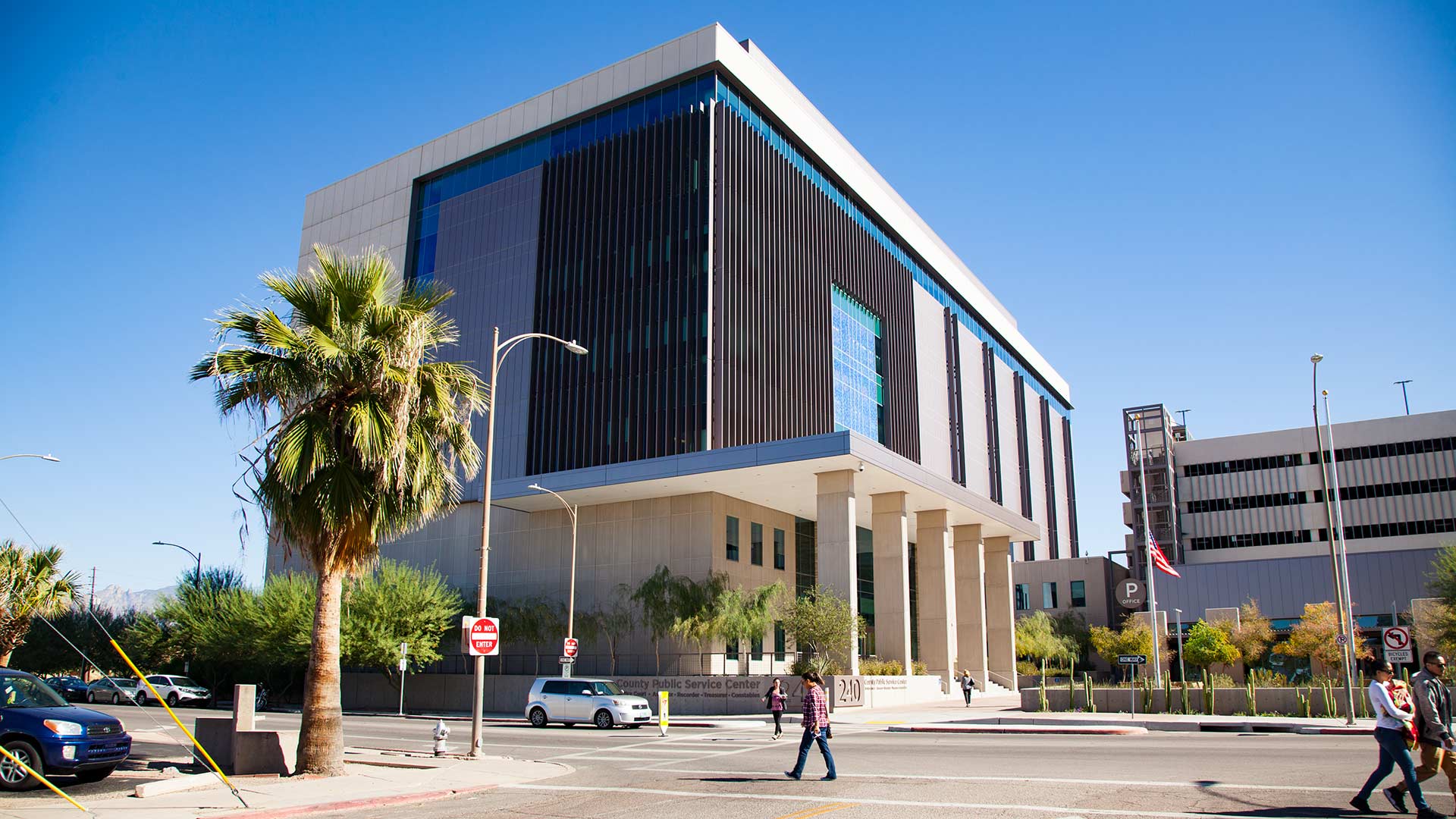 The Pima County Public Service Center.
Nick O'Gara, AZPM
With tax-filing season looming, the Pima County Assessor's Office is taking their services out of their downtown Tucson office to communities around the county — visiting public libraries over the next month and a half.
The idea is to both educate county residents about what the county assessor does as well as provide them with easy local access to their services.
County Assessor Suzanne Droubie understands it can be difficult for some citizens to get to the assessor's office in downtown Tucson. Many residents come only if they have to. She says the library visits make it possible to explore a deeper level of service.
"It gives us the opportunity to sit down with taxpayers in a place that is friendly to them — neutral — and explain to them what the assessor's office and what Pima County can do for them, so basically bring education out into the community," she explains
The library visits will include rural parts of the county, such as Ajo and Arivaca.

"We're hitting all the peripheral areas of Pima County — areas I have always felt have been a little disenfranchised just because of the mileage between here and there," says Droubie. "So, I believe we are hitting almost every library in Pima County."
But she says going out into the communities not only makes the assessor's office more accessible but allows them to make new connections.
"There's some people that come there because they know we're going to be there, but we also end up catching a lot of people that just happen to be at the library that are curious and they at that point get to sit down and learn a little about what the Assessor does and what services we provide to the community," she says.
All visits are scheduled between 10 a.m. and noon, although staff will stay until everyone's questions have been answered. Dates and locations can be found here:
Tue, January 25th 10:00a - Noon
Murphy-Wilmot Library 30 N Wilmot Rd Tucson, AZ 85711
Thu, January 27th 10:00a - Noon
Oro Valley Public Library 1305 W Naranja Dr Oro Valley, AZ 85737
Tue, February 1st 10:00a - Noon
Valencia Library 202 W Valencia Rd Tucson, AZ 85706
Thu, February 3rd 10:00a - Noon
W. Anne Gibson-Esmond Station Library 10931 E Mary Ann Cleveland Way Tucson, AZ 85747
Tue, February 8th 10:30a - 12:30p
Joyner-Green Valley Library 601 N La Cañada Dr Green Valley, AZ 85614
Thu, February 10th 10:00a - Noon
Caviglia-Arivaca Library 17050 W Arivaca Rd Arivaca, AZ 85601
Tue, February 15th 10:00a - Noon
Salazar-Ajo Library 15 W Plaza #179 Ajo, AZ 85321
Thu, February 17th 10:00a - Noon
Murphy-Wilmot Library 30 N Wilmot Rd Tucson, AZ 85711
Tue, February 22nd 10:00a - Noon
Woods Memorial Library 3455 N 1st Ave Tucson, AZ 85719
Thu, February 24th 10:00a - Noon
Sam Lena-South Tucson Library 1607 S 6th Ave Tucson, AZ 85713
Tue, March 1st 10:00a - Noon
Dewhirst-Catalina Library 15631 N Oracle Rd #199 Catalina, AZ 85739
Thu, March 3rd 10:00a - Noon
Joyner-Green Valley Library 601 N La Cañada Dr Green Valley, AZ 85614