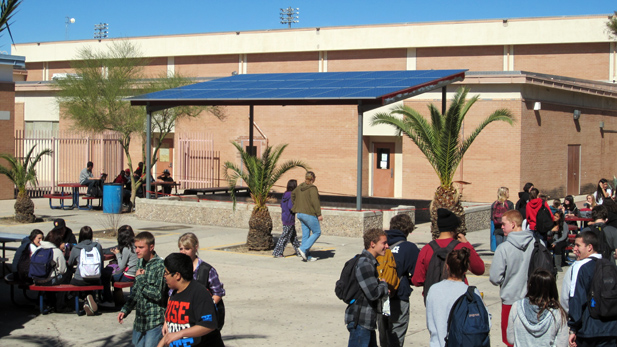 Tucson Electric Power's solar panels in TUSD. (PHOTO: Photo courtesy of Tucson Unified School District)
Solar panels will be installed on four high schools in the Tucson Unified School District, expanding the district's solar reach.
The five-kilowatt solar systems are already in place at four Tucson Unified School District high schools, and now the district's governing board has approved the installation of solar panels at four more, says Cara Rene, a spokeswoman with the district.
Tucson Electric Power will collect the energy from the solar panels, sending it into the overall electrical supply, meaning the generated power won't go directly to the schools, Rene says.
"However, students will benefit from the donation because they will learn about how solar energy works," she says.
Sahuaro, Santa Rita, Sabino and Pueblo high schools have solar panels from TEP, and the new ones will be installed at Tucson Magnet, Palo Verde, Rincon, and Catalina high schools, Rene says.