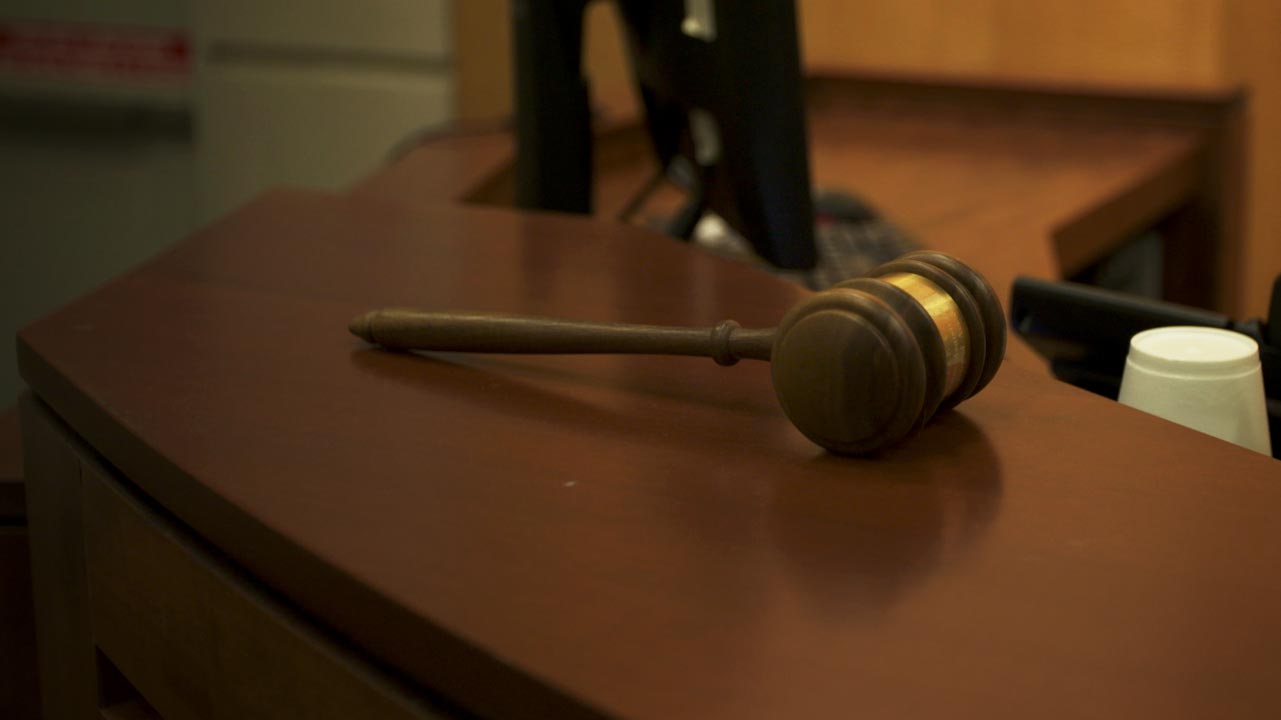 A file image of a judge's gavel in a courtroom at the U.S. District Court for the District of Arizona.
AZPM Staff
Planned Parenthood Arizona announced Friday its clinics would stop providing abortion services following the U.S. Supreme Court's decision overturning Roe v. Wade.
"We are being forced by the Supreme Court and politicians in this state to deny patient care right now," Brittany Fonteno, president and CEO of Planned Parenthood Arizona, said during a press conference Friday. "As a result of our state's legal landscape, we are pausing abortion services at Planned Parenthood clinics in Arizona."
The organization's announcement underscores the confusion surrounding Arizona's laws on abortion.
Abortion was banned outright in Arizona in 1901 and that ban is still on the books. However, it is enjoined, which means the ban cannot be enforced.

Gov. Doug Ducey signed a new law this year banning abortions after 15 weeks. That law will take effect about 90 days after the Legislature ends its annual session.
The law only allows exceptions for medical emergencies and any physician who violates the law is guilty of a Class 6 felony, which can lead to a sentence of up to two years in prison.
Asked if the old ban might go back into effect after Friday's U.S. Supreme Court decision, a spokesperson for Attorney General Mark Brnovich said his office is still reviewing the ruling.
"We understand this is an important issue for so many people, and they are seeking clarity. However, it is a developing situation for our country and our state," said spokesperson Brittni Thomason. "The Attorney General's Office may be called upon by public officials to provide formal opinions on some of these topics, and I don't want to get out in front of that process. What I can tell you is the Arizona Legislature passed an identical law to the one upheld in Dobbs, which will take effect in approximately 90 days. Our team is actively reviewing the 213-page opinion that was just released this morning."
Moving forward, the path is rocky and uncertain for those seeking abortion services.
"Our patients will now have to go to centers that are out of state," said Dr. Jill Gibson, MD, medical director for Planned Parenthood Arizona in a press conference Friday. "The conversations that I've had over the past few days with my patients have been some of the hardest of my career."
Gibson said the impact of the decision will be felt hardest by those already facing obstacles to health care.
"Particularly Black, Indigenous, and other people of color, people with disabilities, people in rural areas, young people, undocumented people, and those having difficulty making ends meet," Gibson added.
Opponents of abortion cheered the decision and argued lawmakers should go further than the law passed this year.
"The foundation of our organization believes that all innocent human beings from day one, no matter what the circumstances are with the conception — which would even include a case of rape or incest — it's the protection and defense of all human life," said Garrett Riley, the executive director of the Arizona Life Coalition speaking prior to the SCOTUS decision. "And so, we would see and prefer all abortions would be ended someday — hopefully that will be the case."
Meanwhile, supporters for abortion rights are organizing to get an initiative on the ballot this year that would amend Arizona's constitution to protect access to abortion services in th estate.
The initiative, called the Arizona Right to Reproductive Freedom Initiative, needs 356,467 valid signatures by July 7 to get on the November ballot.
Arizonans for Reproductive Freedom treasurer Shasta McManus said that as of the end of May, they had more than 100,000 signatures.
"We have over 50 depots all across the state – both issuing out petitions for circulation and collecting signatures themselves," said McManus. "It is almost impossible to keep track from day-to-day. At our last count, we were seeing somewhere over the 100,000 mark. But that was days ago."
---
Hear more: Arizona after Roe
Barbara Atwood, professor of law emerita at the University of Arizona, spoke with AZPM before Friday's ruling about the past and future of the state's abortion laws.