This is
Tapped
, a podcast where we tell our stories - the stories of people living with the cost of drought in the Southwest, and what we can do to mitigate it.
Tucson celebrated a milestone earlier this year that you might have missed. A fish that hadn't been seen in this stretch of the Santa Cruz River for about a century came back, with the help of some scientists.
After the successful reintroduction of the gila topminnow in 2020, the longfin dace is being reintroduced in Tucson's Santa Cruz River.

Liz Scherffius, Megan Myscofski / Arizona Illustrated
The fish called the longfin dace arrived in 5-gallon buckets rigged with foam and duct tape to keep the temperature comfortable. The researchers strapped them to their backs and brought them to the bank of the river.
As they got them to the bank, they slowly added river water to the buckets to help them adjust. It was just like when you bring a fish home from the pet store, leave it in a bag and let it sit in the tank long enough to hit the same temperature.
And once the water in the buckets reached the river's temperature, the researchers released the fish.
But, for the fish to come back, water had to come back.
Water is coming back to the Santa Cruz River in Tucson, despite the drought. But it has taken a lot of work to get it, and the creatures that rely on it, there.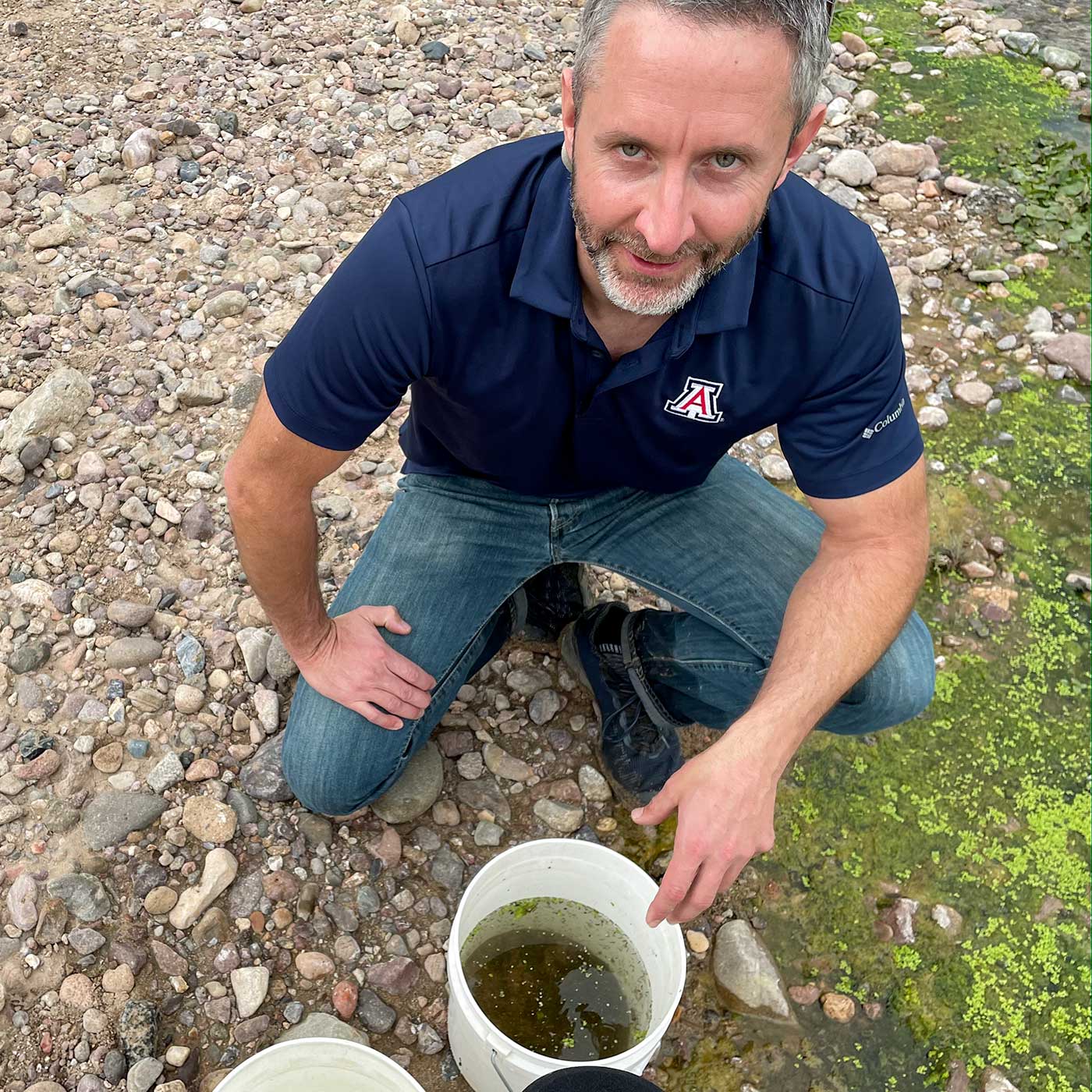 VIEW LARGER Michael Bogan collects samples on the Santa Cruz River. Water only began flowing again here in the last few years after several decades of being a dry wash.

Megan Myscofski / AZPM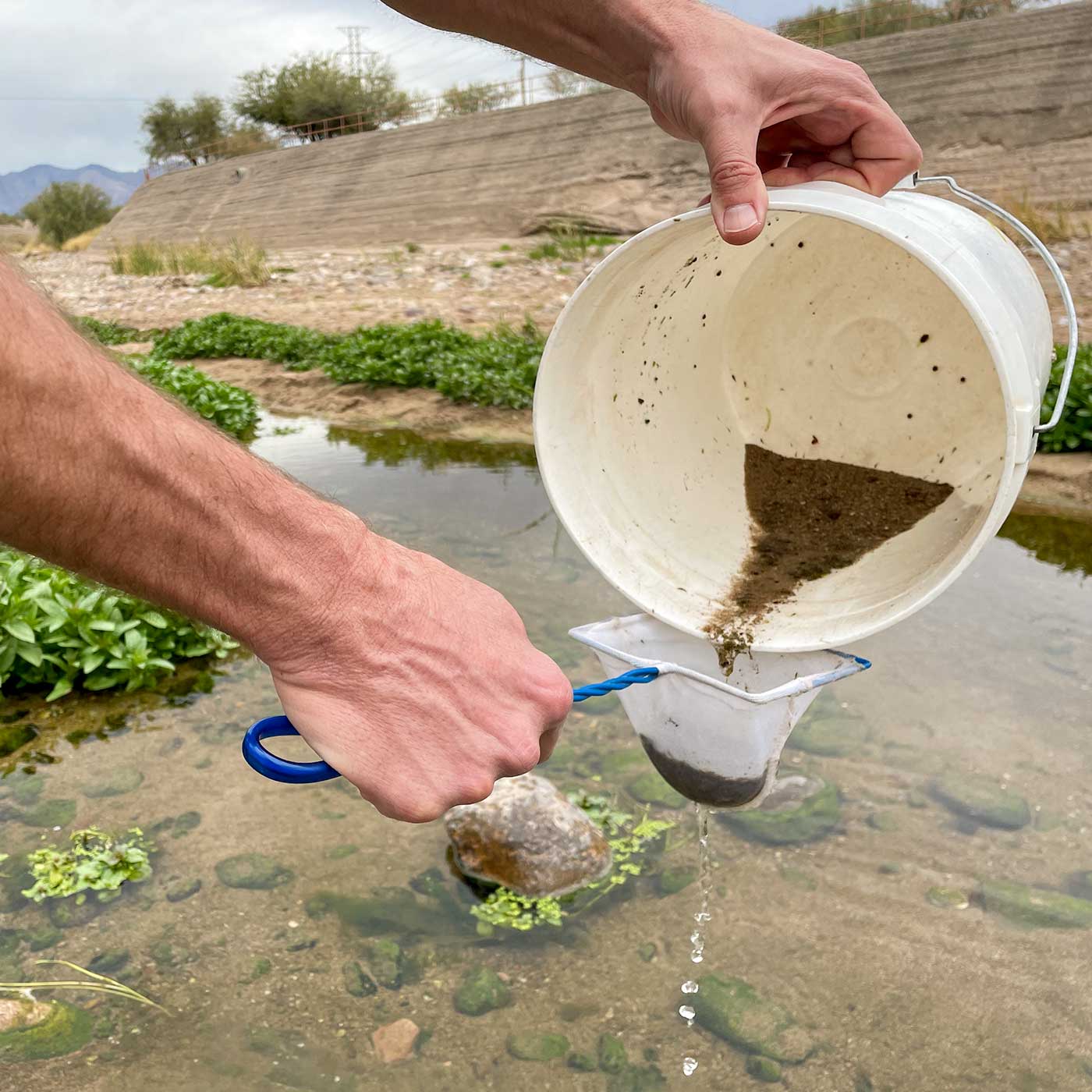 VIEW LARGER Bogan filters a sample that he'll take back to his lab at the University of Arizona to study.

Megan Myscofski / AZPM
Michael Bogan is a researcher with the University of Arizona, and he keeps an eye on the river. I went to see him in the Santa Cruz River bed near Star Pass and 22nd Street a couple months before he helped get the longfin dace back in it.
There were rock and cement walls on either side of us that lead up to a bike path and the parking lot. And around us was a rocky riverbank and flowing water.
"In a traditional river, we would consider this the headwaters because it's where the water starts in the river channel," Bogan said. "It's just in this case, instead of the headwaters being like Mount Lemmon, or a mountaintop or glacier, we have the headwaters [at] a pipe for this part of the reach."
There were a few trees and bushes down there, too.
"This is a small sapling of what's called seep willow. It's a really big riparian plant along desert streams," Bogan said. "It's really fun to see this shrub come back. It'll eventually grow to be about seven or eight feet tall."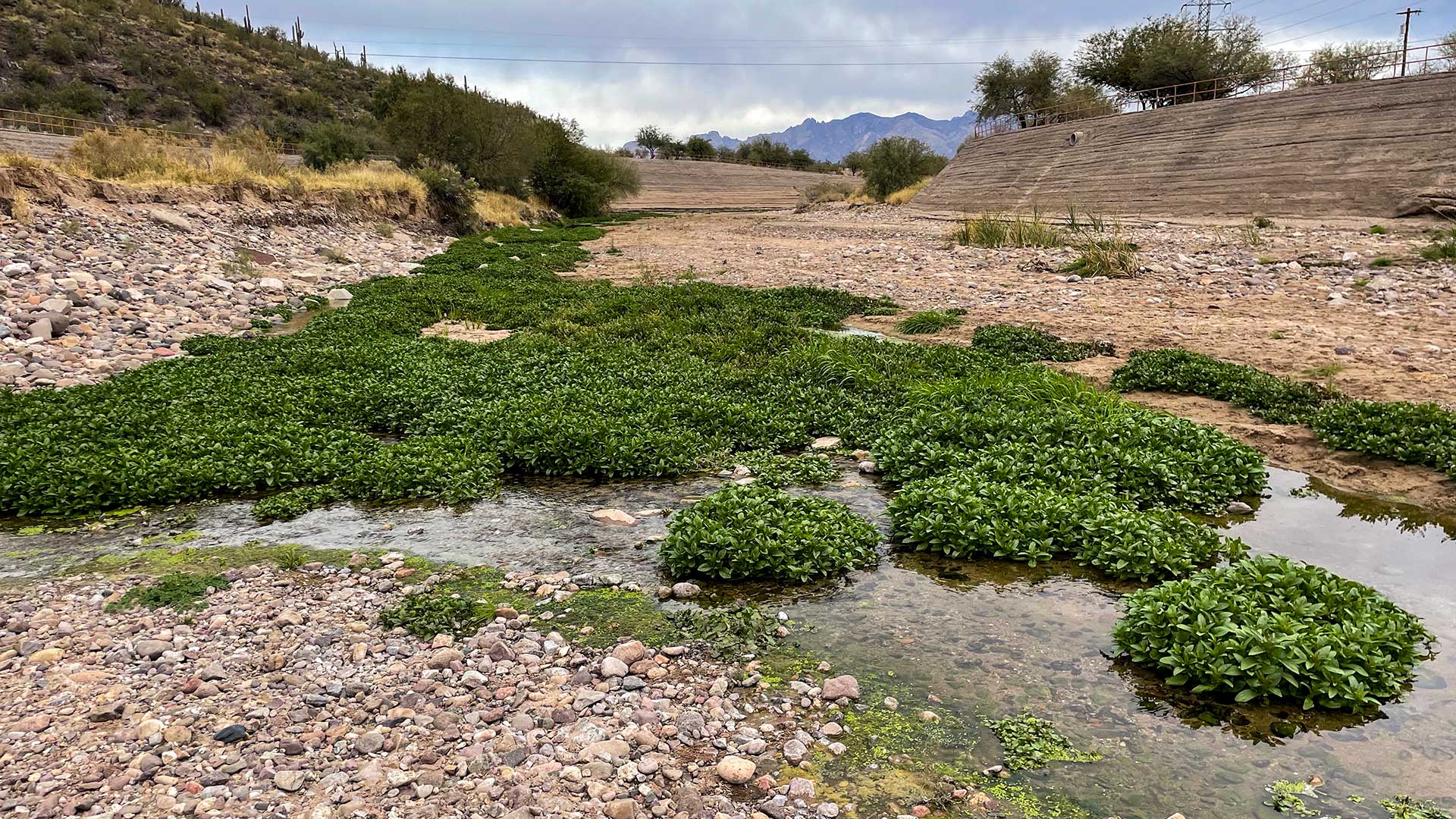 VIEW LARGER Bogan says that plant and animal life arrived almost as soon as water was reintroduced.

Megan Myscofski / AZPM
Where we were standing in the river was dry until just 2019, so everything there–like the plants, the animals–was all relatively new.
"This is an isolated stretch of the river. It's not connected by water to other flowing parts of the river," he said. "Everything has to fly or hop or crawl to get here. So, part of the fun from an ecology perspective is seeing which species show up, how soon they show up, how diverse it gets and how quickly it gets diverse."
Nothing we talked about was new to this area, but it is new to people living in Tucson. Most know the Santa Cruz River as a dry riverbed, unless a monsoon has recently passed through.
What we were looking at felt like a lot of water to us, after having seen it completely dry, but that spot used to be pretty wet.
"Let's go back to say 1910. You would have seen about the same amount of water here during the dry season," Bogan said. "So a river that's a little too wide to hop across, but easy to wade through or get across, and you would have seen some of the same plants that we're seeing growing along the river channel."
He said then, this wouldn't have been a ditch–the flood control channel where we stood would've been more like an open floodplain, and the river would move over a wide expanse reaching Sentinel Peak and what's now Downtown Tucson.
"And we would have seen cottonwoods and willow trees growing along the banks," he said. In addition to that, you would have seen irrigation canals being diverted from the river. That water that flowed in the river year round would have gone out to farms on either side of the river."
If you think back to the episode with Jacelle Ramon-Sauberan at the San Xavier Indian Reservation, you'll remember that people have farmed here for many, many generations.
And you'll remember that her grandma used to play in the water just downstream, and tell Jacelle stories that seemed completely remarkable to her because she'd grown up with a dry riverbed.
"We've had generations of Tucsonans, who grew up thinking that there's not supposed to be water in the Santa Cruz River, so they've grown up thinking that the river is a dry wash," Bogan said. "But that was not the case for 1000s and 1000s of years. The river was supposed to have water in Downtown Tucson."
And that dryness wasn't just a problem with the river.
When you think of Tucson, you probably think about it as a city that's mostly at peace with its place in the desert–xeriscaped lawns, crusty conservationists. That might be true, but a lot of that came as a response to a problem. A pretty big one that peaked in the 70s.
Sharon Megdal heads the Water Research Resource Center at the University of Arizona, and she's worked on water in this state for decades. She even led a regional water district in the 90s.
"Tucson, I believe, is the largest city in the United States that had been dependent on groundwater," Megdal said. "And maybe in the world. It was way up there."
Tucson at that time was entirely reliant on groundwater because the surface water–like the water that came through the Santa Cruz–had mostly dried up. As the population grew, Tucson dug deeper and deeper for more.
The city was reliant on groundwater for so long, that at one point, it became the only city in the U.S. of its size solely using groundwater.
And groundwater is finite.
The city tried to incorporate surface water treatment plants, but residents pushed back over the burst pipes and brown water that followed.

"There was no reason for a place like Phoenix to do anything other than what they were doing. But in Tucson, the utility thought it was going to do something, it tried to do something and it was a failure," Megdal said.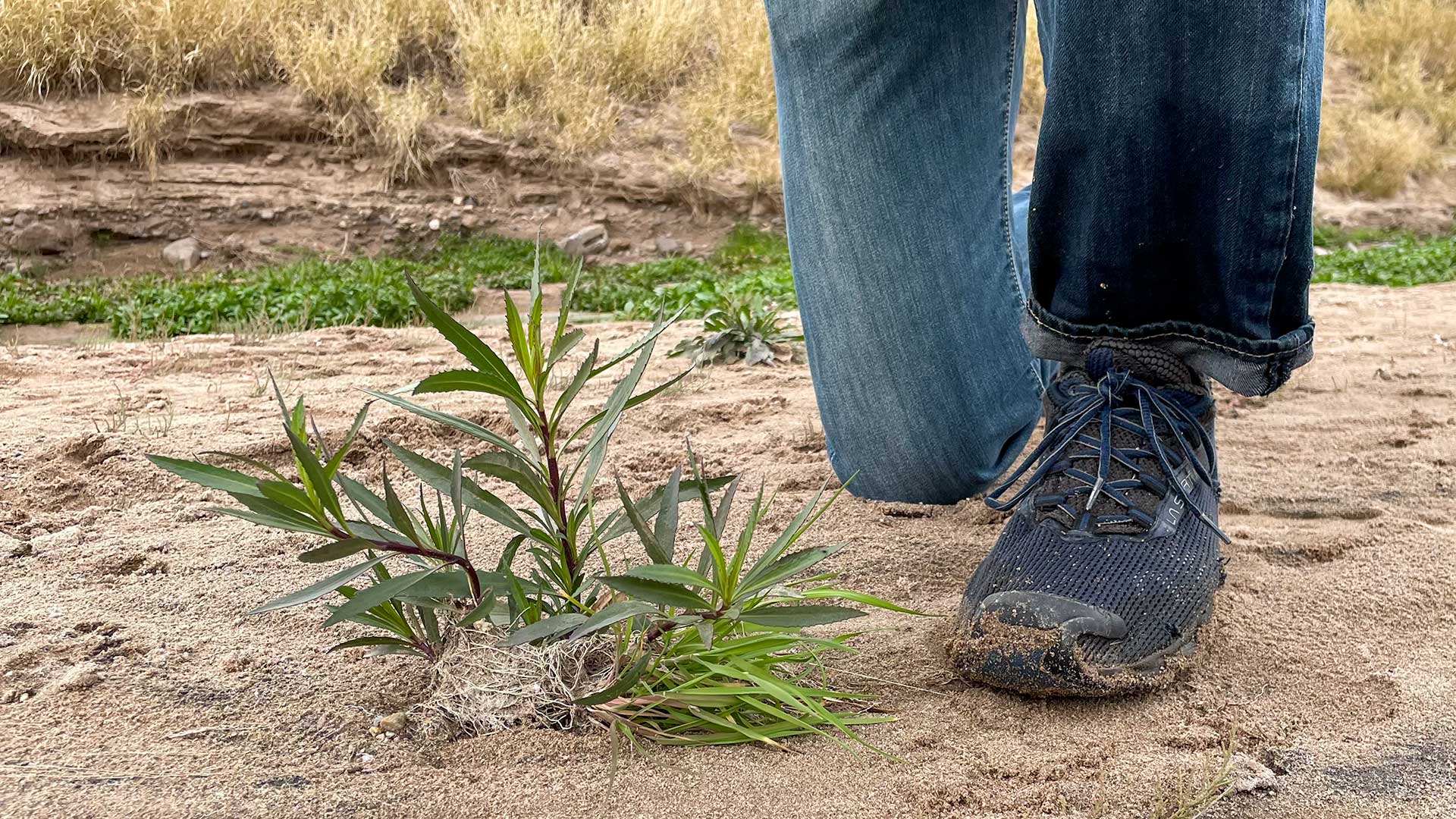 Bogan monitors the plant and animal life along the river.
Megan Myscofski / AZPM
A little further up the river from Michael Bogan, I met Fernando Molina. He worked for Tucson Water for thirty years, partially in the conservation program, and partially as a spokesperson.
We went to the Sweetwater Wetlands, which is both a water treatment facility and a wildlife habitat in the middle of Tucson. People come from all over the country to go birding here.
"People come here to learn about water. They come to look at the views of wildlife," Molina said. "You put water out in the desert and you're guaranteed to get wildlife coming out here."
But the wetlands have only been there since the 90s, after Tucson got serious about its water supply.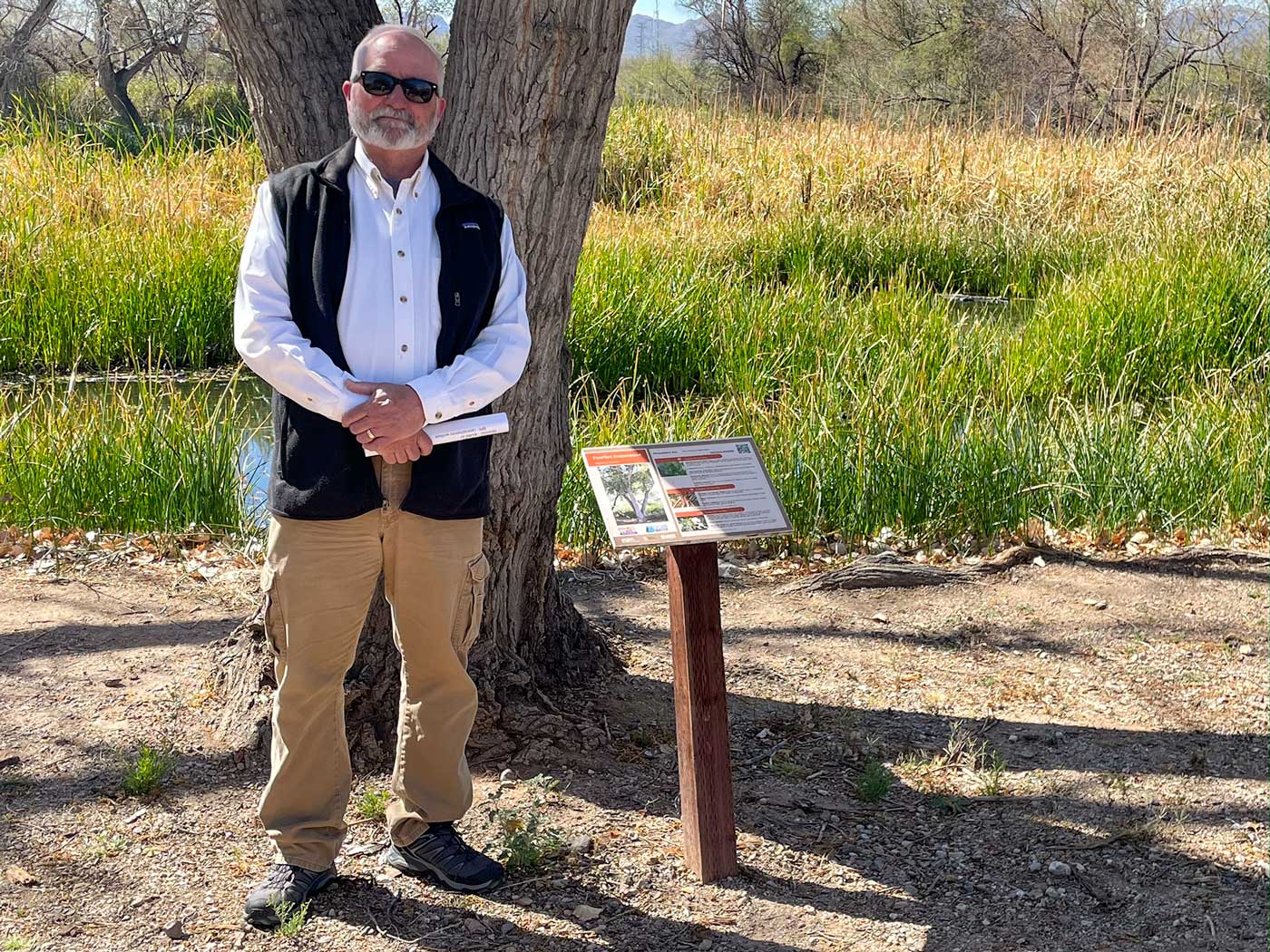 VIEW LARGER Fernando Molina worked for Tucson Water for 30 years, both as head of its conservation program, and as a spokesperson. Here he is at the Sweetwater Wetlands.

Megan Myscofski / AZPM
Molina said Tucson couldn't meet the demands it needed to–people would turn on their faucets and hoses, and no water would come out.
"The reliability of the water system is what people pay for, and they weren't getting that," he said.
So there were two big ideas: build more infrastructure and convince people to use less. And asking people to use less went a long way.
"In the mid 70s, you can see a tremendous drop, just from voluntary actions taken by residents in our community here," Molina said.
We'll talk more in the next installment about how Tucson Water got people to bring down their own water usage.
But conservation wasn't going to change the fact that Tucson had a lot of people living on a water source that was only depleting.
"The main thing was–we needed to invest significantly in infrastructure, and that's a big hit to take all at once," he said. "So several steps were taken."
The first step–they put in new rate structures and high users especially started paying more for their water.
"That was very controversial at the time. There were recalls. And there were resignations from the city council," he said. "But in the end, the fact of the matter was nothing changed, because we still needed to make these investments."
Around the same time, Colorado River water came into the picture. The state had already been working for decades on getting it to the most populated parts of Arizona. It even took California to the Supreme Court over Colorado River water rights, and it won.
A lot of Tucsonans were not convinced, and there were heated public meetings over bringing in the new source of water. Many couldn't believe it would be reliable. But then, the city council voted five to two to start piping it in.
Tucson Water upped its efforts to fix leaks, and it started banking excess Colorado River water in the aquifer in the 90s. It also created a project to recharge the river with treated wastewater.
That recycled water actually moves from where I met Fernando, back down to the spot on the Santa Cruz where Michael Bogan goes to test the river.
"It's coming from everybody's bathrooms, everybody's kitchens all across Tucson, going into that treatment plant," Bogan told me.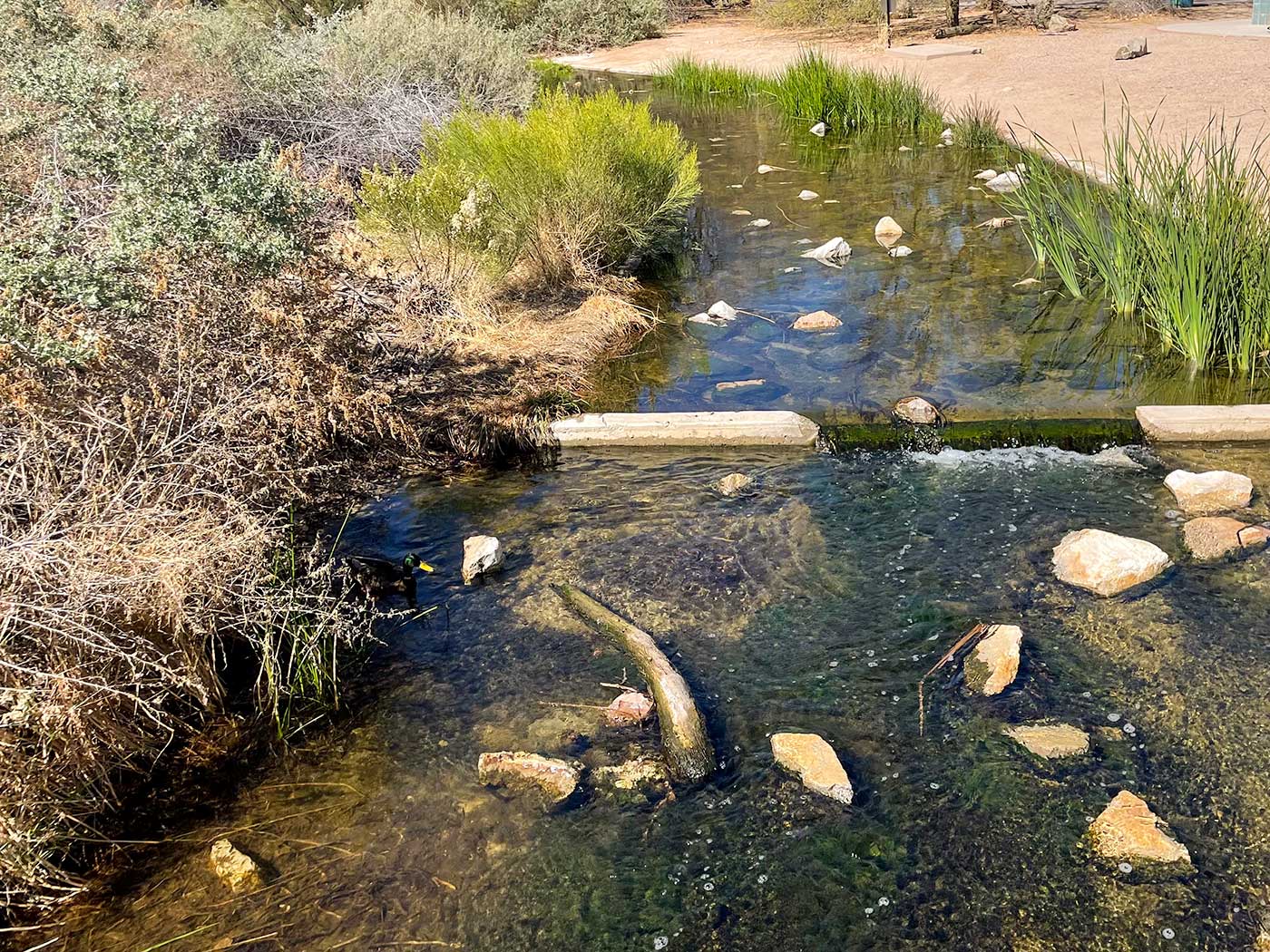 VIEW LARGER Treated water moves through the Sweetwater Wetlands as part of the Santa Cruz River Heritage Project.

Megan Myscofski / AZPM
The water travels about six miles through a pipe after being treated to be released here.
The system is called the Santa Cruz River Heritage Project, and it's an example of natural infrastructure.
"A lot of times that treated wastewater, that effluent, is thought of as a nuisance," Bogan said. "So, it'll be dumped into an existing river in a lot of places.
"Whereas in Tucson, and in a lot of southwestern cities, we're starting to realize this is something we need to hang on to because we're not getting a lot of additional freshwater supplies from anywhere else. We not only need to use our water wisely, but we need to reuse our water wisely."
The city brought water down here just a couple years ago to do that, and Bogan was here to see it.
"There were several hundred people who came out to see the release of the water," Bogan said. "What caught my eye, after only a few hours of the river flowing, was that some dragonflies and damselflies had already found the water."
He said that was the first aquatic species to make it back to the river since it dried up.
And now, he goes down, sometimes with a team, sometimes on his own, to see how the plant and animal life are doing.
He puts them in a bucket, preserves them, then brings them back to a lab, where he counts and records them.
As he looked through what he'd collected that day, he described it for me.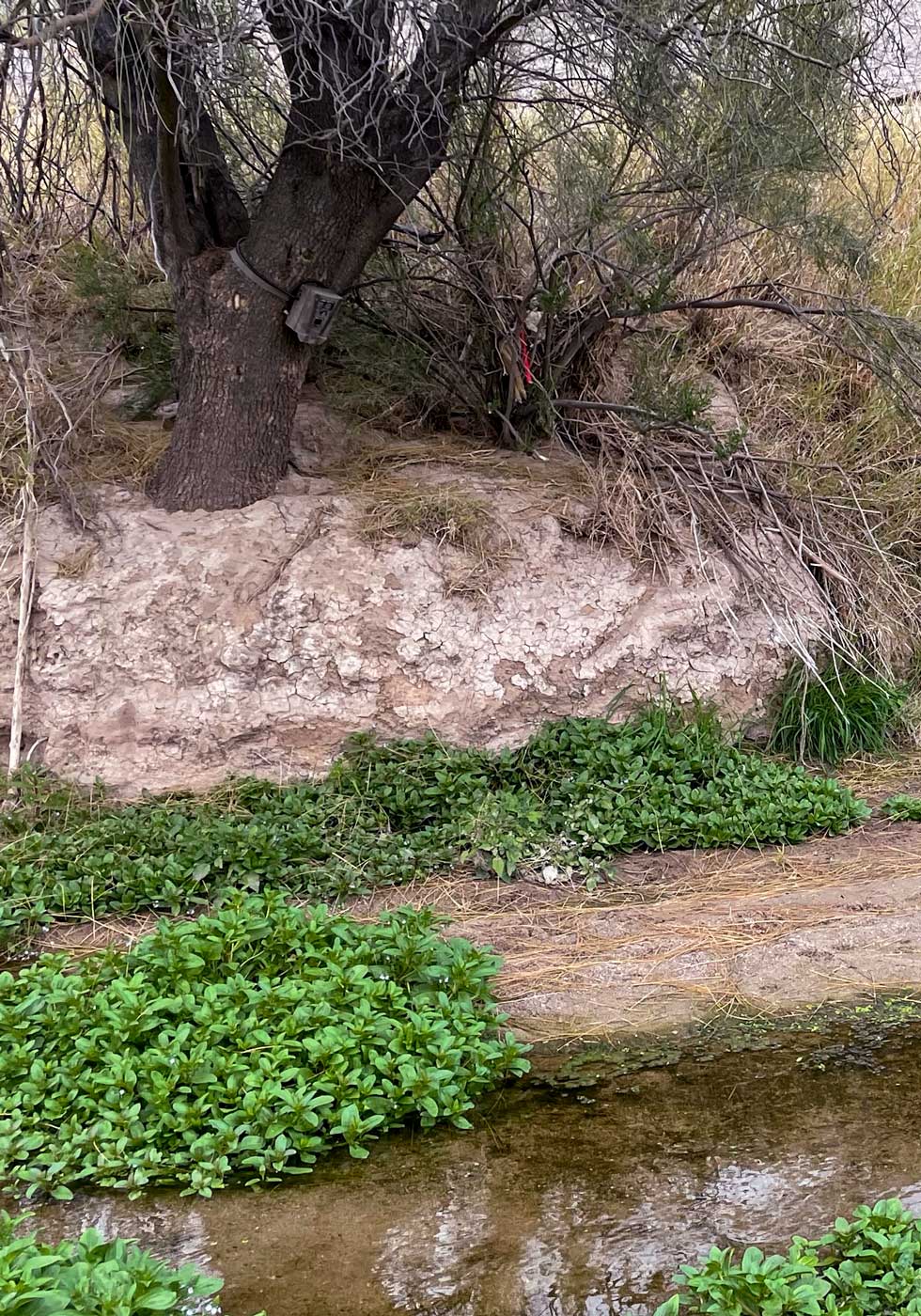 VIEW LARGER Bogan has a trail camera where he grabs pictures of wildcats and other desert life along the river.

Megan Myscofski / AZPM
"I can see mayflies that are crawling around. I can see some black flies, a little water strider, some dragonfly larvae. There are some aquatic snails crawling around there."
He even has a trail camera fixed to a tree, where he has seen animals like coyotes and bobcats come to relax. And he's seen some tragic ends–including house cats that were killed by coyotes and brought here.
But ultimately for him, this project is a sign that even as the region gets more dry, we can still make changes to keep water here.
"As long as this project keeps going, we're gonna have a new generation of Tucsonans who are used to seeing water here and are used to seeing the greenery and used to seeing the ducks," he said. "They're going to start to think, just like generations way in the past, that the river is supposed to have water in it.
"And that awareness and that connection to the river makes me super happy to think about."
Nowadays, the city relies almost entirely on water it banks that comes from the Colorado River. But, as the water in the river dwindles, the city will have to rely on creative solutions, like this.
More from Tapped