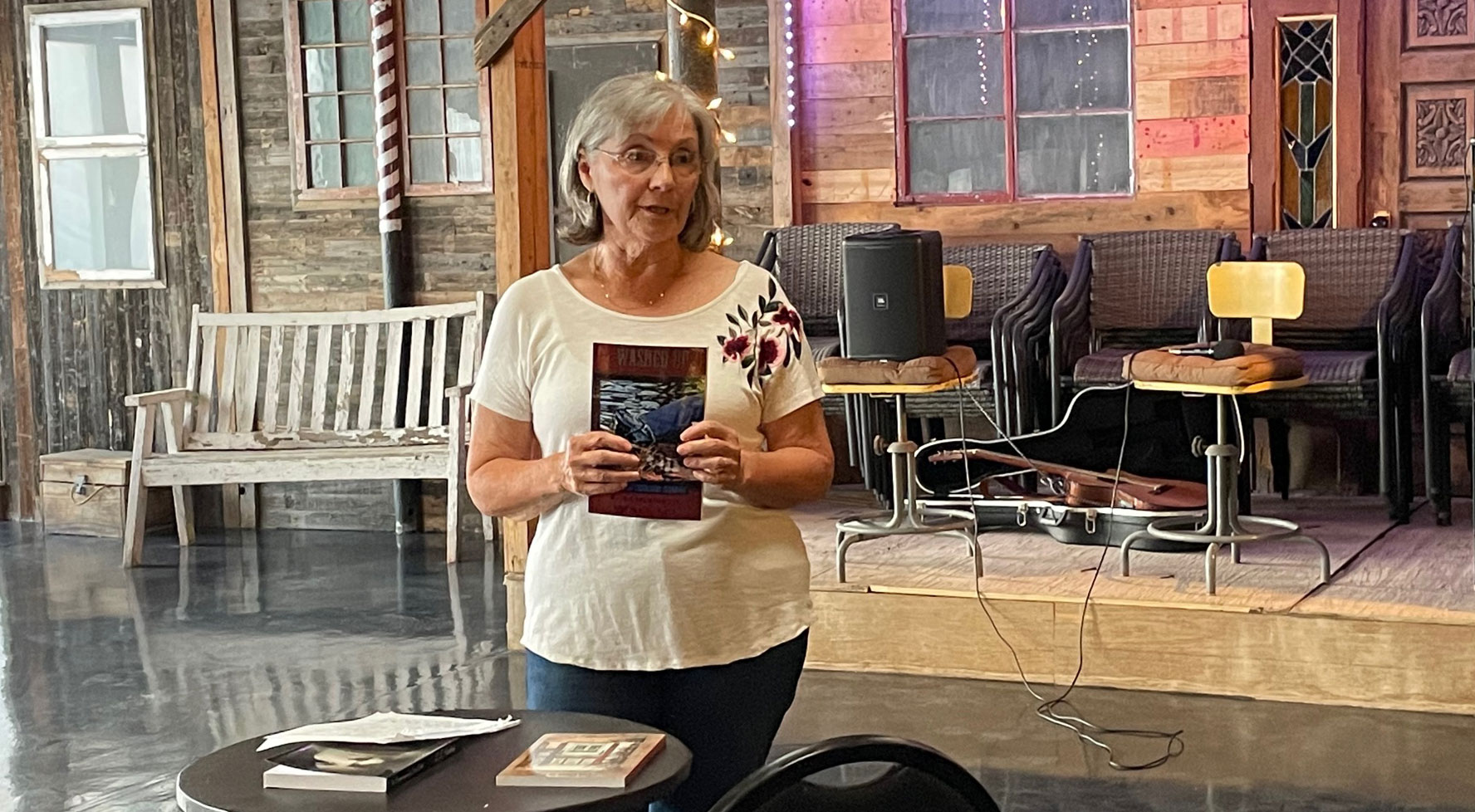 Open Mic has a guest speaker each month, and local author Laurinda Wallace had the honors on Thursday June 9, 2022.
Tony Paniagua / AZPM
Musicians, authors, poets and others who want to share their works in front of a live audience can do so at Open Mic Night, which meets at a growing business in the city.
Beth Orozco has been running the program for several years, which was established by a committee from Cochise College's Creative Writing Celebration.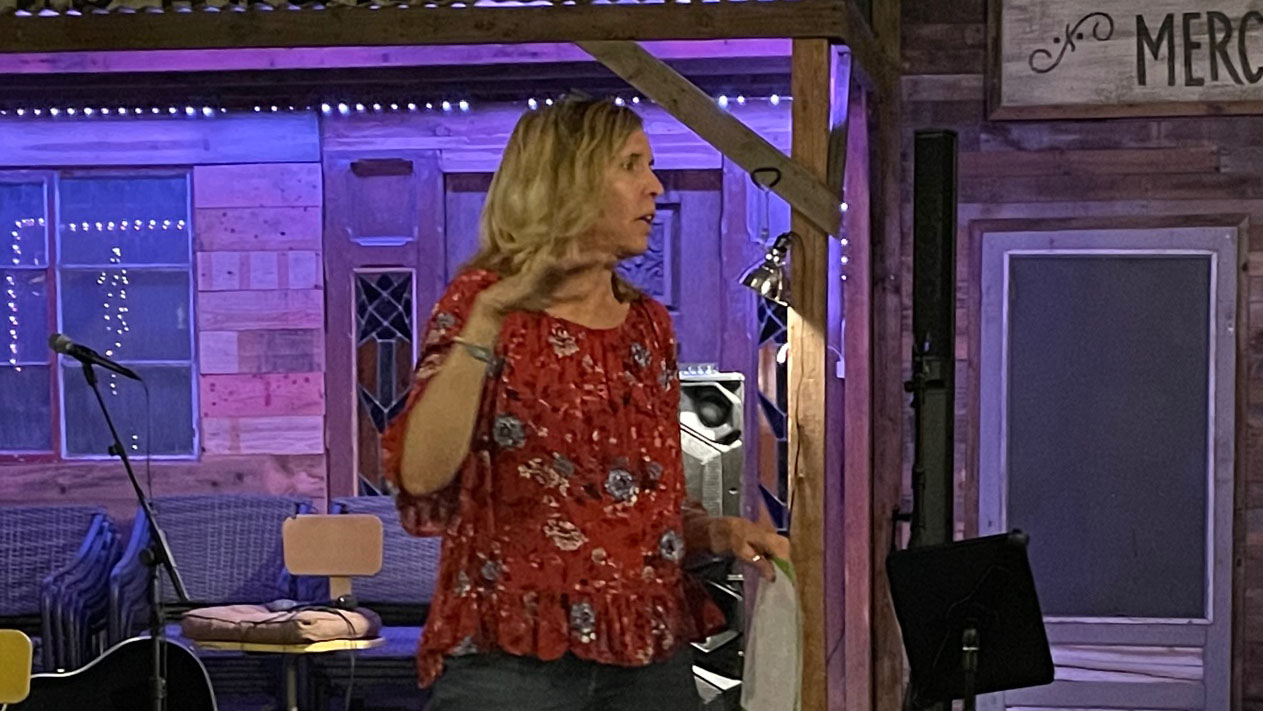 Beth Orozco, who founded Open Mic in Sierra Vista, addresses the group at the event.
Tony Paniagua / AZPM
Orozco teaches at the college, but she volunteers for Open Mic Night with the goal of providing an outlet for artists. The effort is leading to increased communication, friendships and alliances between participants.
"We've really developed an amazing writing community here. So writing groups have spawned from this, musicians are getting together," Orozco says.
"It's funny, I stop in here, I don't know, probably two or three times a month aside from Open Mic night and I see people that are here that have met in this venue and they're just meeting for coffee, they're sharing ideas."
The organization started meeting at Urbano Coffee Company several months ago when the group needed a new location after it had been meeting via Zoom due to the pandemic.
Supporters say the in-person presentations have rekindled connections and contributed to the company's well-being, since the monthly gathering brings new clientele and attention to the coffee establishment.
"We formed a relationship. The building that was a shell turned into a wonderful, beautiful venue for Beth and for many other people that have come to play here," says Urbano Coffee Company co-owner Jessica Sariñana.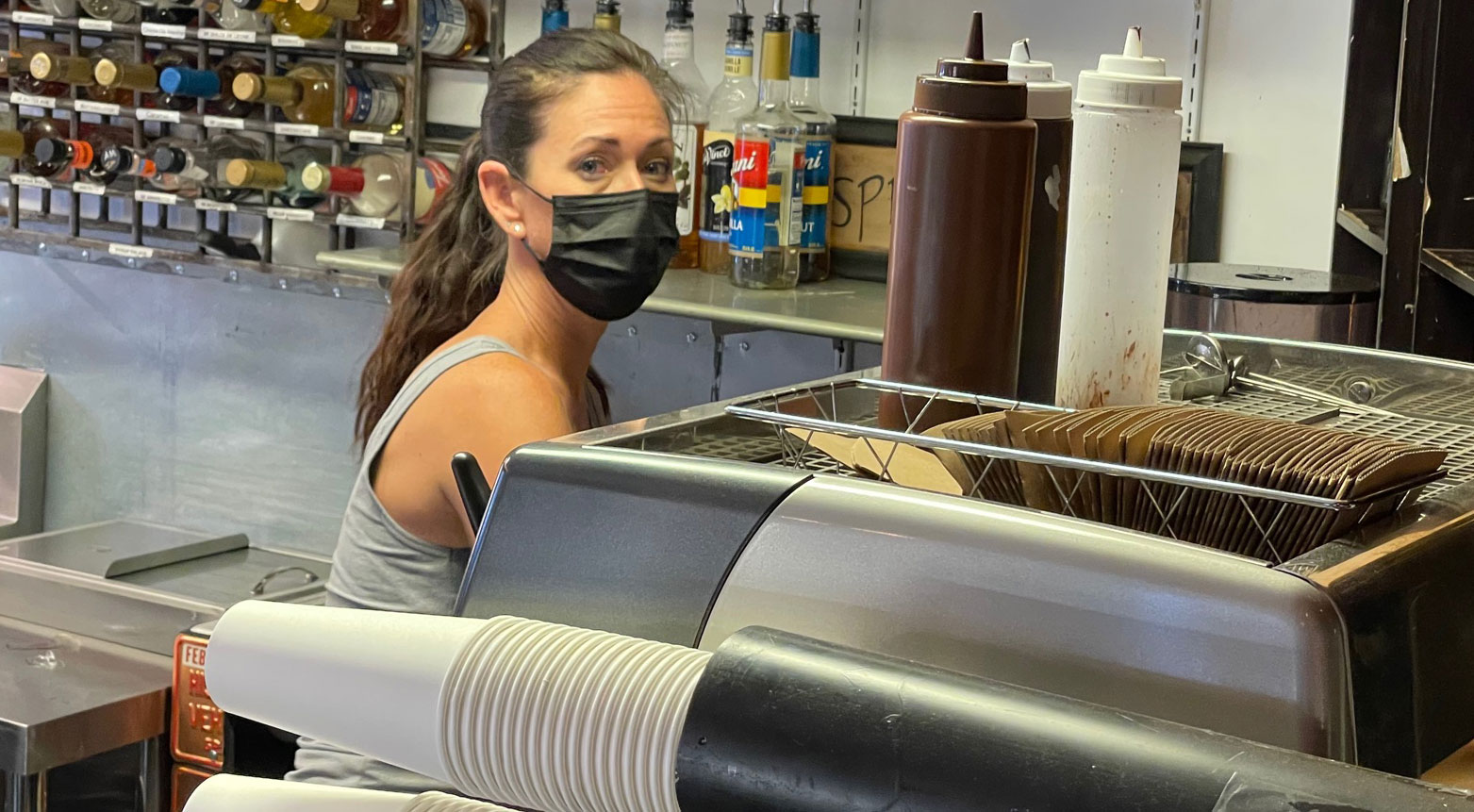 Jessica Sariñana, who owns Urbano Coffee Company with her husband Ricardo, says their days are long but very enjoyable.
Tony Paniagua / AZPM
"They take pictures, they post it, and people hear about Urbano because really it's all been word of mouth."
Sierra Vista resident Erica Wilson says Open Mic Night has become one of her favorite activities, and she prefers it more now since it is being held in person instead of online.
"My internet sucks so it was hard to log into a Zoom event. It's really nice to once a month be able to meet up with a lot of like-minded people who share similar interests and the same types of passions that you have, and just read and write and talk about it," Wilson says.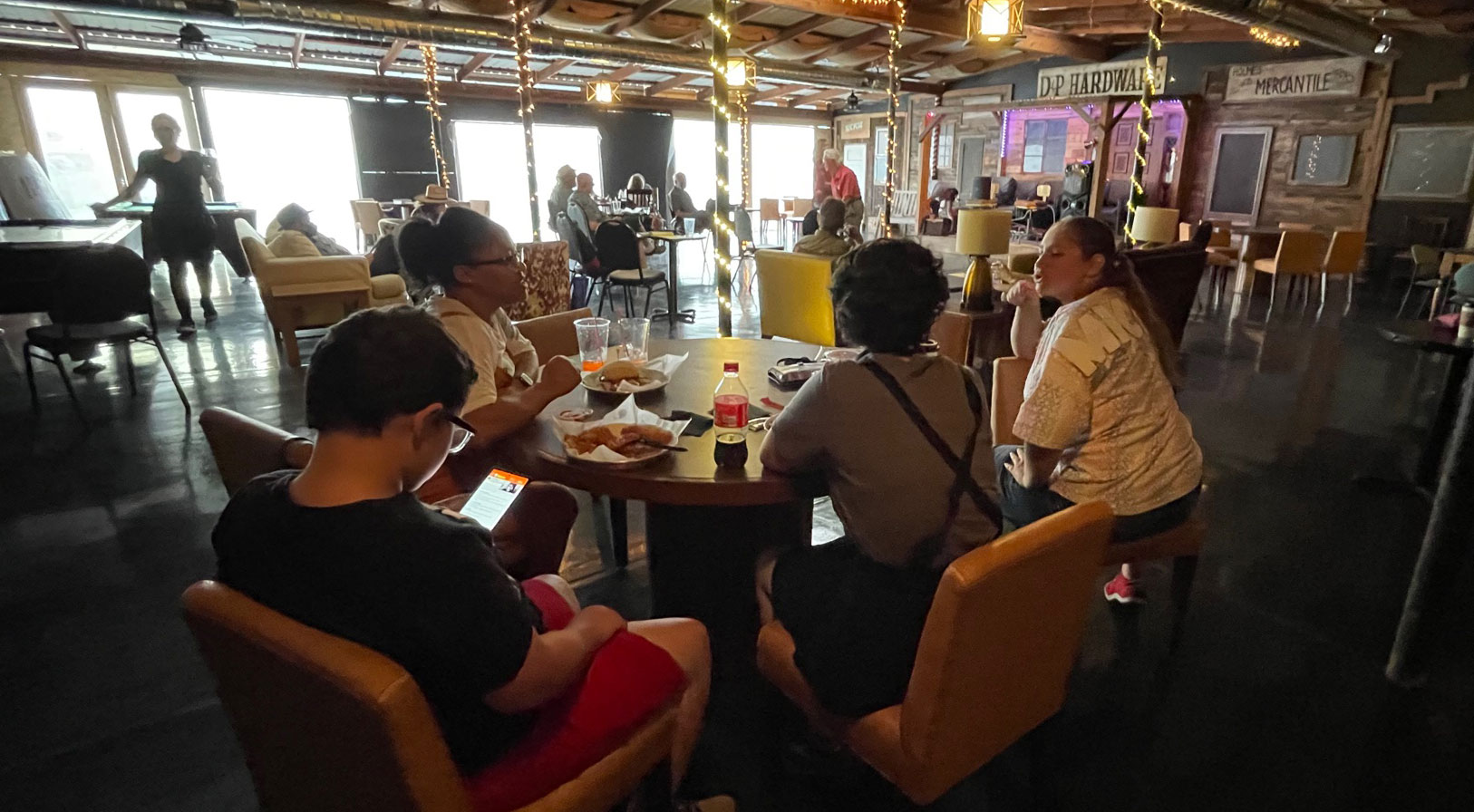 Erica Wilson, seated at right with ponytail, is joined at Open Mic by some friends.
Tony Paniagua / AZPM
"So whether you read or whether you just sit in the back and listen, it's definitely a good time and definitely worth it," she adds.
Organizer Beth Orozco encourages participation from all members of the community, from beginners to professionals.
"We have a really nice variety. We have a four-minute limit and we just ask that the material is original," she points out.
Open Mic Night is held the second Thursday of the month from 6 pm to 8 pm. Urbano is located at 4711 Highway 92 in Sierra Vista.
For additional information you can send an email to: creativewriting@cochise.edu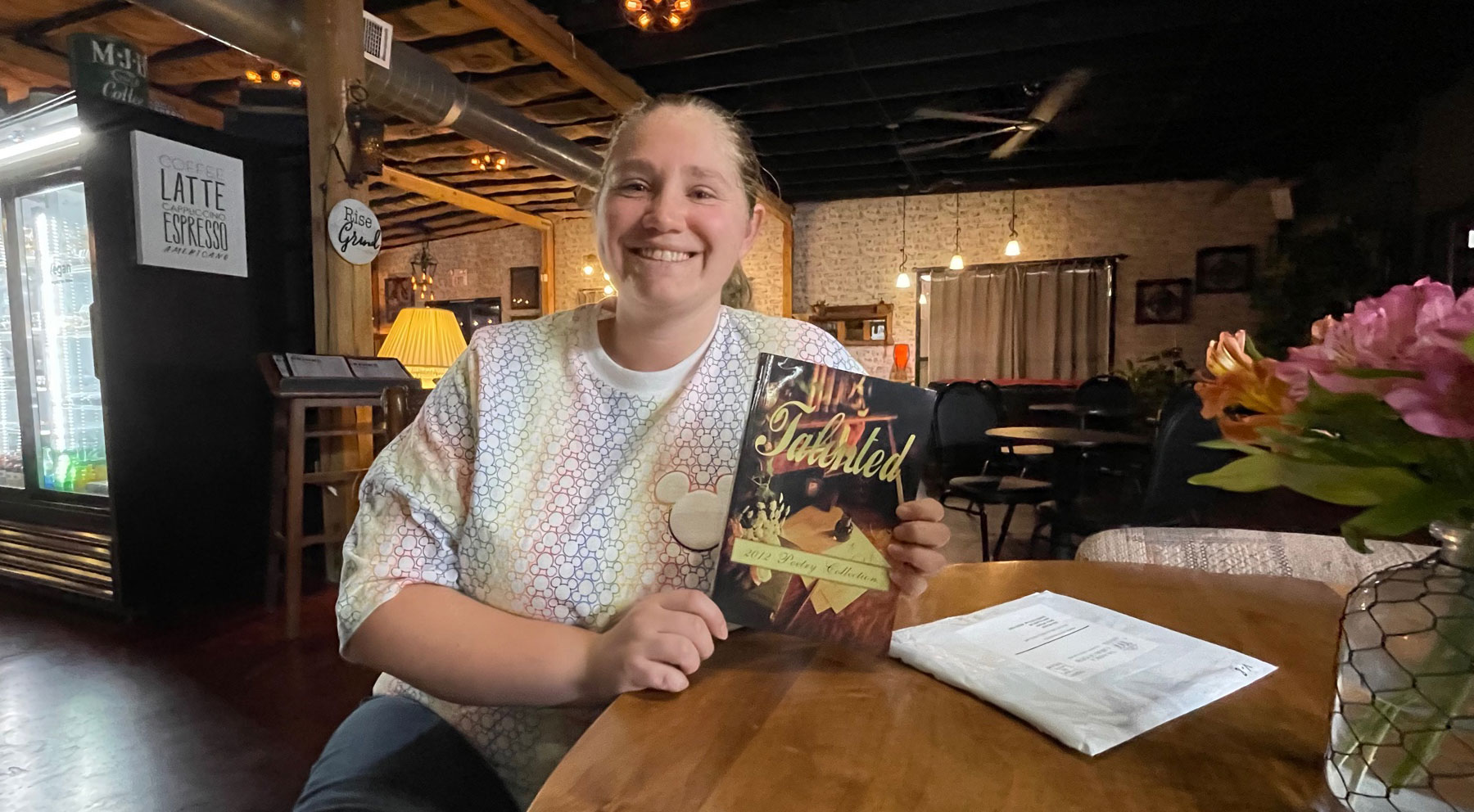 Erica Wilson holds a book where her poem was published in 2012. She says she looks forward to Open Mic each month.
Tony Paniagua / AZPM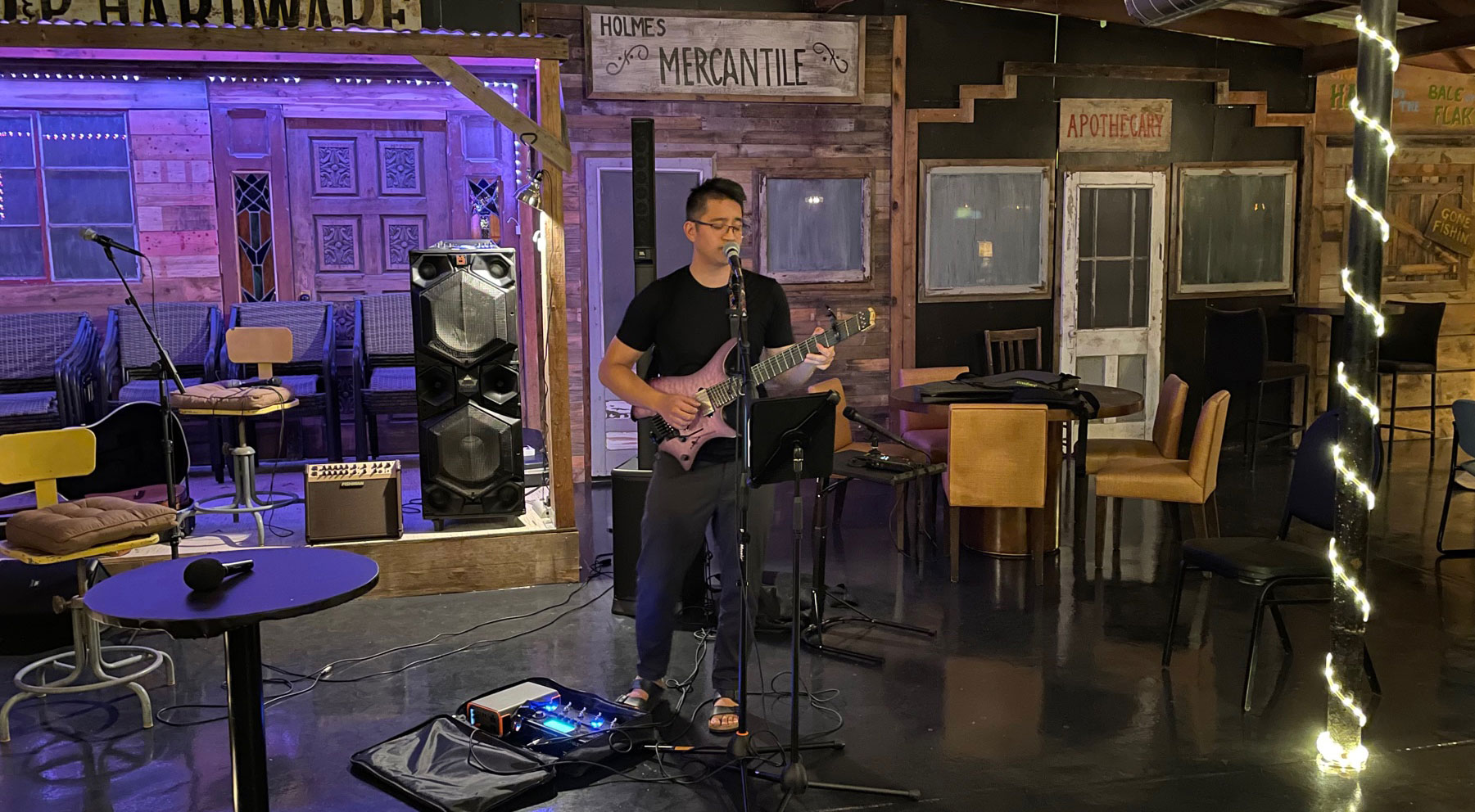 Open Mic is open to different kinds of artists and performers, including musicians, authors and poets.
Tony Paniagua / AZPM
Open Mic is credited with bringing more people to Urbano Coffee Company, where friendships are being made and cooperative projects being created.
Tony Paniagua / AZPM