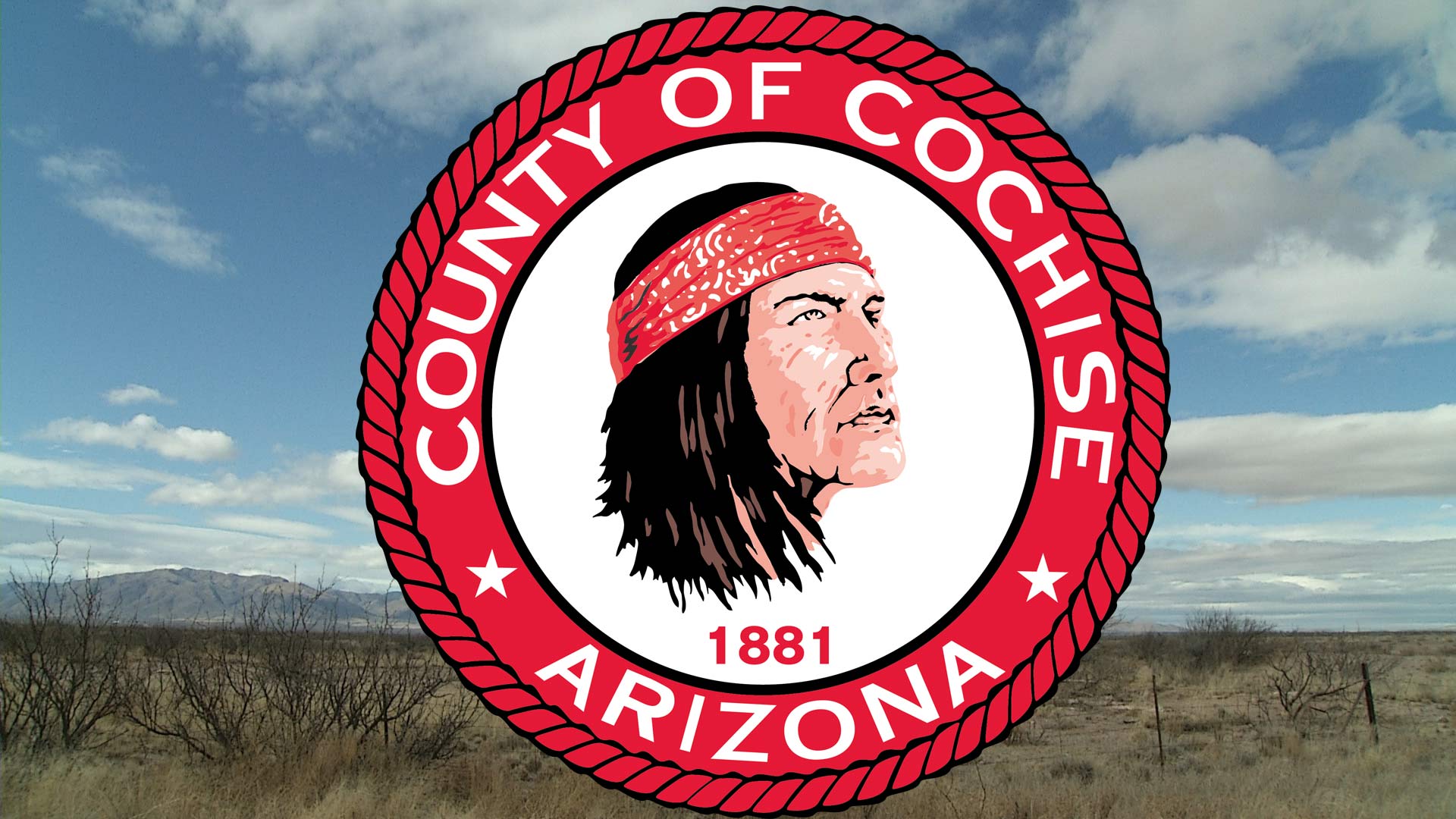 The seal of Cochise County.
In late July, the Cochise County Board of Supervisors unanimously voted to approve the grant agreement between the Legacy Foundation of Southeast Arizona and the Cochise County Sheriff's Office to create a Cochise County Mental Health Support Team.
The $1,263,449 grant will be in effect for three years to fully fund the creation and implementation of the team.
"The reason we wanted a mental health response team is the fact over the last nine and a half years that I've been sheriff, we've seen the uptick in mental health issues — whether it be within our jail, whether it be within calls for services or for critical events," said Cochise County Sheriff Mark Dannels.
"Talking to my fellow local police chiefs in the county, talking to my deputies, I mean we're dealing with a lot of mental health calls," he continued.
Dannels claimed that the Cochise County Jail is the largest mental health facility in the county.
"We did a snapshot a couple of years ago in our jail," said Dannels. "And out of the snapshot of inmates that we had in there, I think that almost 70% — just under — had been either pre-diagnosed with some sort of mental health disorder or currently on some mental health medications … "
One of the main goals of the program is early intervention.
"And so, having the ability to have a mental health response team and look at the early intervention of it so we can get out and into neighborhoods and start talking to people before it becomes a crisis is the ultimate goal with this program," said Dannels. "Not all people need to go to jail, and that's the bottom line here. If we can give them a resource outside of incarceration, we've done very well. That's what we're trying to do; is get people back into society and being productive without them having to go through the criminal justice system."
The Legacy Foundation of Southeast Arizona, which financed the grant for the program, said that it's all about providing more access to mental health support services for the county.
"Mental health is a population problem and community wellness is our focus, it's part of our mission," said Margaret Hepburn, Chief Executive Officer of the Legacy Foundation of Southeast Arizona.
The Cochise County Mental Health Support Team will be responsible for identifying and responding to mental health crises, de-escalating those incidents, actively assisting those identified as suffering from mental illness and providing them with resources, teaching Crisis Intervention Techniques and de-escalation tactics to regional law enforcement officers, providing mental health resources to schools in the county, transporting individuals to in-patient treatment facilities and teaching suicide prevention classes.
With the County Supervisor's approval, $497,338 will be allocated immediately, $383,056 will be released one year after the agreement is signed, and $383,056 will be released in the second year which officials expect to be around July 2024.
Since the board's approval, CCSO's will begin work to hire three licensed Behavioral Health Professionals and one Detention Officer who will transport patients to in-patient treatment centers. CCSO will purchase the two fully funded Chevrolet Tahoes to be used by the Mental Health Support Team.
Additionally, the Legacy Foundation of Southeast Arizona has also pitched the call for addressing mental health in the county to several other organizations.

"Earlier this year we sent out to six organizations — actually — requests for proposals that are in the area of mental health and how they could function both independently and together in addressing some of our serious issues in the community," said Hepburn.
"So, some of the other organizations — Chiricahua (Community Health Centers), we awarded them funding to expand their mental health facilities," she continued. "La Frontera — also in Sierra Vista — we awarded them $750,000 actually to continue with building projects that they have around the whole area of mental health. And then, Cochise College, we also awarded them $550,000 so that they could move ahead with their training of mental health workers."
In the end, it's all about improving the care of mental health patients in the community.
"And we're really anticipating that over the course of the next two or three years – these grants are all three-year grants — that we will see a significant improvement in the care of mental health patients in the community," Hepburn said. "And hopefully, we're anticipating that communities will become much weller, the individuals will benefit greatly from these grants."
For Dannels, he says that his team is looking to establish the mental health support team as soon as possible.
"This is a program that's built out of the community, for the community," he said.