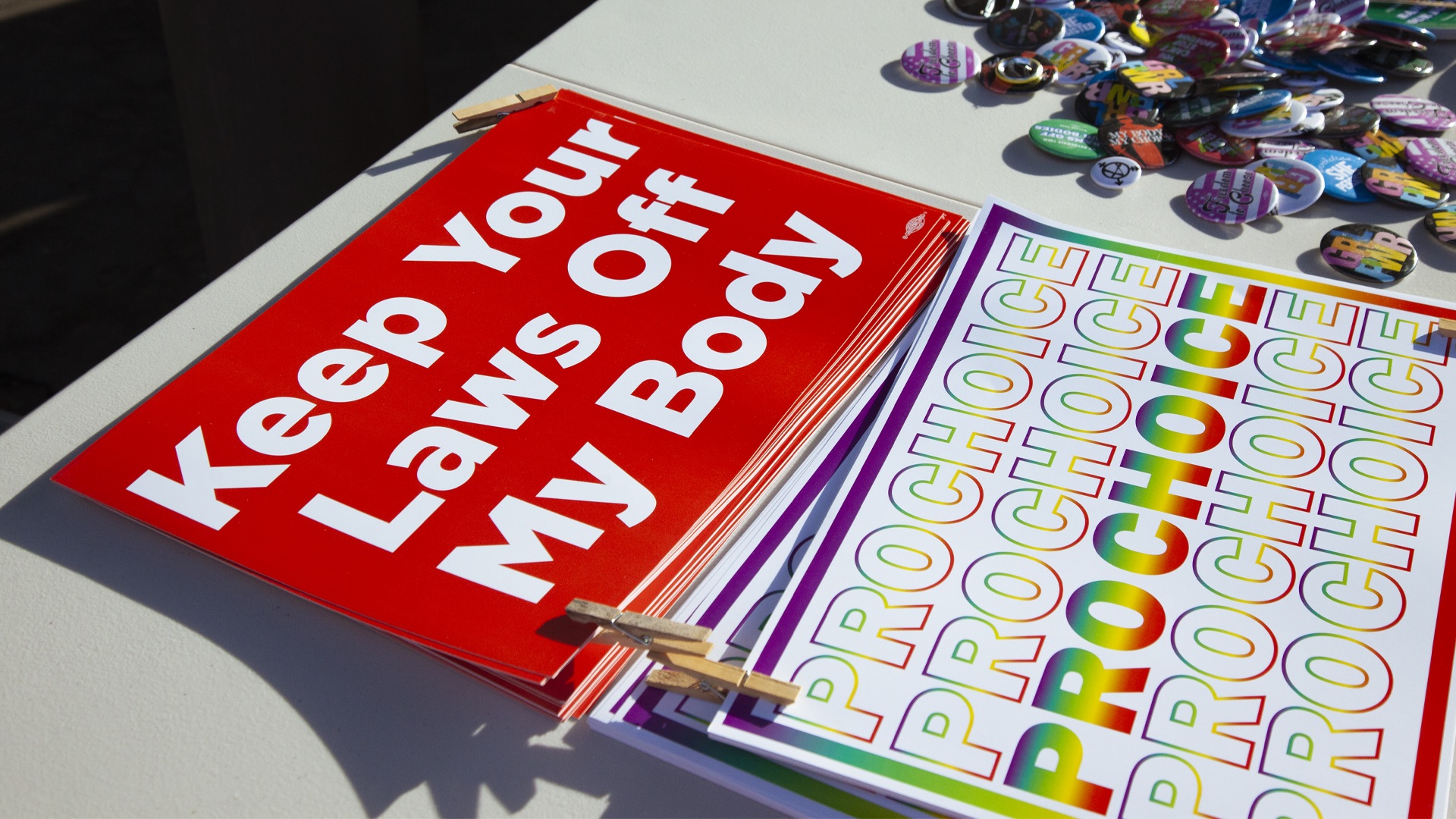 Gage Judd/AZPM
100 days after Roe v. Wade was overturned, Arizonans are beginning to see the aftermath of the new abortion ban that took place last month. Patients are forced to look for out-of-state options, providers are left worrying if they will face legal action for procedures that are legal and parents are trying to find ways to explain this moment to their children.
Shortly after the decision was made to lift an injunction on a pre-statehood abortion ban, protesters gathered outside of Pima County's Superior Court. Nicole Linn, brought her 11-year-old daughter, Sophie, to the protest after being faced with a difficult question to answer.
"[Sophie] asked me what would happen if a 14-year-old got raped and got pregnant?" Linn said. "I said she would have to have that baby in Arizona. That's pretty stark for an 11-year-old to be worrying about that."
As a mother, Linn shared that explaining the new reality to her daughter was a terrifying experience.
"We shouldn't even have to think about such things," Linn said.
That Friday was officially the last day an abortion could take place in Arizona, except in cases where the health of the person is at risk.
Camelback Family Planning was one of five clinics in the state offering abortion services before they were all but banned by the ruling. Dr. Gabrielle Goodrick, the clinic's owner, and medical director says the Monday after the ruling, she was forced to cancel any appointments seeking an abortion.
"There were about 15 patients lined up," said Dr. Goodrick. "They took off work, came in, and found out they couldn't get the medical care that they needed. They were upset, angry, tears… And for the staff, it's disheartening. It's sad. It's emotional. It's hard."

Arizona's abortion ban comes after a summer's length of bans that have spread across the United States after the overturning of Roe v. Wade. However, different from other states, Arizona's "new" law predates the time of Arizona's statehood.
"The Howell Code," named after Judge William T. Howell, was written in 1864 and served as a way to govern Arizona after it first became a territory.
However, the code of laws did not solely focus on the issues of abortion. It also included other laws such as those that prohibited Black, Indigenous, and Asian people from "giving evidence in favor of or against a white person," according to the Howell Code. It even made marriage between Black and white people "illegal and void."
An injunction eventually halted the law after Roe vs. Wade made abortion a constitutional right. However, the Legislature attempted to reenact the law multiple times. Now, because of Dobbs v. Jackson, the law was able to be reinstated.
For Dr. Goodrick, seeing this law resurface meant a step back in time.
"It's just hard to believe that our country and our state would take us back 170 years, 160 years to a territorial law that's racist and sexist and horrible."
Other providers like Dr. Ronald Yunis, owner of Acacia Women's Center, are preparing for legal repercussions. Dr. Yunis now has three lawyers dedicated to understanding what is going on and how to better inform the clinic about what they can and cannot do.
"It's frustrating not being able to take care of patients and worrying about being prosecuted if you're doing something legal," Dr. Yunis said.
For him, maternal healthcare is not something new. His father was also an OBGYN in New York when abortion was illegal and predicts that similar issues from then will also happen in Arizona now.
"They were seeing coat hanger abortions in alleys with infections, sepsis, and death," Dr. Yunis said. "We're going to see patients bleeding to death; we're gonna see more ER admissions. There's going to be significant, significant costs and repercussions."
Dr. Goodrick is already starting to see the effects of the ruling with some of her patients. Just last week she had a patient seeking immediate help.
"We had a call from a unilingual Hispanic patient who was seen in an office and told she had an ectopic pregnancy and was told to come back in a week or two," Dr. Goodrick said. "Luckily, she Googled it, found out that it was quite dangerous, and should seek care immediately. We told her to come right in. That's a danger to her life. It's not an abortion, but that's what's going to happen in the state. Women are not going to be getting the care that they need."
The future of abortion access is still unclear for residents as the re-instated law conflicts with a 15-week abortion ban signed by Gov. Ducey earlier this year.
Planned Parenthood Arizona filed for an immediate stay so patients may be able to seek care until the law is clarified. The judge denied the request. Attempts were made to reach out to Planned Parenthood regarding the future of a state appeal, but no response was given.
A woman who wished to remain anonymous left AZPM a message about the reinstated law, calling it disheartening.
"My first abortion was when I was 15 years old. My mom didn't give me a choice about it. It was like either you get it or you get kicked out. I know people have had to leave their home to have a baby before they were ready to but at least I had the access to services to be able to get help that I needed at that time because I was scared and didn't know what I was going to do. Now the recent abortion bans just hurts my heart, because I feel like it's taking away from autonomy of people over their bodies."
Arizona's state of abortion access leaves providers and patients unsure of the future. For now, providers are not giving abortions, unless the person's life is at risk.