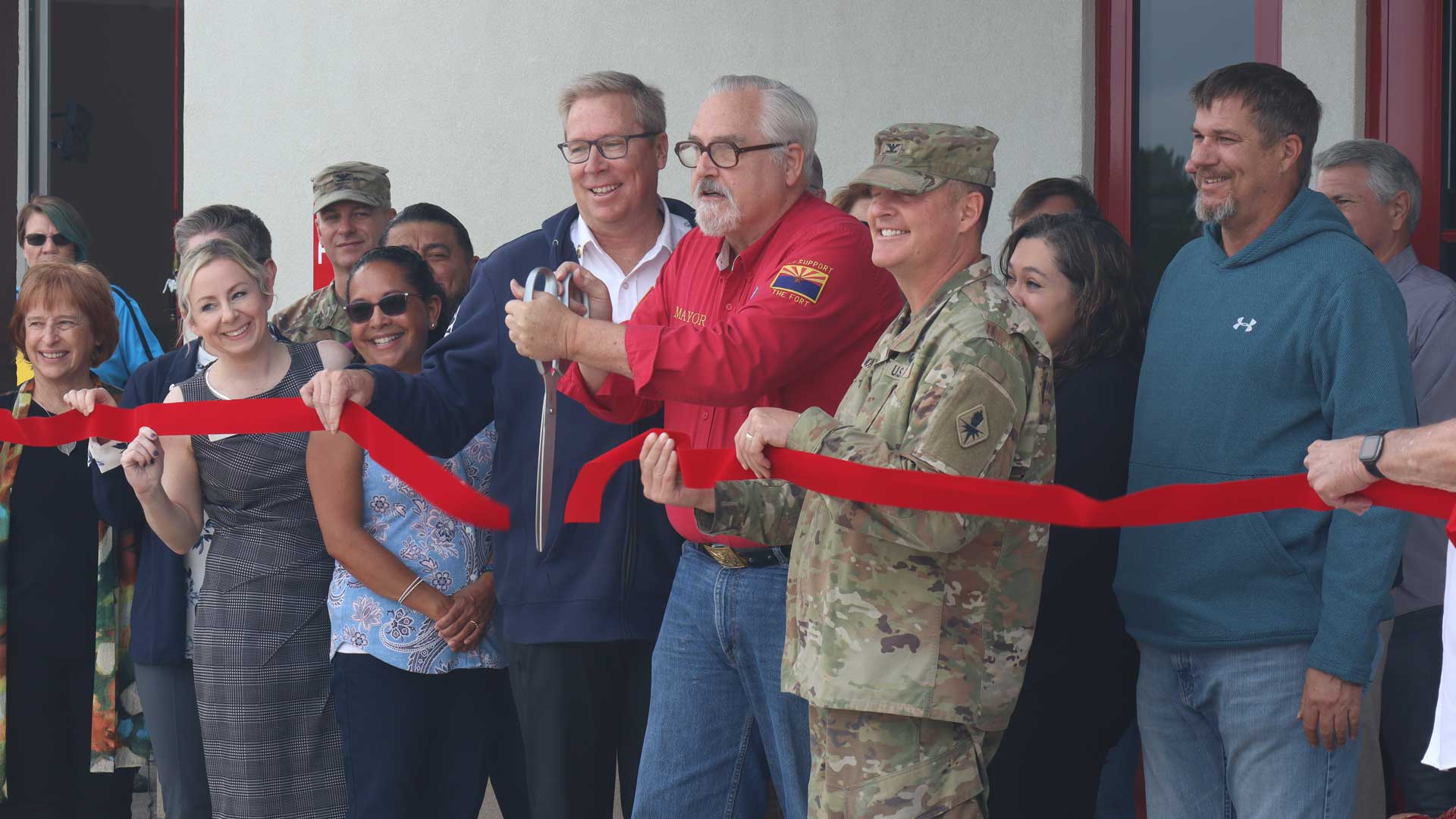 Officials in Sierra Vista cut the ribbon on a new fire station. October 2022
Summer Hom, AZPM
Sierra Vista Fire and Medical Services and the City of Sierra Vista debuted their new EMS substation 4 last Friday, which the department said will provide enhanced coverage to south Sierra Vista and backup to Fort Huachuca.
The new Sierra Vista Fire Station 4 has been operational since the beginning of August and currently has 24/7 coverage with an EMT, a paramedic, and is equipped with one ambulance. To date, the station has run 353 calls according to a press release from the city.
"The whole BST corridor, the response times have not been what they're supposed to be," said Sierra Vista Fire Chief Brian Jones. "And with our location here with our proximity to Fort Huachuca and the ability to get on post in a fast way if we need to, it really helps."
Sierra Vista Mayor Rick Mueller said during the ribbon cutting that the new station will fill a gap in medical coverage for the area.
"The purpose of this facility is to provide coverage for certain parts of the city that did not have adequate coverage for medical," said Mueller. "And when you look at some of the gray-haired folks to live out here, it's more important every day to be able to get that response time so we hit that golden 10 minutes, wherever it may be, so, that they are alive and they are going to be a productive citizen after the fire department leaves, rather than finding a place at the nearby Veteran Cemetery or elsewhere."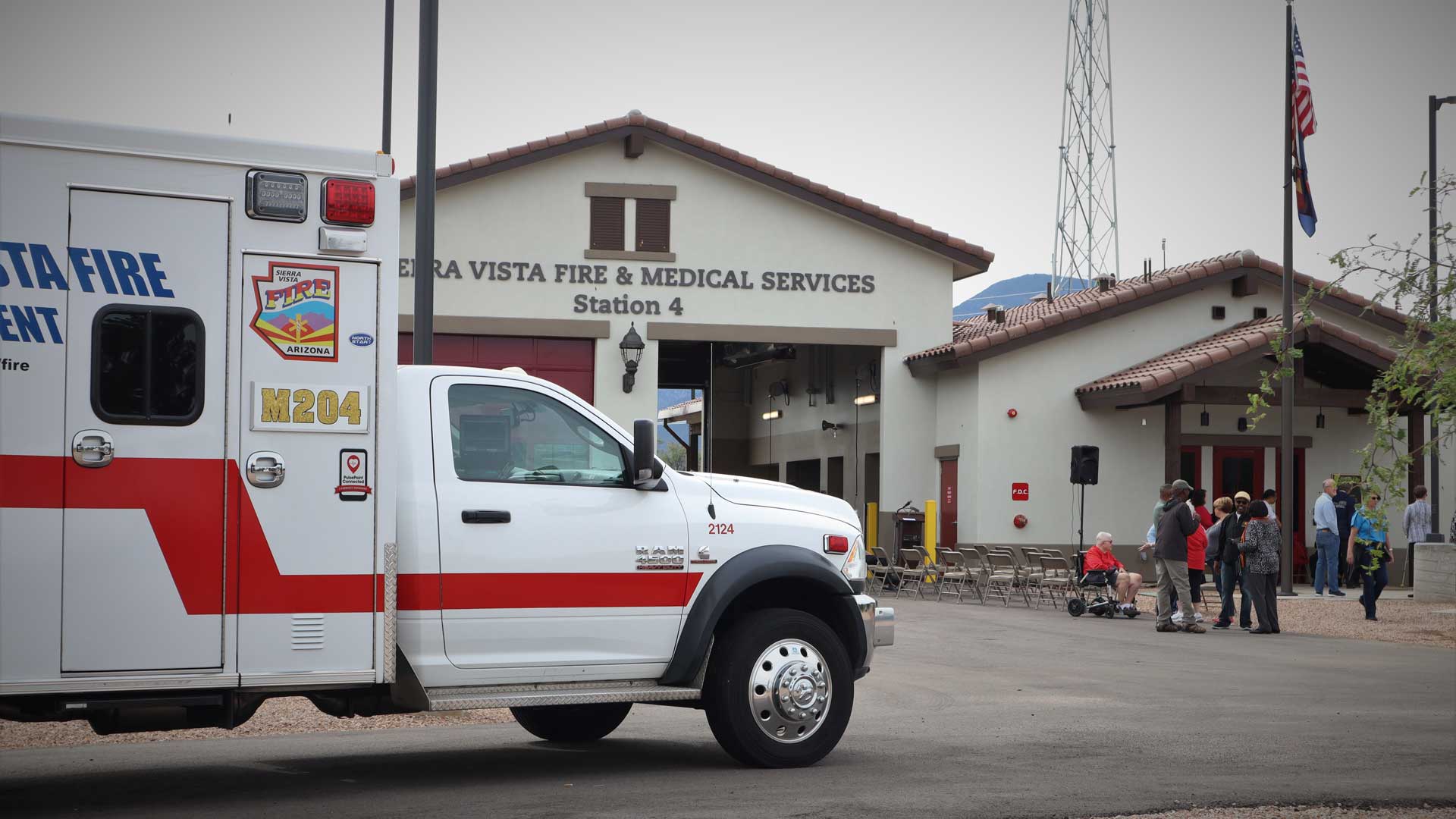 The new Sierra Vista Fire and EMS station opened in August 2022
Summer Hom, AZPM
The new station is located at the intersection between 7th Street and Buffalo Soldier Trail, just across the street from Tompkins Park.
Dorothy Tompkins, the widow of Hubert Tompkins which the park across from the station is named after, spoke about the importance of timely medical response.
"The message I'm trying to give you is you never know when," said Tompkins. "You just cannot not be against a facility like this. And the closer you are to it, the better it is, because it may save your life."
She said that after suffering a bad fall, she instructed her daughter to call 9-1-1 and she praised the fire department for their timely response of under 10 minutes.
"Today, this building is one of the most important buildings in this town," she continued. "Why? Because it can save lives … No playing around or 'well, I'll wait and see.' Call them, and they will come."
Mueller praised Army Col. Jarrod Moreland — the chief of staff for the U.S. Army Intelligence Center of Excellence at Fort Huachuca — for his role in helping the city secure the funding for the station, which included in part the $1.5 million Defense Community Infrastructure Program grant from the Department of Defense Office of Local Defense Community Cooperation.
"You know, when you think about it, right, all of our military retirees, all of our Department of The Army Civilians and contractors, and more than two-thirds of our active duty permanent party members, they live off post," Col. Moreland said. "They live in this community … So, it's really important that you know, we have this partnership with the City of Sierra Vista and we work together as we have so greatly over that into the past couple decades. But General Hale's goal is to always do better."
Moving forward, Chief Jones said the new station has improved response times immeasurably, but noted that until six months have passed, there isn't an exact measurement of improvement in those response times.