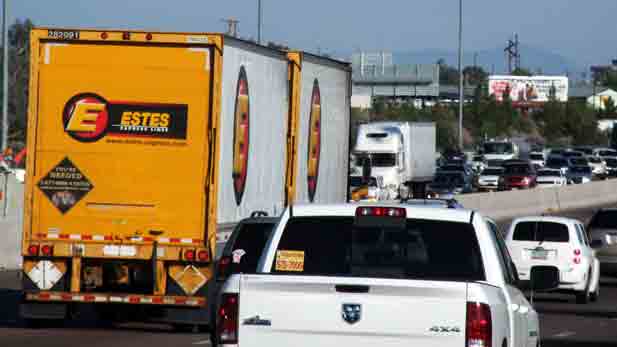 Interstate 10 traffic jam.
The Arizona Department of Transportation and its contractors will not schedule highway work that requires full closures on state highways from Wednesday afternoon, Nov. 23, through Monday morning, Nov. 28.
Drivers should give themselves plenty of time to prepare for traffic or unscheduled closures due to crashes or disabled vehicles. Interstate 17 and state Route 87 north of the Phoenix area along with I-10 between Tucson and California are expected to be packed with holiday travelers.

There are still some existing work zone restrictions across the state. State Route 89A is narrowed to one lane with alternating two-way traffic. At the "Switchbacks'' in Oak Creek Canyon north of Sedona, there are closures due to rock erosion. Northbound US 93 at the Kabba Wash Bridge is narrowed to one lane. At milepost 97 south of I-40 there is a  construction project, and Interstate 15 near Beaver Dam/Littlefield at mileposts 8-9 there will be one lane.

Eighteen people died last year in 15 fatal crashes on Arizona roads over Thanksgiving weekend, five of those deaths were alcohol-related. Arizona Department of Transportation public information officer Garrin Groff said, "It all starts really before you start your trip. Make sure that your car is in good shape. Check the tire pressure. Make sure it's in good repair and make sure to get plenty of rest when you're on the road. We want drivers to just stay focused on the road and really pay attention to everything around you and your surroundings as you travel during this busy period.".

To stay safe it is recommended that drivers get adequate rest, fasten their seatbelts, obey speed limits, and never drive under the influence. Packing an emergency kit could be a helpful safety precaution. For more information about road trip safety, people can refer to the Arizona Department of Transportation's [website](https://azdot.gov/node/4784).