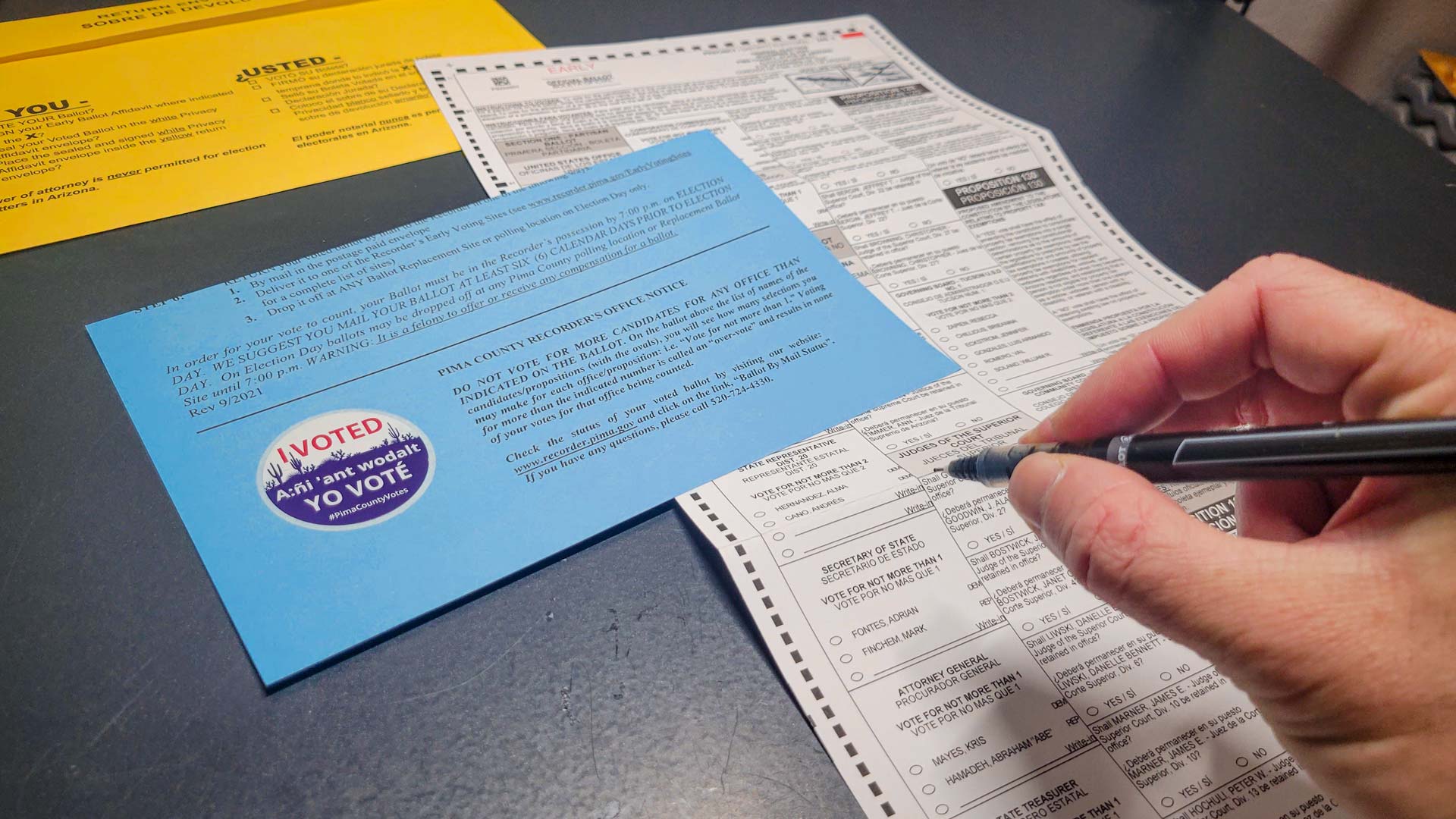 Filling out a ballot for the Arizona election.
AC Swedbergh/AZPM
The Democrat-controlled Pima County Board of Supervisors Tuesday certified the results of the November 8 election, ignoring calls to investigate or even re-do the vote.

Supervisor Rex Scott said there was no reason to doubt the results.
"Our elections in Pima County in November and August were conducted safely and securely, fairly and efficiently," Scott said.

Scott also published on his official website a copy of a memo from County Administrator Jan Lesher refuting claims that vote tabulation equipment throughout the state was uncertified.
Nevertheless, at least 50 people sent letters or emails to the county, many of them identically worded, urging the board to withold certifcation pending an investigation of election systems in the state.

Many letters repeated the debunked claim that the state's ballot-counting machinery is not legally certified. The federal Election Assistance Commission says it is.
Republican Supervisor Steve Christy added his voice to the chorus. "The election issues surrounding this 2022 cycle are numerous and troubling," Christy said.
The meeting was held virtually, without an opportunity for members of the public to comment on the election.
Christy also accused Secretary of State and governor-elect Katie Hobbs of having a conflict of interest because she was on the ballot as a candidate, as well as having the duty to certify the election.
"Miss Hobbs has chosen not to recuse herself from her duties of office of secretary of state including the duty of certifying her very own election," Christy said.
Christy tried to halt the certification and also tried to open up the meeting to public comment, without success. The board certified the election on a 4-1 vote.
Two other Arizona counties, Cochise and Mohave, have held up their certifications amid concerns voiced by Republican members.