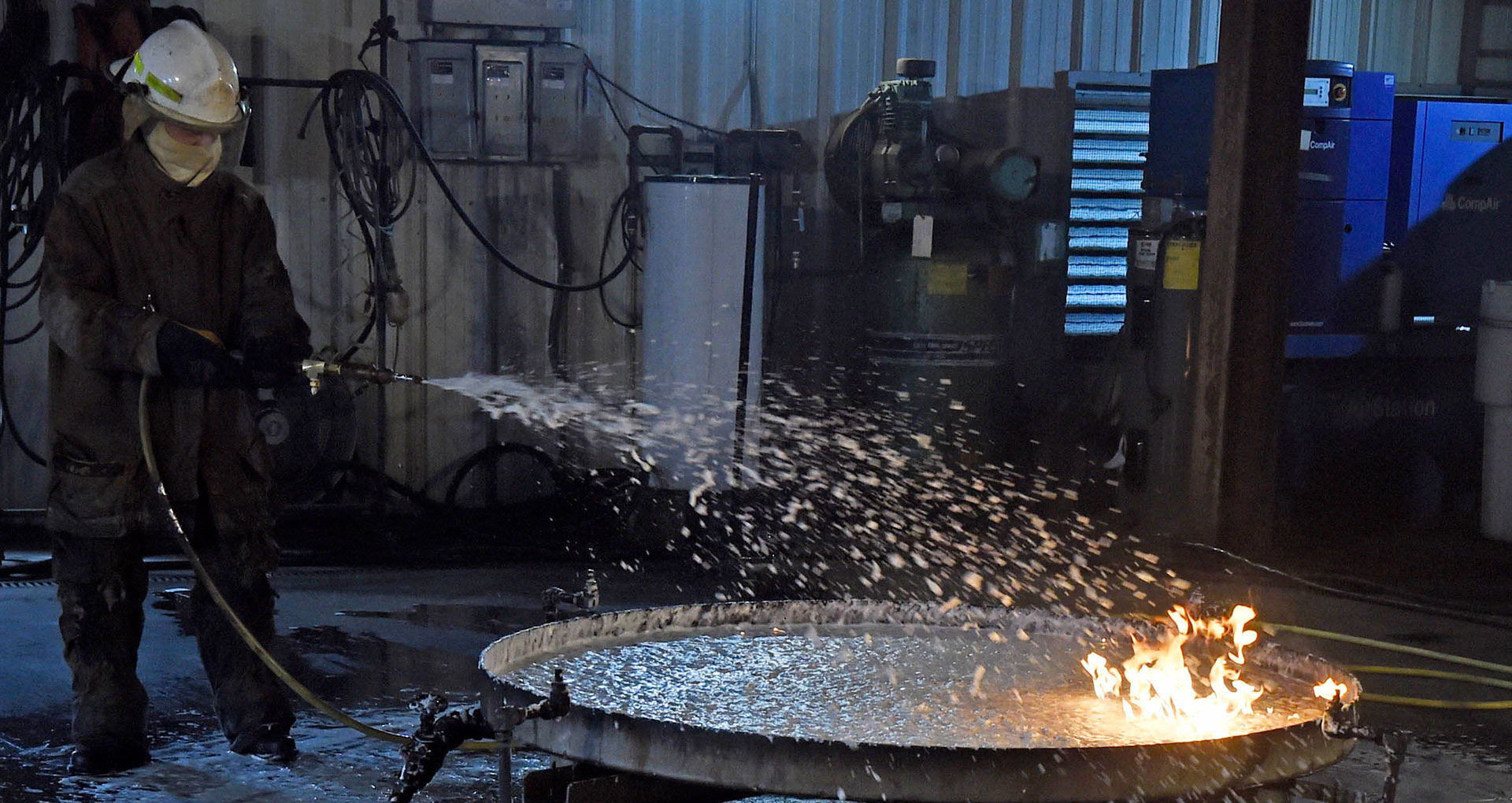 John Farley, director of fire test operations at the Naval Research Laboratory, tests the effectiveness of aqueous film-forming foam by spraying it on a gasoline fire. The test took place at the laboratory in Chesapeake Beach, Md. Oct. 25, 2019.
David Vergun, DOD
Researchers at University of Arizona Health Sciences will use a $4 million grant to study a possible treatment for exposure to forever chemicals in firefighters.
The Arizona Board of Regents grant will fund a three-year study that will examine firefighters who have elevated levels of per-and-poly fluoro chemicals, also known as PFAS or forever chemicals, in their blood and get them to donate either blood or plasma on a regular basis.
Professor Jeff Burgess said a similar study was done in Australia, and found that regular donations did decrease PFAS levels.
"The question that we don't know is whether or not reducing those levels will also reduce their risk of the diseases and other health conditions that are associated with elevated PFAS exposure," he said.
Exposure to PFAS and other hazardous materials while firefighting has been classified as carcinogenic by the International Agency for Research on Cancer, and Dr. Burgess said firefighters often have two to three times as many PFAS in their blood as the general population.
While such diseases may take more than the three-year study time to develop, Dr. Burgess said the study will examine early predictors of problems.
"What we're going to do is measure various biomarkers of effect in the body that we know are associated with various disease risks."
The information from the study would not be limited to solely firefighters, but could prove beneficial in providing treatments for anyone who has been exposed to high amounts of PFAS in their lifetime.
The Arizona Board of Regents holds the license to this station.
MORE:
Arizona
,
Pima County
,
Education
,
Environment
,
Fire
,
Government
,
News
,
Science
,
Tucson
,
University of Arizona
,
U.S.