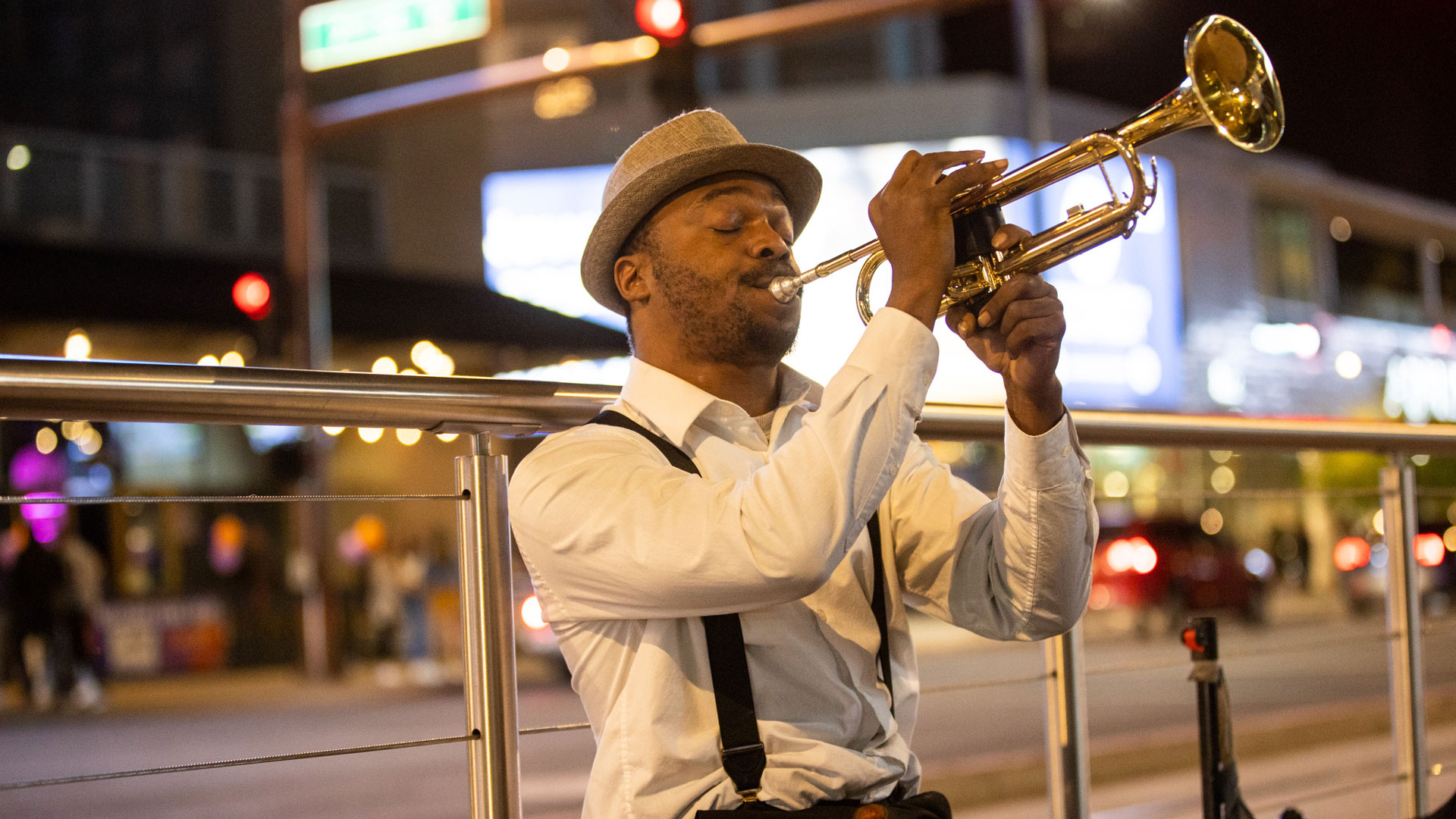 Trumpet player Edward Conway performs outside Footprint Center.
Nikash Nath, Cronkite News
Julian Davis sits with his harmonica in front of him. Beyond that, there's commotion.
Ten yards on one side of Davis, a 12-foot fluorescent pink robot, advertising a new sports betting app, gives away tickets to a Jake Paul-Anderson Silva fight. Thirty yards in the other direction, a street preacher shouts paraphrased biblical verses over a loudspeaker.
In front of him, hundreds of fans walk with their sights set on the main entrance to Footprint Center. The Phoenix Suns tip off their game against the Golden State Warriors in just under 20 minutes, and Davis is perched at the corner of Jefferson Street and Diana Taurasi Way.
A speaker to his left plays instrumental versions of R&B hits. Between songs, Davis searches on his phone for the next track, as light from the jumbotron above dances and glares off his silver instrument.
The instrumental for "Finesse (Remix)" by Bruno Mars and Cardi B begins.
With his eyes closed, Davis puts his mouth to his chromatic harmonica and gently plays the lead vocal melodies. When the song ends, a middle-aged father in a Suns T-shirt asks for Davis' business card and drops a few dollars in the bin.
As they walk away, the man's two daughters smile. Somewhat shyly, Davis does, too.
Moments like these are cherished by members of Phoenix's community of street performers, also knows as "buskers." Its roots can be traced back to the Spanish verb "buscar," or "to seek."
Some buskers perform casually to express their love for music, and others turned busking into a full-time career, making a living off of their sidewalk soundtrack. Many are frequently found outside the Valley's stadiums and arenas hosting sporting events.
Just keep playing
Street performing has seemingly always been a fundamental part of public life. Contemporary musicians like Ed Sheeran and Tracy Chapman started their careers as buskers.
In the United States, street performance is recognized typically as a form of noncommercial speech, protected by the First Amendment, and has been defended fiercely by historical legal precedent. Some cities tried to restrict, or even ban, busking, but courts have typically ruled in favor of performers.
In Phoenix, there aren't harsh restrictions regarding busking and a permit is not necessary, making the city conducive to artistic expression, especially with events like downtown's monthly "First Friday" block party.
"We are a creative city and creatives help drive our momentum forward," R.J. Price, the Chief Growth Officer at Downtown Phoenix, Inc., wrote in an email. "Creatives are a key ingredient in what makes our neighborhood experiential, authentic and increasingly 'sticky.'"
With his harmonica, Davis says he only recalls running into issues once, and it happened because of a noise complaint while he performed outside of a busy restaurant patio. He hasn't returned to that location since, but Davis' music has continued to thrive outside of local sporting events, concerts and music festivals.
The 32-year-old has played the harmonica since he was 6 and lived in Phoenix since 1998. Davis has been street performing since either 2010 or 2012 – he can't quite remember which – and is surely one of Phoenix's longest tenured buskers.
At Suns games, Davis shows up early and stays late. After performing pregame, he walks northward with his hands full. In the lobby of one of many hotels downtown, Davis charges his equipment during the game's first three quarters.
The instrumentalist says he knows between 600 and 700 songs on the harmonica, and his love for music started early. As a 3-year-old, Davis heard his mother playing Luther Vandross records, and sought to emulate the singer's voice. Outside the arena, he'll occasionally sing "Tennessee Whiskey" by Chris Stapleton and some of his favorite R&B hits, like songs from his idol, Stevie Wonder.
In 2007, Davis brought his harmonica to a Stevie Wonder concert in Chicago, on the off chance he would get a chance to play it for him. It was a pipe dream, but sure enough, Davis and his mother waited around after the show and met Wonder in his trailer behind the venue.
Davis says he watched a small solo piano performance from Wonder, and returned the favor, too. He played a harmonica rendition of one of Wonder's hits, "Knocks Me Off My Feet," and the music legend told Davis to "keep playing."
That's the same message Davis has received from other musical mentors, like popular local jazz singer Margo Reed, who passed away in 2015. It's a mantra that has kept Davis afloat.
"(Margo Reed) always told me if I stopped playing, she was gonna come find me," he said. "I feel like she's still here when I play."
People just walk by
For many buskers, it's not always easy.
In January 2007, The Washington Post embarked on a task that was part social experiment, part feature story. The project, "Pearls Before Breakfast," was published in April 2007 as an enterprise story, written by Gene Weingarten, and went on to win the Pulitzer Prize for feature writing.
The Post focused on Joshua Bell, a classical violinist months away from earning an Avery Fisher prize, granted to only the top solo instrumentalists in the nation. During rush hour, Bell stood nondescript and played the violin outside a busy Washington D.C. metro station.
The Washington Post observed that 1,097 people walked by Bell and seven of them stopped to listen for more than a minute. The violinist made $32.17 in 43 minutes of classical performance.
Certain obstacles made busking even more difficult since Bell's famous day in D.C. Many arenas, including Footprint Center, became cashless, and even at stadiums where cashless payment isn't mandatory, many fans just don't carry bills.
The Pew Research Center found in July 2022 that 41% of Americans say they don't use cash for any of their purchases in a typical week, up from 24% in 2015.
Edward Conway, a 29-year-old trumpet player based in Phoenix, has a sign with information on how to tip via Venmo and Cash App posted next to him while he busks.
Beyond the barriers to accepting payments, there's the daunting pressure of constant feedback. Many street performers have to learn how to block out the noise, or lack thereof.
"Sometimes when you don't get a positive reaction, it can mess with your emotion a little bit," Conway said. "It can throw you off, and you can get distracted thinking that, 'Oh, they don't like it, and there's someone else who just hit the corner down there.'
"You're over here beating yourself up because the majority of people just walk by."
Conway has only been busking for a little over a year, and he started out of necessity.
In 2016, he graduated from Jackson State University in Mississippi, as a member of the famous "Sonic Boom of the South" marching band. After graduating, Conway gave up on his instrument, until a collision with his past changed his trajectory.
Conway was originally born in Chicago and adopted before moving to Mississippi. Years later, he reconnected with his biological younger brother, who had since moved to Phoenix. Hoping to get closer to a family he "hadn't figured out yet," Conway headed to Phoenix in 2017 with $200 and a Greyhound bus ticket in his pocket.
In 2021, he was working for a local cleaning company, and had just bought a new car. But in May 2021, he was laid off and needed to find a new source of income.
"Survival mode just kicked in," Conway said. "I didn't want to lose my vehicle. Even if I wanted to pick up another job, I couldn't do it if I didn't have a car or it would be a little bit rougher for me.
"At one point, I was actually living out of my car while busking, so that car was my roof."
Conway made his way to Tempe Beach Park, where he played his trumpet for a half hour, generating just $5 in tips. Determined to learn more music and keep up with it, he set out to go to as many sporting events as he could in 2022.
Conway can count on one hand how many Diamondbacks games he missed last season. He busks full time, performing just over 20 days a month, and says he typically makes between $4,500 and $5,000 each month.
That number fluctuates depending on the amount of events, and depending on the busker. Some performers, like electric guitarist Thomas Reinhardt, 20, perform more passively. The Scottsdale native and Arizona State industrial design student says he makes between $50 and $60 on an average night, and treats busking as a supplemental income.
Reinhardt admits that being out on the street can be stressful. He lives in Tempe and commutes downtown for Diamondbacks and Suns games. Reinhardt still remembers his first trip to perform at a Diamondbacks game.
With over 60 pounds of equipment in his hands, Reinhardt hauled his Epiphone Les Paul guitar, an amp, a pedal board and a car battery from the nearest light rail stop to the stadium. Reinhardt's since decided to leave the pedal board at home, and is saving up for a wagon.
"It's a little scary being out there," he said. "You don't know who's gonna come by. … I don't have someone to back me up."
The unspoken rules of street performance
If there's one thing that buskers agree is most important, it's location. Reinhardt says that he has felt welcomed by the street performing community, but also has been told by some veteran buskers to find a new location.
It's rare that this battle for territory is explicit, as most that have been around for a while insist that having a certain spot is unspoken.
The places in highest demand are obviously those with high foot traffic, but Conway says that too much commotion is sometimes an inhibitor. At popular events, you might clash sonically with fellow buskers.
"You want to be where a lot of foot traffic is, but you also want to be in a place where it's not too much competition," Conway said. "Because you don't want to be fighting over the other musicians – you want to respect their space."
With his experience in a prestigious college marching band, Conway said he's had to learn to tone down his competitiveness. In his 18 months of busking experience, he knows now that camaraderie among performers is more crucial than animosity.
Davis gets excited when talking about some of his peers in the busking scene. Before the Suns-Warriors game, as the only performer out pregame, he claimed one of the most desirable spots: under the jumbotron in the arena's main plaza.
However, when he gets ready to go back for the postgame performance, Davis knows he's going to find a new place.
"I don't go to the same spot," he said. "That's Ray's spot."
Ray Wimley has been performing in Phoenix for almost two years. If you see the 31-year-old rapper outside of a local venue, there's a good chance he'll freestyle about you.
Wimley's approach to hip-hop is raw and completely improvisational. Crowds will form around him, excited to see what he comes up with – spontaneous lyrics about hairstyles, jerseys, shoes, necklaces or whatever food his audience might be carrying.
Although Wimley says he never plans his lines, he does know that certain brands – Vans, Converse, Patagonia – will appear more frequently than others, which helps with preparation.
Wimley started busking in 2014, in New Orleans, one of the street performance capitals of the country. For Wimley, it connected him with musicians armed with prestigious rolodexes. Those connections set him on a meteoric rise to national recognition.
Early in his performing career, someone took a video of Wimley rapping and sent it to the three-time Grammy Award winning rapper Common, who then posted the video online and followed Wimley.
Years later, in 2019, Wimley heard that Common wanted to rap on the street with him at New Orleans' ESSENCE Festival. At first, he didn't believe it. But sure enough, a mutual friend made it happen. Outside of the Ritz-Carlton hotel, the two freestyled together for just over five minutes, and the video went viral.
In days, thousands of online commenters were praising Wimley's talents.
"It was unbelievable, and I couldn't really fathom it," Wimley said. "I didn't know what to do, because you work so hard to get a certain amount of success, and when it happens, you're kind of stuck."
Later that summer, Wimley appeared alongside Common on "The Tonight Show Starring Jimmy Fallon," participating in a "Wheel of Freestyle" challenge.
In March 2020, Wimley performed at a gala for the Miami Heat. The team presented him with his own custom "City Edition" jersey. Surrounded by elaborate ice sculptures, velvet carpet and "waiters with napkins on their shoulders," Wimley was starstruck.
The event was headlined by rapper Rick Ross, and Wimley rapped backstage for Heat president Pat Riley. During Wimley's freestyle, he rapped about every player on the Heat roster as they stood on stage in a single file line, giving him cue words to include in the lyrics. He says the performance attracted praise later that night from both Jimmy Butler and Erik Spoelstra.
Wimley's career was headed quickly toward a new peak. But later in March, the pandemic led to worldwide event cancellations, uprooting his plans to perform at a music festival and an NBA halftime show.
"I didn't know what to do, because my whole life was going out on the streets and playing," he said. "That was a catalyst to so many things."
Wimley spent much of his free time during 2020 playing pickup basketball and trying to replicate his freestyle raps on social media, realizing how much he missed performing in public.
In 2021, the rapper decided to move with his wife to Phoenix, feeling as if he'd done all he could in New Orleans "in terms of spiritual growth." Wimley quickly became friends with many of the Valley's street performers, a lesson in community he learned from his time as a rookie busker in New Orleans.
"It's hard to do it by yourself, especially at the beginning," he said. "You're not going to have confidence."
Even if you did the event a thousand times
Perhaps the biggest lesson Wimley's learned is that there are no guarantees when it comes to an average night busking. He says street performing, his full-time job, makes enough money to help him raise his five kids, but no two nights on the job look identical.
"Even if you did the event a thousand times, it will not be the same," Wimley said, adding that he's had listeners try to battle rap him and steal his microphone.
Conway has found lots of success with more niche audiences outside of concerts. The trumpeter says his most animated reactions come after shows headlined by Latin music artists. After a September 2022 show at Arizona Financial Theatre, headlined by Mexican rapper Junior H, Conway said that a crowd of hundreds surrounded him in minutes.
"They (were) doing donuts in the street," he said. "You couldn't see because of all the tire smoke. You (couldn't) breathe. It was so crazy, they (were) picking people up, throwing people in the air. I had never had that much fun in my life."
After 30 minutes, the party was shut down. Conway says he made over $300 that night.
Each busker seems to agree that different crowds react to different genres of music – a rock concert's audience won't carry the same demographics as a basketball game. If the home team loses, the battle to win their hearts becomes even more difficult.
At events with less genre-specific audiences, it's just about casting a wide net. Conway says his most popular songs include "Stayin' Alive" by Bee Gees, "Crazy" by Gnarls Barkley, and "I Want You Back" by The Jackson 5.
Beyond the staple hits, performers will also pander their music to the event audience. Outside of a Duran Duran concert, Wimley rapped over Notorious B.I.G. 's self-titled 1999 single, because a pedicab driver let him know the beat sampled the Duran Duran song, "Notorious."
During Suns games against the Lakers or Warriors, Davis plays a harmonica version of the rap song "California" by Colonel Loud.
Kevin Brown, a saxophonist, keeps it simple when he busks. He often uses classics like the "Chicken Dance" or "If You're Happy And You Know It," songs so ubiquitous that a passersby probably wouldn't recognize that the 66-year-old instrumentalist has a storied music career.
Brown has been performing on Arizona streets for a decade. The Baltimore native moved to the Valley in 1992 to help take care of his grandmother, who was diagnosed with Alzheimer's.
When he was younger, Brown had many career pursuits – kindergarten teacher, lawyer, press operator for a printing company – but he always came back to music. While attending the University of Pittsburgh, Brown was presented with the opportunity to tour Europe with jazz legend Lionel Hampton and his orchestra.
He took the opportunity and never finished out his degree, going on to perform with various bands in New York City, at times appearing with The Four Tops and Martha Reeves. Now, when Brown's not performing outside local concerts and games, he teaches private music lessons and manages a downtown Phoenix parking lot.
But for a few seconds
Once, while performing the song "Misty" by Erroll Garner outside of the Herberger Theater Center, Brown said a woman stood in front of him, crying. After the song finished, she told him it was one her parents, who had both passed away, used to dance to in their living room.
"I don't have the ability to solve people's problems," Brown said. "But for a few seconds, listening to me play, they may be able to forget about them for a while."
Moments like these are universally appreciated by Phoenix's street performers. Conway keeps every dollar that has a note written on it, refusing to spend it. He once received a note on a Venmo payment that said his performance returned the listener to when they learned to play the trumpet as a child.
"What more fulfilling thing to do in life than make people happy with something?" Conway said.
The human connection and intimacy of musical performance are what create such an interesting dichotomy for buskers, who are positioned outside of boisterous sporting events.
After all, each game is a pay-before-entry shopping mall constructed for all ages entertainment and consumerism. If you squint from the nosebleeds, you'll see a colorful abstract of banner screen adverts, overpriced sodas and jerseys, sold for $149.99 (before taxes).
But just outside, there is the people's market, a pay-what-you-wish concert put on by buskers with resumés beyond many gig performers' at bars and clubs down the street. There's no setlist, just songs that fans will want to hear, or at least the ones that performers think they will.
On Oct. 25, the Suns beat the Warriors 134-105. It takes about an hour for fans to finish filing out, and on their way home, they're given auditory options.
Positioned in front of the Valley Metro light rail, Reinhardt jumps from one classic rock hit to another. In a small hiatus between "Smells Like Teen Spirit" and "Enter Sandman," he answers questions about his guitar experience from a small cluster of loyal customers.
Just outside of the arena-connected sportsbook, Conway sits with his trumpet in front of him. Beyond that, there's joy.
An elderly couple shares a moment dancing to his cover of Kool & The Gang's "Get Down On It." A woman in a Warriors jersey asks for her friend, dressed in a Suns jersey, to spin her around and dance. During The Jackson 5's "ABC," a young boy, likely younger than Michael Jackson himself when the song was released, drops a few dollars in the bin.
Conway is dressed in grayscale – he's wearing a slim-fitted black and white plaid shirt, and a gray fedora – but the scene is anything but colorless.
Advertisements paint this street corner, demanding attention from the thousands walking by. But Conway looks down while he plays his trumpet, passively self-marketing with his most reliable tools: his virtuosity, and an instinctual algorithm that guides what to play next.
A young man exits the arena, eyes widening as he recognizes the tune of "Crazy" by Gnarls Barkley.
He shouts to his posse of friends, "Take all the dollars in my pocket!"
After Conway finishes playing, he looks up and around at the scene before him, quickly grabbing his phone to find the backing track for the next song.