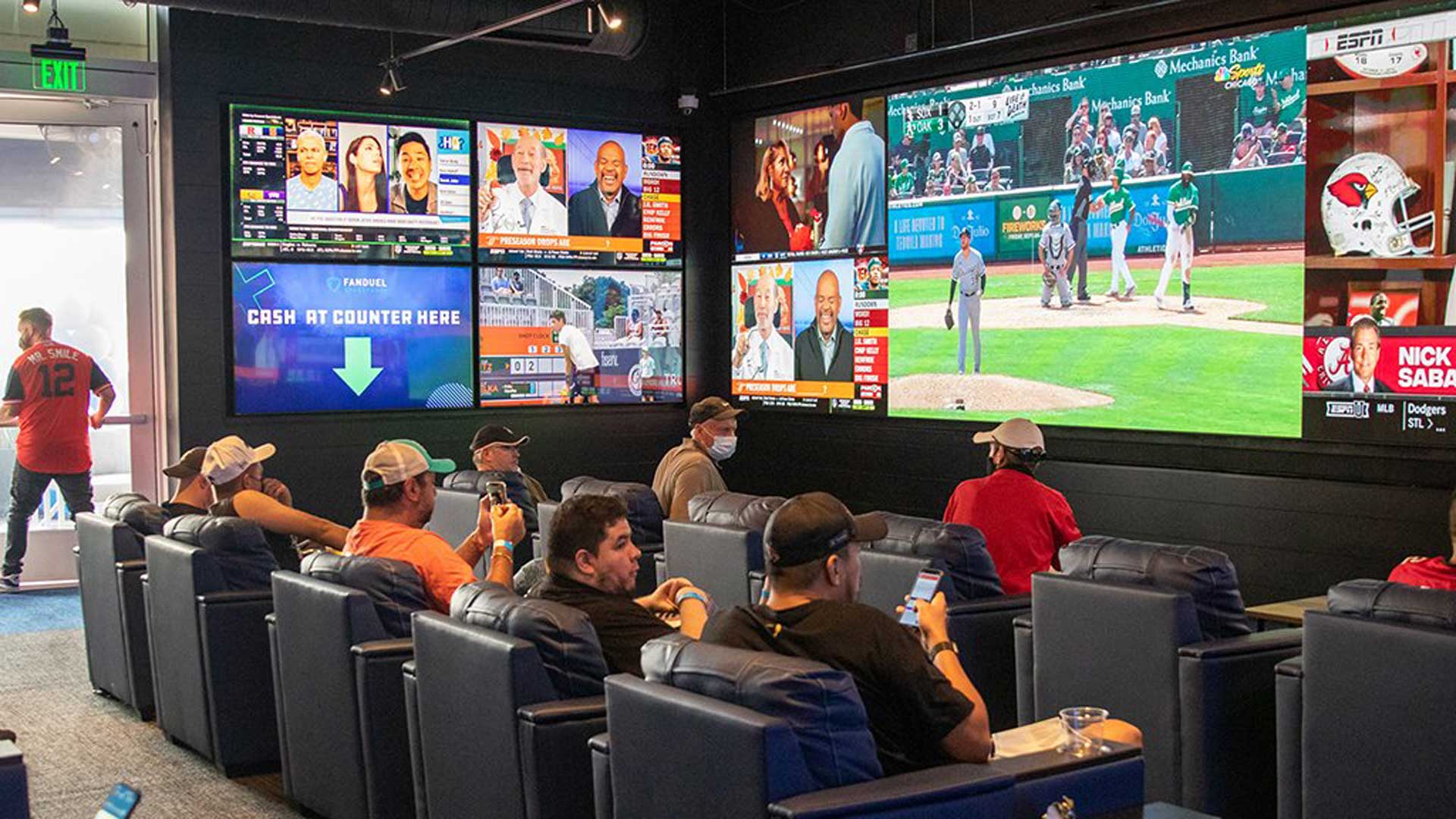 Arizona has embraced the legalization of sports betting, and sites including FanDuel at Footprint Center have helped the state become second fastest in the nation to reach a billion dollars in total wagers.
James Franks/Cronkite News
If you or someone you know has a gambling problem, information on how to get helps is available by calling 1-800-NEXT-STEP or via a number of resources at the Arizona Problem Gambling Division's website
Winter is the peak season for major sporting events in Arizona. As the rest of the country prepares for cold temperatures and short days, people begin to flock to the state for special sporting events from professional golf tournaments to college football bowl games and, this year, the Super Bowl.
This will mark the fourth time that the Phoenix-metro-area has hosted the National Football League championship game, but it will be a first when it comes to sports betting.
It will mark the first time that Arizona has hosted the game since legalizing sports gambling. It's also the first time that online gambling has been legal in the host city.
During the NFL's divisional playoff weekend, The Buzz assistant producers Samantha Larned and Phil Howard headed to Main Gate Square near the University of Arizona campus to ask people who were watching the games if they ever placed wagers on sporting events and, if so, why.
" [It's] definitely more exciting for games that I'm not that interested in, said Karcher Kouns. "I only bet NFL [games] because that's all I know. I don't really watch that many other sports."
"I have probably done it on 5 different occasions," said Eric McNeilus. He added that he bets on golf mostly, with some football.
"It definitely makes it more exciting," said Dan Budanitsky. As his friend, David Audrosch added, "It's good times, puts some stakes on the game, makes a game that doesn't matter, matter."
These young men are not alone. Sports betting in Arizona became legal in September 2021. From then until October of 2022–the most recent month from which data is available–more tahn $6.5 billion have been wagered on athletic events and fantasy sports leagues in Arizona.
That has resulted in another $27 million in gambling-related dollars coming into Arizona's coffers.
The state has long collected revenue from gambling, be it lotteries, animal racing–though dog races became illegal in 2016–and casinos on Native American reservations.
Tribal gaming became legal in Arizona in 1993, when the first tribal gaming compact was ratified. Since then, portions of what is earned by the tribes has gone into state funds for education, emergency services, wildlife conservation, tourism and the department that regulates gaming and offers help to those with a gambling problem.
In the fiscal year leading up to the legalization of sports betting, tribal gaming contributed around $100 million to the state. And that amount went up by around $30 million in the first year to include sports betting.
Part of the reason for that growth may have been because the law that legalized sports gambling also opened up some new options for tribal casinos.
"It tends to get lost that sports betting was only a piece of the larger gambling expansion here in Arizona," said Max Hartgraves, a spokesperson for the Arizona Department of Gaming. "Back in April, sports betting was legalized as well as a whole new slate of casino games at Arizona tribal casinos. Games like craps, roulette, backarat."
That increase in gaming has brought in millions of dollars in increased betting. Hartgraves said those dollars come from the companies who are taking bets.
"There's two types of fees that the state collects," said Hartgraves. "One is licensing fees from operators and other industry participants, for example an event wagering company had to pay a $750,000 initiation fee and then a yearly fee of $150,000. On the other side are the privilege fees, which consist of a percentage of revenue produced by an event wagering operator."
While sports betting appears to have become commonplace, the Arizona Department of Gaming does not know how common. Its data does not measure how many people are betting or how much the average bettor wagers.
There are those whose relationship with sports remains unchanged by the option to bet.
"I just don't really like to [gamble]," said Rene Ayvizu. I can't afford to lose the money. I know people make money on it."
Ayvizu said he can see how it would boost people's enjoyment, but he does not plan to. Particularly because he is a fan of the Pittsburgh Steelers. "I know that they haven't been doing really good this year, but if I were to bet, I would bet on them."
For others, their gambling is not limited to the most popular sports.
"Golf, cricket, everything bro. there is no sport that doesn't have a place in my heart to have money on," said Jack McDaniels. "Nothing like boozing with the boys and tossing some cheddar on the games."
Not everyone who bets comes out a winner. Since sports gambling became legal in Arizona, about half a billion dollars has been lost to casinos.
And not everyone who places those bets has the money to lose, nor can they always control the compulsion to do so.
Arizona's first efforts to curtail problem gambling came in 1998 with the Arizona lottery's Please Play Responsibly program. A 2002 ballot measure directed two percent of tribal gaming contributions for the regulation of gambling and efforts to combat problem gambling.
Today, those funds go toward the Arizona Department of Gaming and its Problem Gaming Division.
The division contracts with an outside company to handle its help line, 1-800-NEXT STEP.
Prior to Arizona's gambling expansion, the average number of calls was 25 to 30 per month, but since the legalization of sports betting, it's now about 50 to 60.
Division Director Elise Mikkelsen hopes that the reason for that growth is increased awareness of the help line.
"The licensees that have come on board that are allowing access to sports wagering in Arizona– they have problem gambling requirements and part of their requirements is listing our 1-800 NEXT-STEP phone number on all of their advertising as well as including it on their commercial advertising and television advertising as well."
Mikkelsen said that problem gambling has a lot of the telltale signs that other addictions have, and those can indicate when someone needs to seek help.
"Whenever your gambling is interfering with your life in a negative manner, whether that be financially, emotionally, with relationships. If your significant other is mentioning to you that they are not okay with your behavior and the choices you're making, that could be a warning sign."
Mikkelsen said that the tools that are there to help those with a gambling problem can also help what is clinically known as the "person affected," such as family members or significant others.