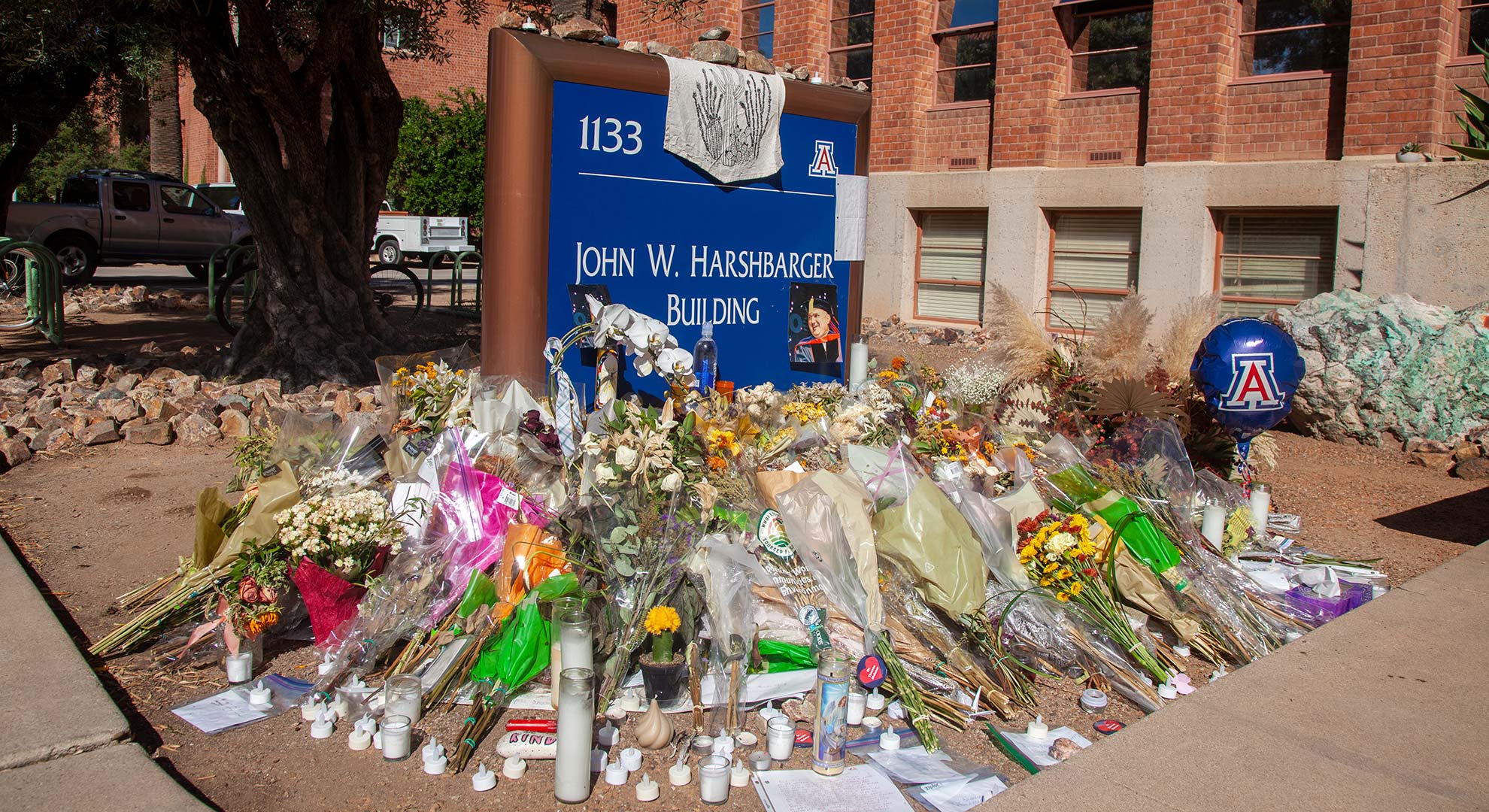 Flowers, candles and letters lay in front of the Harshbarger building sign following the murder of Professor Thomas Meixner on Wed. Oct. 5, 2022 at the University of Arizona. Meixner was killed by a former student on campus.
Paola Rodriguez/Arizona Public Media
The General Faculty Committee on University Safety for All found that the University of Arizona faces a "systemic risk oversight failure" and fails to "address a known chronic trust problem" after investigating the university's response to claims of harassment and violence risks.
On Oct. 21, 2022, Chair of the Faculty Senate Leila Hudson established the committee after the deadly, on-campus shooting of Professor Dr. Thomas Meixner. The group utilized a compilation of email correspondences, text messages, public records, interviews, and supporting documentation from surviving victims to create its report.
Read the Interim Safety Report.

View at Google Docs
|

Download File

In their findings, the members identified two key issues: a lack of community trust and the absence of a centralized risk management system. The committee went so far as to say that the university's approach "established an administrative culture that consciously and consistently disregards employee and students' safety concerns."
College of Law professor and committee member Barak Orbach told AZPM that the institution's current procedures are actually a barrier when it comes to victims reporting their reality.
"A person who is coping with harassment or violence or violence risk has many problems to deal with other than trying to decipher highly bureaucratic procedures," Orbach said.
Fears of retaliation, complex policies and the time it takes to file reports confuse and deter people from coming forward, Orbach said.
Shooting suspect Murad Dervish allegedly targeted a number of people for harassment including Hydrology and Atmospheric Sciences (HAS) Assistant Professor of Practice Eyad Atallah. Through his own attempts to seek help, Atallah was advised that he would not have been able to share his story because of policies, like the Family Educational Rights and Privacy Act.
"My common sense told me that threats sent to my personal cell phone couldn't possibly be protected information," Atallah told AZPM. "But I was generally advised that it might be so, you know, we basically all kept things to ourselves."
Dervish reportedly harassed Atallah along with three other HAS faculty, a Dean of Students administrator, and an undergraduate student. The threat was so great that at one point Atallah bought a bulletproof vest to protect himself. But, he never used it.
"If you know someone's wearing a bulletproof vest, you're just going to shoot them in the head," he said. "So I decided that maybe that wasn't a great way to protect myself."
So Atallah tried to find other ways. He consistently changed his schedule as much as he could. He also researched alternative housing options in the event that Dervish would visit one day.

Like many of Dervish's victims, Atallah was allegedly harassed over email, text, and phone calls. Atallah said reporting the incidents did not make him feel safe.
"It's a really weird feeling, talking to someone that you know is going to kill you eventually," Atallah said. "You're just kind of like a hostage, right and you're trying to figure out what you can say or do that might eventually keep him or prevent him from trying to kill you…I felt that you know, protecting myself was really on me."
According to the committee's report, the University of Arizona Police Department and others were notified about the confrontations, but the behaviors continued.
The undergraduate student who was allegedly stalked and sexually harassed by Dervish was contacted by him upwards of 30 times. The student submitted five police reports, an office of institutional equity report, and contacted the Dean of Students. The student, who wished to remain anonymous because they are still fearful, told AZPM that no one helped. At one point, the student told a UAPD officer, "so you are not going to do anything until anyone gets killed, are you?" That incident was reported to AZPM and cited in the report. Both the student and the report said the officer did not respond.
However, the lack of response to student and faculty concerns, according to the committee's report, is not an isolated incident.
The committee cites previous cases in which the university failed to support its faculty and students. For example, in 2019 a group of female law students reportedly faced harassment from male peers, resulting in the stalking of one victim and the alleged rape of another. Related to the incident, a female law faculty member faced harassment for supporting a victim. Both the faculty and former students told the committee that the university "blatantly ignored" them.
Other instances mentioned included the harassment of a student journalist as well as an alleged over-policing of a Queer, Black, disabled undergraduate student and their interaction with a university administrator.
Orbach said that, in the committee's findings, the lack of a centralized risk management system and the sheer insufficient number of units to address safety concerns compounded to be a systemic problem. The report said the reality was that no office on campus was designated to address harassment and risks.
"The committee categorically rejects the self-serving assertions that the Dean of Students, Office of the General Counsel, Office of Institutional Equity, and the University of Arizona Police Department members satisfied their duties within the scope of their authority and responsibilities. At the very least, these units failed to address ongoing harassment and ignored known violence risks."
According to the report, UAPD Assistant Chief of Police, said in an interview with the committee, "even in hindsight, UAPD acted optimally."
In the 11 months that Dervish reportedly harassed faculty, staff, and students, UAPD documented at least half a dozen reports and filed two criminal reports with the Pima County Attorney's Office, according to the report. However, as recently as one month before the shooting, in a police report quoted by the committee an officer wrote, "while the concerns from the staff are real and warranted, there is no indication at this time that Dervish intends to return to campus."
Earlier in 2022, Dervish reportedly violated his terms of suspension by contacting faculty and a student that had no contact orders and trespassed on campus twice. A condition of his suspension included being barred from campus property.
However, language in the September 2022 police report shared similar messaging from a police report made in January 2022.
"Threat Assessment Management Team held a meeting to more formally decide whether Dervish was a concern to the campus community. They determined there was not an immediate threat and the situation would continue to be monitored as the Dean of Students office worked towards a resolution."
The committee emphasized that UAPD was represented in the Threat Assessment Management Team and "contributed to this decision."
Dervish's alleged threats continued throughout the summer of 2022. During that time period, the report shared that Professor Meixner still remained a target. Dervish's threats continued to be shared with relevant offices including UAPD, the Dean of Students, and the Office of General Counsel.
For months, according to the committee's investigation, faculty, staff, and students pleaded for help. Yet, in a press conference after the murder of Professor Meixner, UAPD Chief of Police said, "if you see something, not just say something, but do something."
But, the report put shared blame on multiple university offices.
"People whose responsibility is about safety got into the habit or the belief that their entire job is committed to compliance, and they have to follow highly complicated procedures in order to enforce something. That's not protection of safety," Orbach said.
Orbach said that legal risks took precedence over real safety risks.
"The notion of safety, as we have found out, is limited only to compliance with particular sets of laws and regulation, which means that if there is no violation of some laws or policies, then this is not an issue that university should address," Orbach said. "In that sense, the university doesn't protect safety. It addresses legal risks."
A university spokesperson did give AZPM a response to the allegations in the report.
"​​It is not the comprehensive and exhaustive review that the University commissioned its outside safety and security experts, PAX Group LLC, to conduct following the October 5 tragedy. Rather, [the interim report] represents the work of a subset of faculty that has reached sweeping conclusions based in large part on misleading characterizations and the selective use of facts and quotations. Although several University administrative and service units did meet briefly with the ad hoc faculty committee about general processes, they did not engage in detailed discussions about the events leading up to the October shooting as the report implies. Moreover, it is unfortunate that this interim report, which laments a lack of trust at the University, was first released to the media before it was shared with other members of the faculty or the larger campus community. We encourage everyone to await the comprehensive PAX Group report, which will contain the assessment of experts based on countless hours of interviews and a thorough review of all relevant information and documentation."
AZPM followed up on that statement asking the spokesperson about what specifically is misleading in the report. We did not receive an answer.
Before the university released a statement, Orbach told us that, even if there is contention on the interim report, the facts still remain the same.
"The general issue is that every person with whom the committee talked, including senior university officials, talked about a problem of trust. The piece that is missing is who should address the problem of trust. Because if… everyone thinks that this is a problem and everyone says that this is a problem, what should be done about it?"