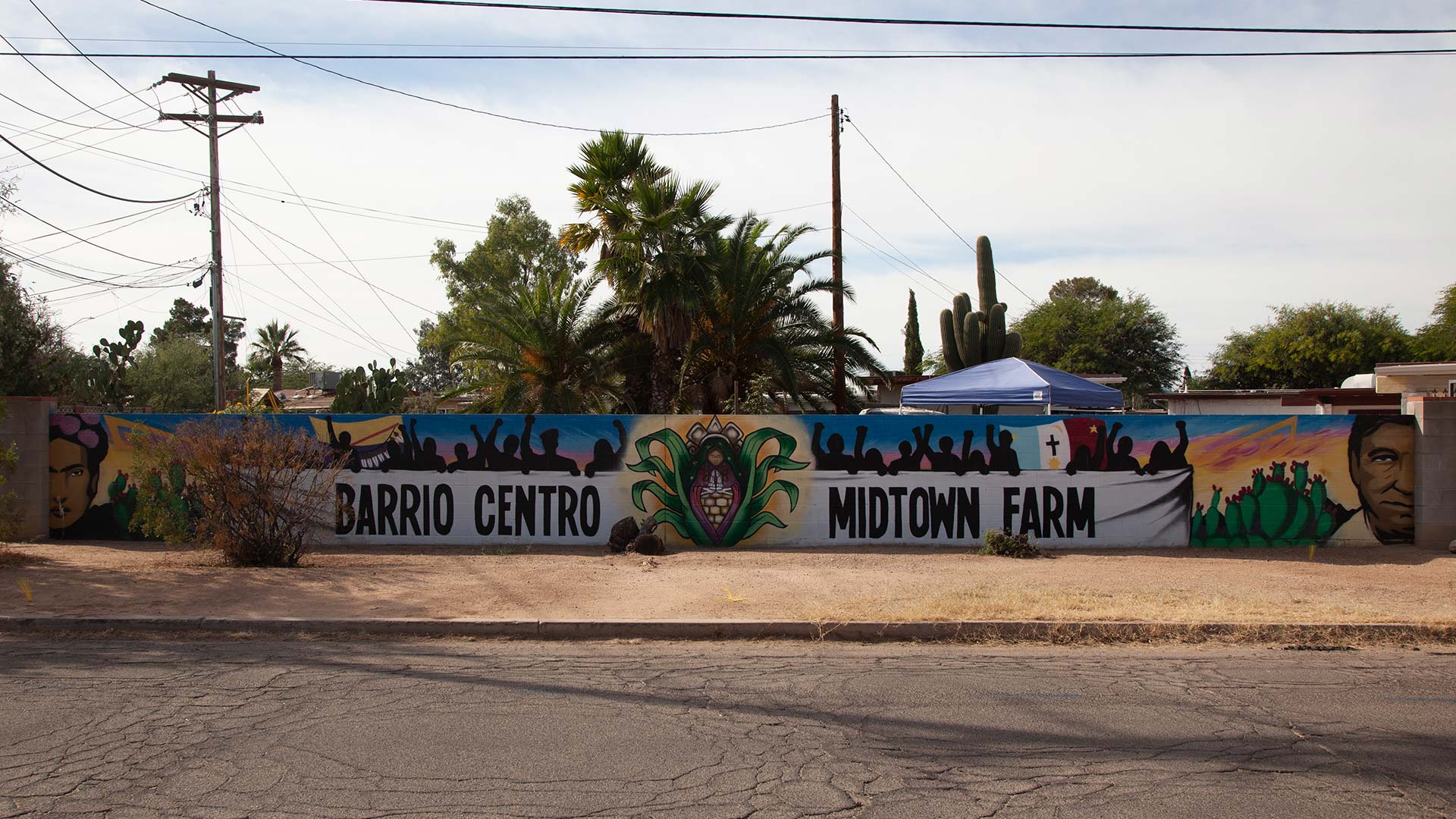 Flowers and Bullets is a grassroots movement that uses art and food to talk about larger issues, like gentrification or pollution, affecting Barrio Centro. This mural welcomes people visiting their Midtown Farm housed at the former Julia Keen Elementary School.
Emma Gibson/AZPM
After years of work, local nonprofit Flowers and Bullets Collective has finally obtained the contract to demolish the former Julia Keen Elementary School.
A February fire in the closed building led the Tucson Unified School District to work with the organization to expedite the property's demolition.
The school closed in 2004 after noise and safety concerns arose from its location directly under the flight path for Davis Monthan Air Force Base.
Since its closure, the building has been subject to vandalism. A new appraisal determined that the 9.7-acre plot is worth close to the same cost of the building's demolition. The proposed agreement gives the school to the nonprofit in exchange for completing the raze.

Flowers and Bullets Collective founder Tito Romero says that the school's closure was detrimental to the Barrio Centro and Julia Keen neighborhoods.
"That was two meals a day for our kids. That was youth sports. That was employment. It was a safe space, overall. We want to make that a safe space again, for the community."
Their goal is to reclaim and amplify cultural roots to liberate, heal and empower the community.
"It's a responsibility. It's not work. We don't have the privilege to get up and go when our funding is up. We live in these neighborhoods. We have connections to these neighborhoods. We're raising our kids in these neighborhoods."
For years, the group has leased the land outside of the building. They used it to create workshops, community-based gardens, and hands-on learning events to help connect residents with agricultural education, health, and wellness. But, for them, art and sustainability are just a mode of delivery to have bigger conversations with community members regarding social and economic disparities in Tucson.
Romero says this land acquisition will provide them with the resources they need to meet demands and continue the work they are doing.

"This serves as a reference point, as a template for abandoned buildings, abandoned spaces, abandoned lots."
The organization was offered a choice between the district demolishing the building or the nonprofit. They chose to take on the project so they may be able to have the "autonomy and the say on what structures of the building will be kept." The group is currently fundraising to cover the extra cost that it would take to remodel and remediate these structures.