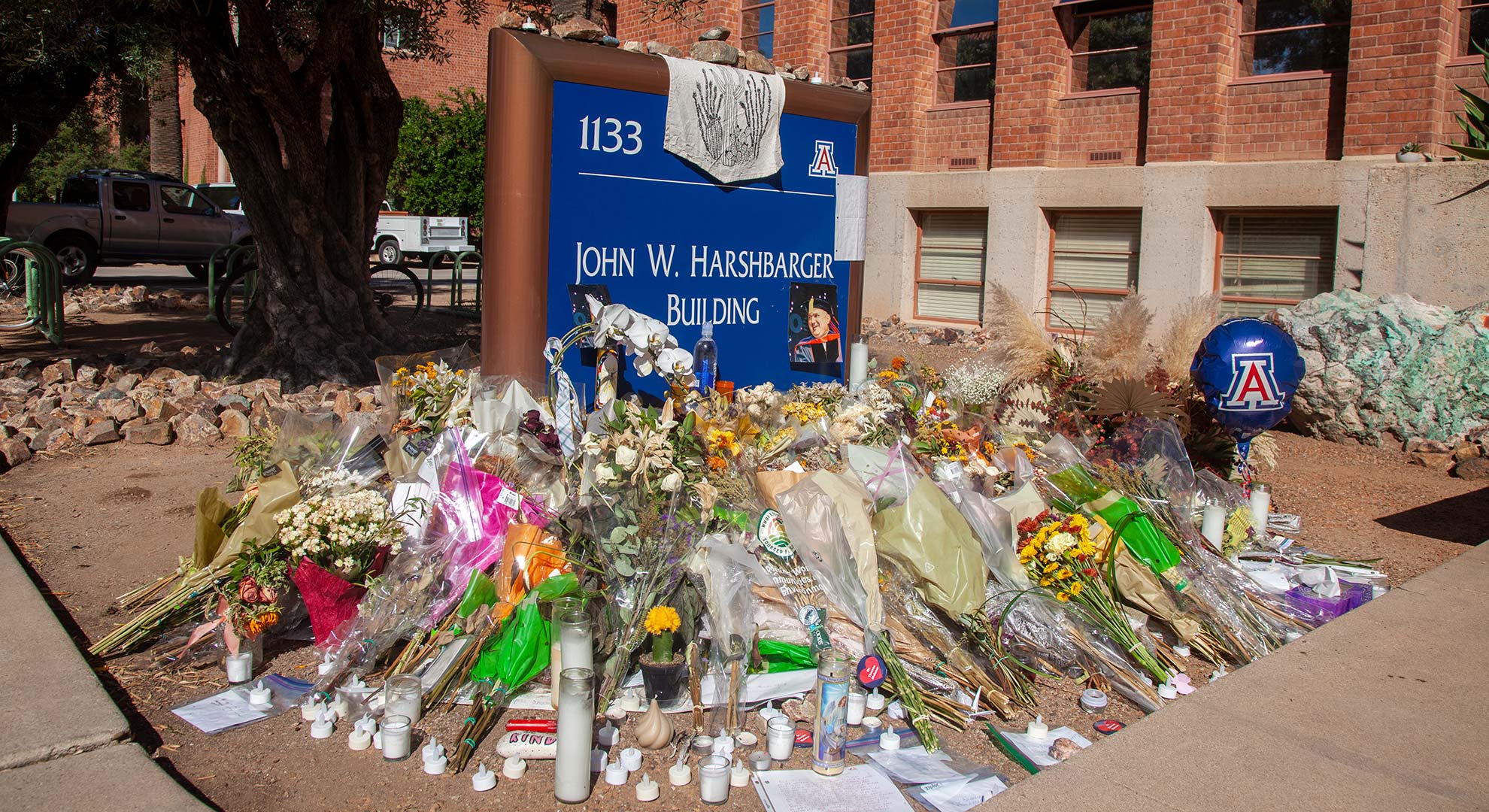 Flowers, candles and letters lay in front of the Harshbarger building sign following the murder of Professor Thomas Meixner on Wed. Oct. 5, 2022 at the University of Arizona. Meixner was killed by a former student on campus.
Paola Rodriguez/Arizona Public Media
This story is developing.
The family of slain University of Arizona professor Dr. Thomas Meixner has filed a notice of a $9 million claim against the Arizona Board of Regents. The family claims that UA's "pass-the-buck response to repeated violent threats" led to Meixner's murder.
Meixner was killed on campus by alleged shooter Murad Dervish last October. Meixner, along with a student and other faculty, were subject to over a year's worth of alleged harassment and threats by Dervish. Reports of these threats were sent to university departments like the Office of General Counsel and the University of Arizona Police Department. But Meixners' attorneys claim "the university's utter failure to do even the bare minimum, to ensure safety on its campus, resulted" in the department head's death.
The law firms of Zwillinger Wulkan and Kuykendall & Associates are representing Meixner's widow, Kathleen, and his sons, Sean and Brendan.
In their claim's first sentence, they say "the University of Arizona sacrificed Professor Tom Meixner's life, repeatedly ignoring the clear and present danger of a hostile and dangerous student who openly advertised his intent to murder."
Throughout the document, they detail the timeline of events leading up to Meixner's death. In the claim, they share the back-and-forth internal communications that affected faculty and students received from UA departments for months prior to Oct. 5, 2022. However, according to the claim, "the University ignored the outcry of students and faculty concerned over Dervish's actions and refused to make the necessary accommodations for the department based on safety concerns."
They continue on to claim that, "the University did not, and still does not, have a comprehensive system to monitor and evaluate such violence risks, despite a recognition that their current internal communication channels are ineffective."
In that statement, they harken back to a February Faculty Senate meeting where UA President Robert Robbins called for the need to work together to "mitigate" issues of trust and safety. He went on to claim full responsibility, despite not being aware of the threats prior to the shooting.
The claim compares UA's violence risk response to "hot potato."
"In fact, multiple other claims against the University demonstrate internal indifference to these situations and a pattern of passing responsibility from one department to another like a hot potato, rather than acting in a way that protects the University community."
The Arizona Board of Regents has 60 days to respond to the family's claim. If they fail, the family will file a formal lawsuit.
The Arizona Board of Regents holds the license for AZPM.