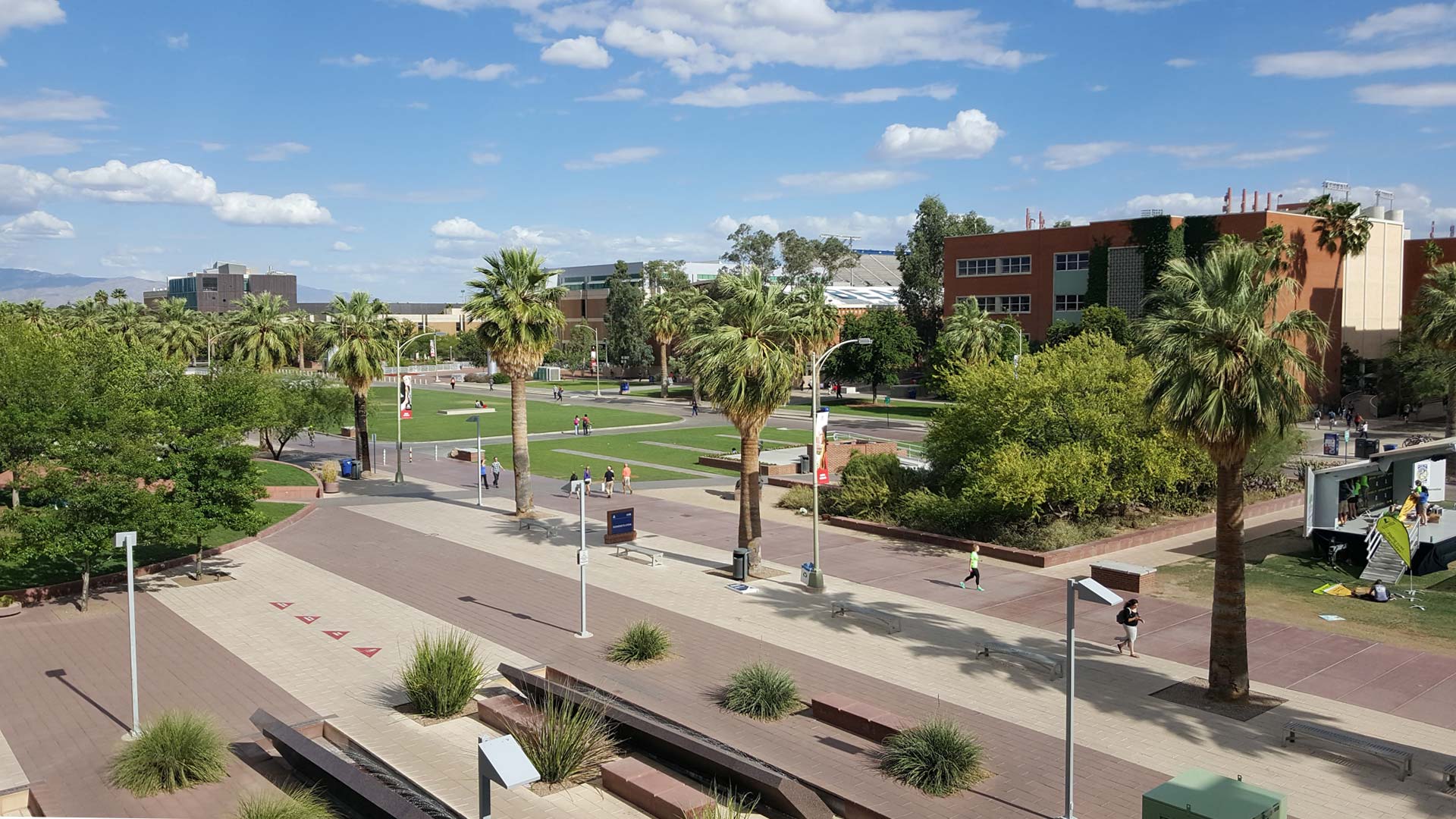 A view of the mall at the University of Arizona taken from the Student Union.
AC Swedbergh / AZPM
Counseling services on the University of Arizona campus were overwhelmed on Wednesday and Thursday afternoon, due to graphic images from an anti-abortion demonstration held on campus.
The organization, the Center for Bio-Ethical Reform, displayed large images of victims of international genocide and dismembered unborn human remains. The demonstration was protected by two layers of metal barricades.
Southwest regional director of the organization, Aubra Singleton, said the organization was invited to demonstrate on campus by the student-run organization, UA College Republicans United.

"Images change people's hearts and minds, and as long as we hide the victims then nothing's really going to change and they are upsetting because abortion is upsetting," Singleton said.
Singleton said that the group wants to follow in the footsteps of other reformers, namely Martin Luther King Jr. who used images of atrocities to show injustice.
Brendan Riske, a graduate student studying entomology, said that the comparisons to genocide were difficult to process.
"I really think what we should do is have more oversight," Riske said. "If you're going to invite a group like this onto campus, it needs to be clear what they're going to do."
UA Clinician with Counseling and Psych Services, Diana Lohr said that the demonstration was particularly shocking and traumatic, causing many students to feel unsafe.
"We weren't expecting it to be this graphic and so definitely when I saw the display I alerted our directors just to make sure we have a heads up, that we're having clinicians on call at the two centers to be able to support students," Lohr said.
UA students who were present at the demonstration also reported incidents of anti-LGBTQIA and racist slurs against other students.
A local volunteer who was unaffiliated with the university was identified on social media for espousing hate speech. Singleton said he was asked to leave the demonstration.
"Definitely I'm in support of free speech but this is harassment," Lohr said. "Students need to feel safe on campus."
Ahead of the demonstrations, there were smaller signs warning students of the imagery.
Senior studying law, Alex who is involved with UA Pride Alliance and Students for Palestine said that they felt that it was disturbing for unaffiliated community members to target students on campus.
"I think free speech, the line really starts when it comes to having really traumatic and hateful pictures up," Alex said. "Free speech shouldn't cover that, especially when this is literally getting in the way of people's education.
Alex said that some students were extremely distressed to the point of being unable to attend class.
Lohr said other students were escorting each other to their classes. UA alum Ron DeSouza, who said he was on the alumni board for the UA College Republicans, said he was glad that the organization came to campus.
"I think it does take graphic images like this to spark a conversation and create a dialogue that otherwise wouldn't be had," DeSouza said.
DeSouza, who said he was in support of abortion in cases of maternal health, said that those participating in the demonstration were mostly unaffiliated community members who were also interested in the cause.
There were about 100 counter-protestors, made up of pro-abortion UA students in attendance.
Director of Counseling & Psych Services (CAPS), Aaron Barnes said that students were reporting very high levels of distress and are still recovering from collective trauma following the recent campus shooting.
Alex said that the demonstration was one of the more traumatic experiences students have witnessed on campus, including the on-campus shooting of Professor Meixner and an altercation between a UA official and African American student.
"As a result, we're seeing high levels of anxiety and depression throughout campus," Barnes said. "This trend is consistent across higher education in general."
To support students, CAPS offers peer and individual counseling, psychiatry, workshops as well as services for students in mental health crisis.