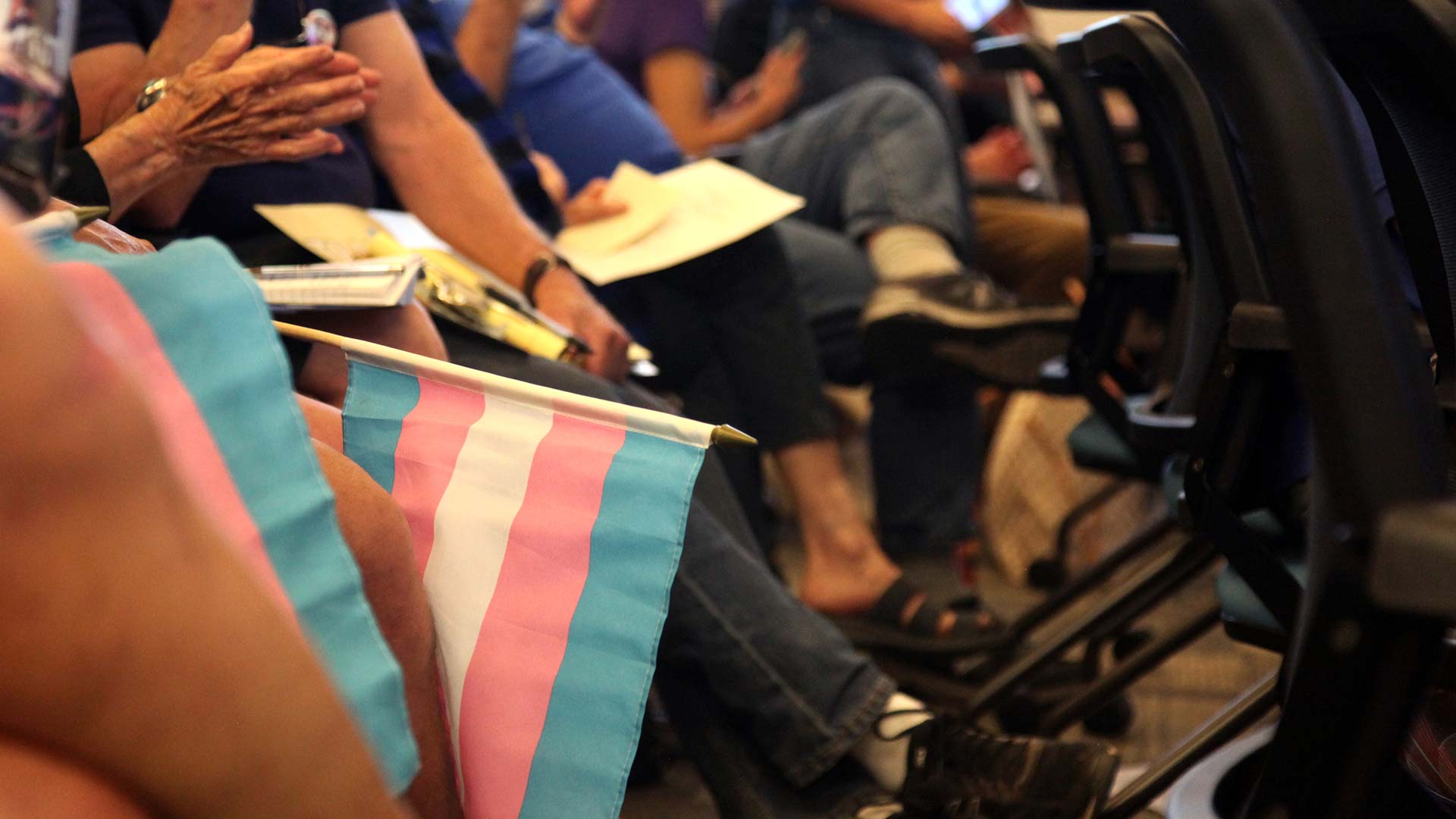 Transgender pride flags filled a Catalina Foothills School District Governing Board meeting on Tuesday, April 11, 2023.
Paola Rodriguez/Arizona Public Media
Two Arizona families filed a complaint Tuesday against the state saying a statute that bans transgender girls from playing on girls sports teams in schools violates federal nondiscrimination laws and the U.S. Constitution.
The suit is against State Superintendent of Public Instruction Tom Horne, the Kyrene School District in Tempe, the Gregory School in Tucson, and the Arizona Interscholastic Association, which regulates and oversees interscholastic athletic competition in Arizona. The families say that Senate Bill 1165 "singles out transgender girls in order to exclude them from girls' sports."
The bill, which was signed into law by previous Governor Doug Ducey last year, explicitly says "athletic teams or sports designated for females, women or girls may not be open to students of the male sex."
However, that same law "does not restrict the eligibility of any student to participate in any interscholastic and intramural athletic team or sport designated as being for 'males',' men' or 'boys' or designated as 'coed' or 'mixed'."
The families claim the ban violates the Equal Protection Clause in the U.S. Constitution, Title IX, as well as the Americans with Disabilities and the Rehabilitation Acts. In their litigation, they say the ban specifically discriminates against the Plaintiffs' transgender status and sex since being transgender is a sex-based trait.
"This law bans transgender girls from competing with other girls in every sport, at every grade level, and regardless of each girl's individual circumstances," Rachel Berg, the National Center for Lesbian Rights Staff Attorney, said in a press release. "It cannot survive constitutional scrutiny and it endangers transgender children."
Two transgender girls are represented in the suit–one who is 15 years old that wants to play on her school's volleyball team and another who is 11 years old that wants to compete in soccer, basketball, and cross-country. However, with this law, they have three options: compete on a boys team, a co-ed team, or do not compete at all.
According to the lawsuit, playing on boys' teams is not an option for either girl.
"It would be painful and humiliating for (the plaintiff) to be forced to play on boys' teams," the lawsuit states. "It would also contradict her medical treatment…"
Both girls undergo medical treatment for their gender dysphoria, which includes living as a girl in all aspects of their lives.
"For many children, playing sports is an important part of their school experience," the complaint said. "Plaintiffs want nothing more than an equal opportunity to enjoy that same experience: to try out for and participate on the girls' volleyball, soccer, basketball, and cross-country teams at their schools. Arizona law, however, denies Plaintiffs that opportunity because Plaintiffs are transgender girls."
The complaint is an attempt at stopping Arizona officials from denying the plaintiffs the right to play on school sports teams that align with their gender identity.