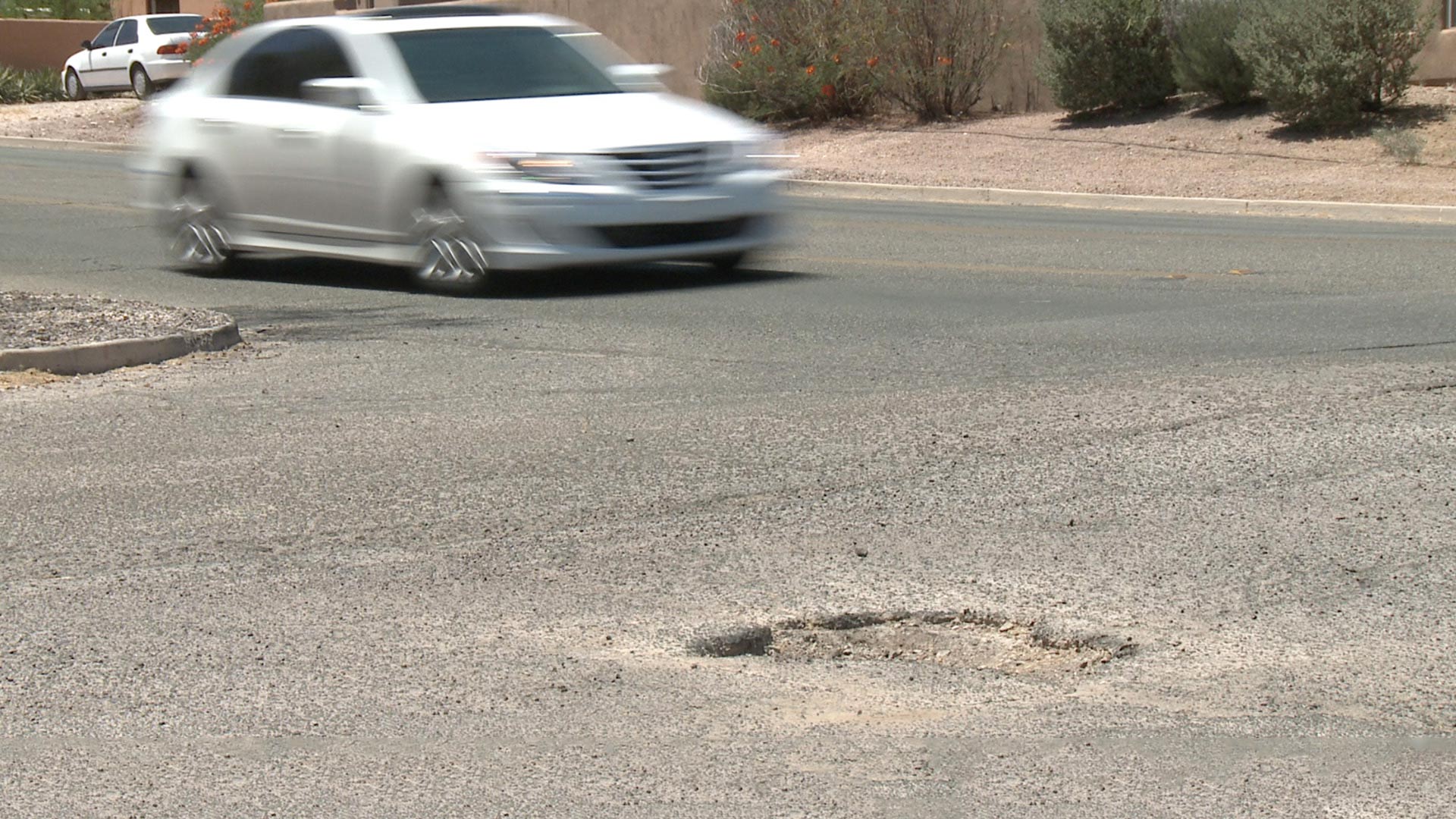 A car travels near a pothole on a Tucson-area street.
After a tough winter for roadways, the Arizona Department of Transportation has pledged more than $85 million to patch potholes and to resurface, repair and improve highways in the state.
About $35 million will be allocated to a paving project, and $50.5 million will go toward replacing deteriorating pavement surfaces in 23 locations, mostly in northern Arizona, according to an ADOT press release.
ADOT also plans to recommend $40 million for similar projects in the agency's 2024-2029 five-year construction program.
Rough conditions on nearly 30 miles of Interstate 17 south of Flagstaff will be addressed with a paving project that just resumed after a winter hiatus.
Work to address severe roadway deterioration on parts of interstates 40, 17 and 10; U.S. Route 60; and state routes 260 and 77 is expected to begin in mid-May or June.
"I'm proud to announce an over $50 million investment in fixing our roads," Gov. Katie Hobbs said in a press release, which noted the funding comes from savings on other projects. "For too long, Arizona has failed to invest the money we need to protect our highways and ensure a brighter future for all Arizonans. Snow and rain this winter exposed the lack of upkeep, and I'm grateful to the State Transportation Board for identifying these projects and approving these critical investments."
The cold weather in northern Arizona and wet weather in lower elevations, plus heavy traffic on Arizona's highways are a recipe for potholes, ADOT spokesman Doug Nintzel said. Flagstaff-Pulliam Airport recorded 7.27 inches of precipitation in March, well over the 1.88-inch average for the month, according to the National Weather Service.
"In northern Arizona, we have the freeze-thaw cycle that takes place," Nintzel said. "In other words, it gets warm enough during the day that the snow and ice melt, then they freeze again at night and that starts to damage the pavement."
Nintzel emphasized that ADOT is doing pavement repair year-round, but it has a lot of work this spring following the rough winter months and has been focused on temporary repairs. In addition, ADOT will be making preparations for the monsoon season that starts in June.
"We've reached the stage where we're going beyond temporary repairs," he said. "We've reached the stage where we're actually going to be milling away at old damaged pavement and putting a new layer of asphalt pavement down on highways."
Potholes can be extremely damaging to cars, according to Julian Paredes, a public relations specialist for AAA Mountain West.
"Potholes nationwide cost about $26.5 billion in damages to cars in 2021, so it's a significant problem," Paredes said.
The average cost for a driver to fix damages caused by a pothole is $600, according to AAA.
"It (potholes) might not be something that we think about on a day-to-day basis, but it really is a big problem," Paredes said. "One of the tips you can do to avoid a pothole is … give yourself a little bit of extra space with the car in front of you. That will give you time to react to whatever situation is in front of you, including potholes."