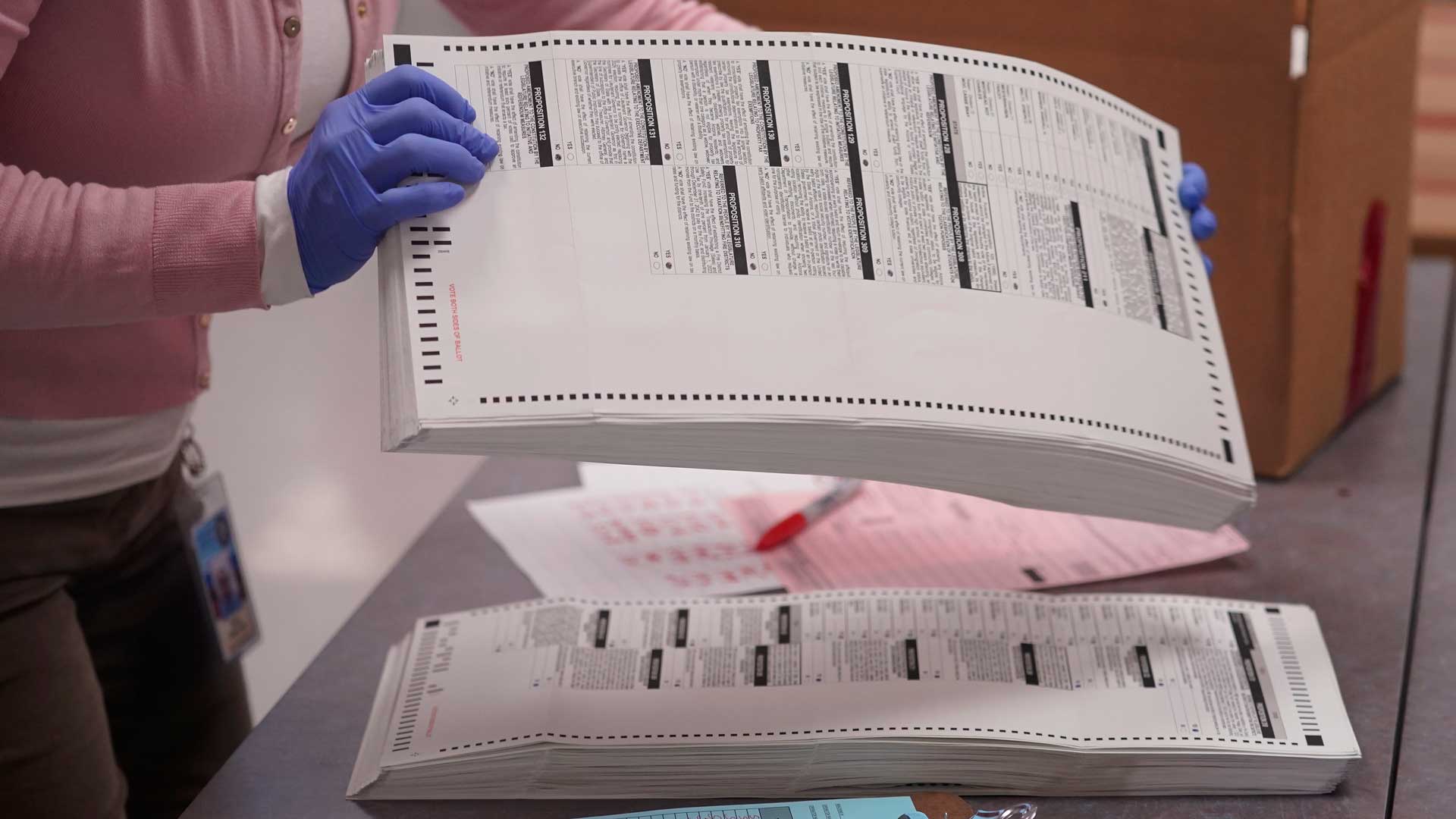 An election worker gathers tabulated ballots to be boxed inside the Maricopa County Recorders Office, Thursday, Nov. 10, 2022, in Phoenix.
AP Photo/Matt York
Arizona Senate Majority Leader Sonny Borelli says Arizona counties have to throw out their electronic voting machines. Local officials find Borelli's position doubtful and even troubling.
Borelli wrote officials of all fifteen Arizona counties Monday to demand that they cease using vote counting machines that weren't 100% American-made.
Some officials dismissed it as grandstanding.
Borelli was relying on a non-binding resolution passed by the legislature earlier this year. A few Republicans, such as Tucson Senator Justine Wadsack and Flagstaff Senator Wendy Rogers, applauded Borelli's claim. Others, like Maricopa County Supervisors' chairman Clint Hickman, dismissed it, as did Democratic Secretary of State Adrian Fontes.
At least 2 bills intended to put such requirements into state law were passed by both houses but vetoed by Governor Katie Hobbs.
Unlike the bills Hobbs vetoed, concurrent resolutions do not go to the governor for approval. And while they are intended to express the legislature's opinion about an issue, they do not have the force of law.
But Pima County Attorney Laura Conover is troubled by Borelli's letter. She says Borelli knew what he was doing, by using the same language about "plenary authority" that attorneys used in arguments before the Supreme Court last year, trying to make state legislatures the final authority over elections.
"Once we realized he was quoting the very arguments used to assert that that state legislatures can simply ignore the executive and the judiciary regarding gerrymandering or regarding how elections are tabulated and how election results are determined, you can see how we became quite alarmed," Conover said.
If the Supreme Court upholds the case of Moore V. Harper, it could give state legislatures power over elections that no governor could veto and no state court could overturn. The legislature's non-binding resolution outlawing voting machines could actually become law, says Conover.
Moore v. Harper was argued in December, and a ruling is expected before the court adjourns for the summer.