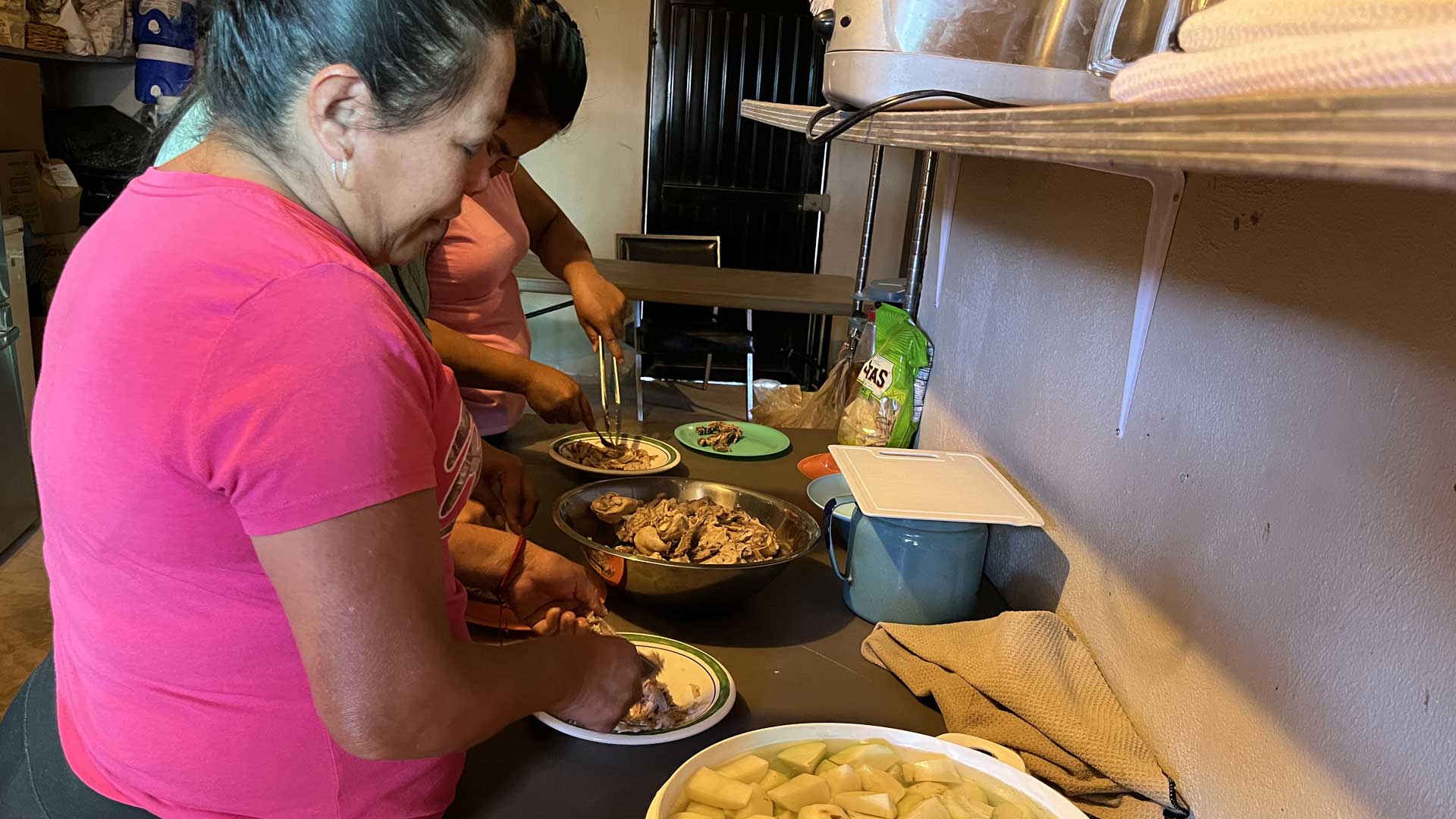 Women prepare food for dozens of families at Centro de Esperanza migrant shelter in Sonoyta, Sonora.
Danyelle Khmara
At a small migrant shelter in Sonora, about 40 miles south of Ajo, Arizona, migrants have hope, post Title 42, of legally coming to the U.S. to ask for asylum.
Thirty-three-year-old Juan Carlos Hernandez helps run a game of bingo at Centro de Esperanza. The courtyard is packed with families. The feeling in the air is festive and hopeful.
In the days since Title 42 ended, seven families at the center, including Hernandez's, have secured an appointment through a federal app called CBP One to come into the U.S. to start the asylum process.
The public health policy that for three years allowed officials to quickly expel migrants from the country ended on May 11, and while there was a short-lived surge of migrants at the border, the number of times Border Patrol has apprehended migrants in the Tucson Sector is fewer than half what it was in the weeks before the policy ended.
Hernandez and his family had been trying every day for four months to get an appointment and finally secured one after officials made post Title 42 upgrades that include expanding the number of appointments available and prioritizing those who have been waiting the longest.
Even though it's the beginning of their asylum process, getting the appointment was a big step, Hernandez said in Spanish.
About 80 migrants, mostly from Mexico, Guatemala, Honduras and El Salvador, are staying at or receiving services from the small shelter, and all of them get on the app daily in the hopes of securing an appointment. Some have been trying for as long as nine months.
The center's co-manager Aaron Flores says everyone is excited to see the appointments become a reality.
"So everybody now is in a super high mood, and we love that, but we also want to tell them, 'Look, don't get over excited,'" he says. "We need to be realistic. These families are probably going fast right now because they've been waiting for a long time."
In Nogales, about 200 miles to the west, migrants seem to be securing the same number of appointments as before the end of Title 42, at about 40 appointments a day. But many decided to camp out at the port of entry, hoping to ask for asylum as a walk-up.
The nonprofit Kino Border Initiative brings food and other services to the more than 200 people who are waiting by the port and also continuing to try and get an appointment through the app.
A 31-year-old mother from Colombia, who fled a dangerous situation and asked not to be named, tried for nearly three weeks to get an appointment through CBP One when she decided to set up camp at the port of entry.
She sat with her 9-month-old baby in a nest of blankets and their few belongings, and she plans to stay there until she gets an opportunity to ask for asylum either at the port or through the app.
"The truth is that what I am looking for is peace," she said in Spanish. "I'm looking for peace because the situation that made me leave Colombia is very distressing. And that's what I want — protection for me and my son, to be able to have peace. That he is safe, and that I have a good life."