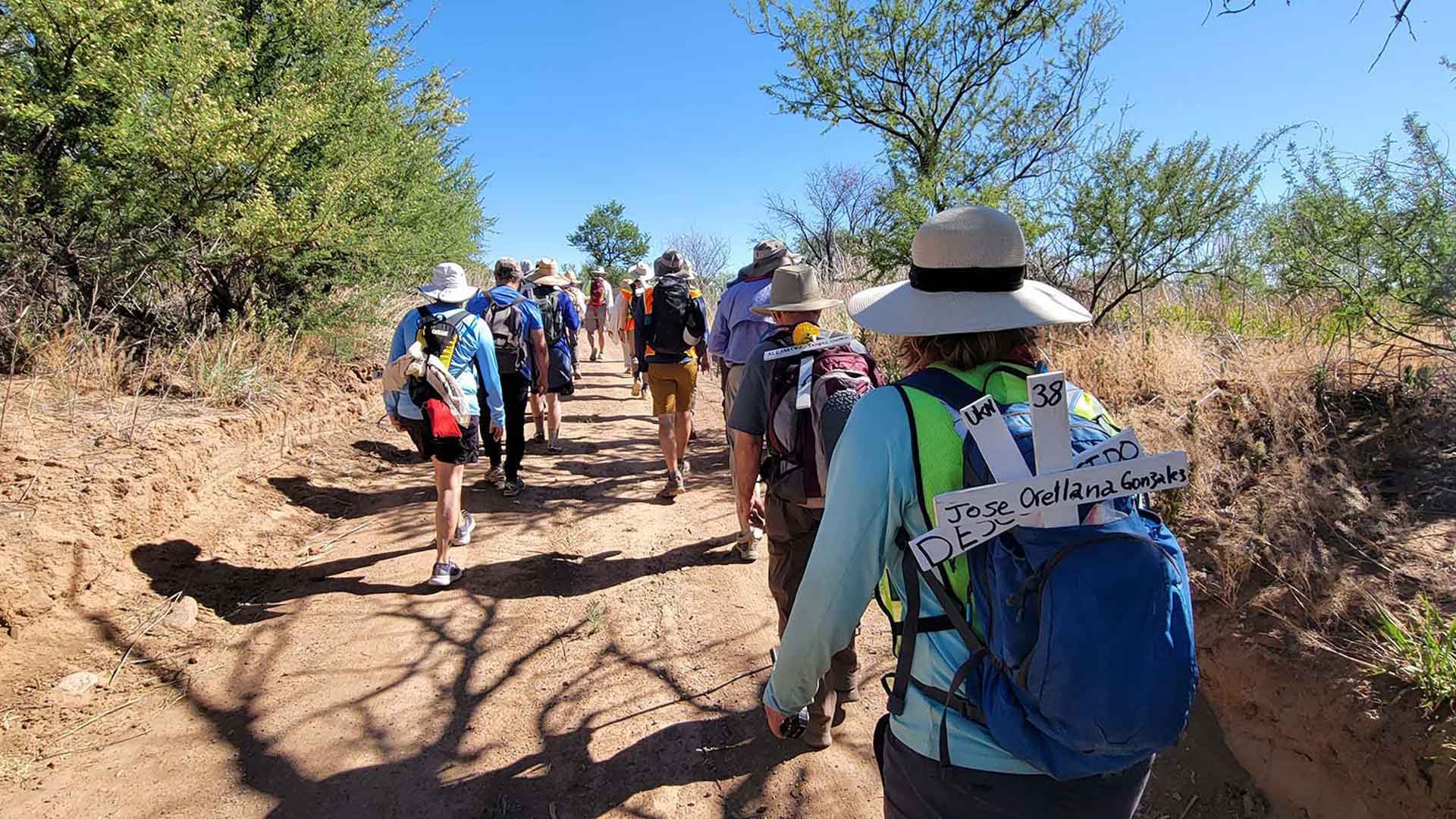 Participants on the 20th annual Migrant Trail Walk carry crosses with the names of those who have died in the U.S.-Mexico borderlands.
Courtesy of Saulo Padilla
Silverio Ontiveros carries a white cross that reads Gurupreet Kaur.
The 6-year-old girl died while crossing the U.S.-Mexico border with her mother in 2019. A CNN story says that she and her mother had traveled from India to reunite with her father in New York. While trekking in more than 100-degree weather through the Cabeza Prieta National Wildlife Refuge, with another woman and child, they ran out of water.
"Gurupreet's mother decided to go look for water and left her daughter with the other woman and her child and when she came back, she couldn't find them," Ontiveros says.
Border Patrol found the girl's body in the desert the next day. The medical examiner said the cause of death was exposure and probably hyperthermia.
Sixty participants finished the 75-mile Migrant Trail Walk on Sunday, in Tucson after walking seven days from Sásabe, Sonora. The intention of the walk is to call for an end to migrant deaths along the U.S.-Mexico border. As the walk has grown over the years, it has drawn participants from throughout the U.S. as well as Latin America, Canada and Europe.
Ontiveros has been doing the walk for about seven years. He got involved, in part, because of his connection to migrants in his community, during his 33 years as a police officer in Phoenix, and also because his father was an immigrant from Mexico.
"Many of my friends right now are undocumented, and we're just praying that one day the government will improve their policies, modernize our immigration policies, and allow them to be, eventually, citizens," he said.
When Kat Rodriguez helped organize the first walk 20 years ago with a few people from the advocacy group BorderLinks, they decided to only do it a second year if they agreed to walk until the deaths stopped.
"I can tell you, at my 27 years of age, I did not think I would be walking 20 years," she said. "We just thought people would figure it out. People would understand, thousands and thousands of people are dying right here in our community, in our border community. And we thought — something will change, right?"
People have recovered nearly 4,000 sets of human remains in Arizona's US-Mexico border since the year 2000. Most of them died from exposure to the elements.
When the small group started the walk 20 years ago, they had one cell phone, but didn't have service for a week. For water, they would drive into the Arivaca fire station, fill up containers and shove $10 under the door. Now walkers have a medical team, regular water refills, and volunteers making them food.
For these reasons and more, Rodriguez says the walk is not meant to simulate the migrant experience but to try and get the word out in hopes it will impact people's hearts and minds.
"I guess I have less faith in policy and elected officials and politics than I do in people," she said. "And the people walking, I trust them. They're going to go home and talk about the border, the way we are experiencing the border. And eventually I hope it'll make a difference."
Saulo Padilla has been doing the walk for 13 years after hearing about it where he works doing migration education at the Mennonite Central Committee in Goshen, Indiana, a sponsor of the walk.
From Guatemala, when Padilla was a child, his father became a political refugee after he was tortured and pushed out of their home country. Padilla crossed the Guatemala-Mexico border with his mother and four siblings to reunite with his father. The family eventually migrated to Canada when Padilla was 15.
"Forty years ago I was one of these children crossing the border with my mom, looking for my dad in Mexico," he says. "So yes, this connects directly to my own personal experience of migrating. And I truly believe that people should have the right to migrate when they're in danger, when they're in poverty, when they're hungry, when they're looking for a better future or education for their children."