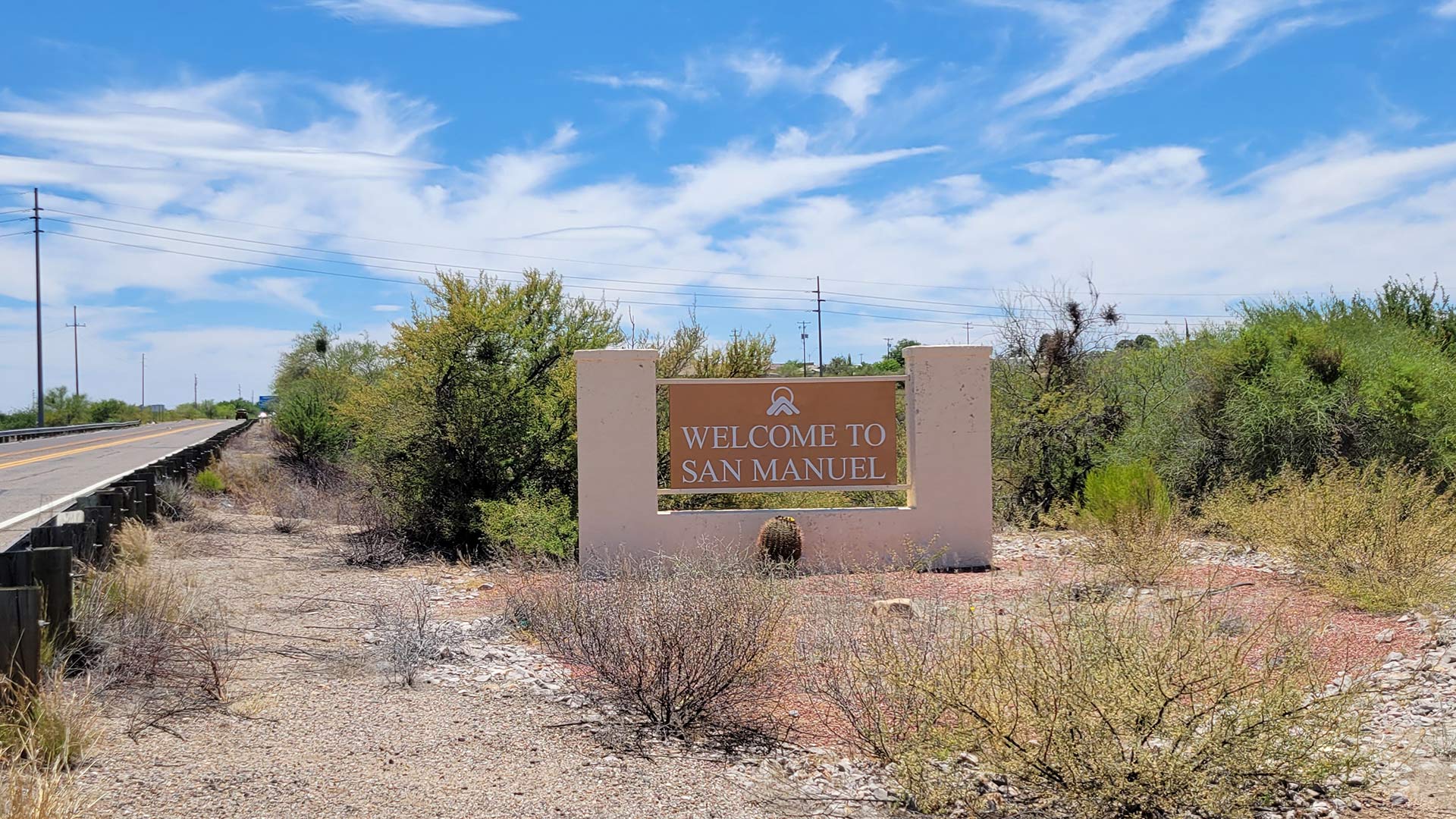 Zac Ziegler, AZPM
San Manuel began its existence in the 1950s as a company town for the Magma Copper Company. It was a master-plan community built by Del Webb years before his company started work on other projects like Sun City.
"[Magma Copper] needed a workforce up here, and roads were poor back in the '50s," said Jim Miller, a San Manuel resident who came to the community in its early days as a child. "Mammoth and Oracle weren't developing fast enough and they needed something here to do that."
The San Manuel Mine eventually was sold to Australian copper company BHP, who closed the mine and sold off the buildings that makeup San Manuel starting in 1999.
Miller, who is the Exalted Ruler of the local chapter of the Elks Club, said that created a power vacuum.
"We're unincorporated, so as the mining operation left, somebody needed to step in and fill that hole," he said. "We didn't have some of these organizations that have stepped in and saw a need to gather people up and try to take care of things and manage the town."
Since then, local groups such as the San Manuel Elks have done what they can to fill that void. The Elks routinely raise funds and win grants that they use to help the community, with activities ranging from shopping trips for underprivileged children to college scholarships for recent high school graduates.
The group also rents space in its building to the community's lone grocery store and its newspaper, among others.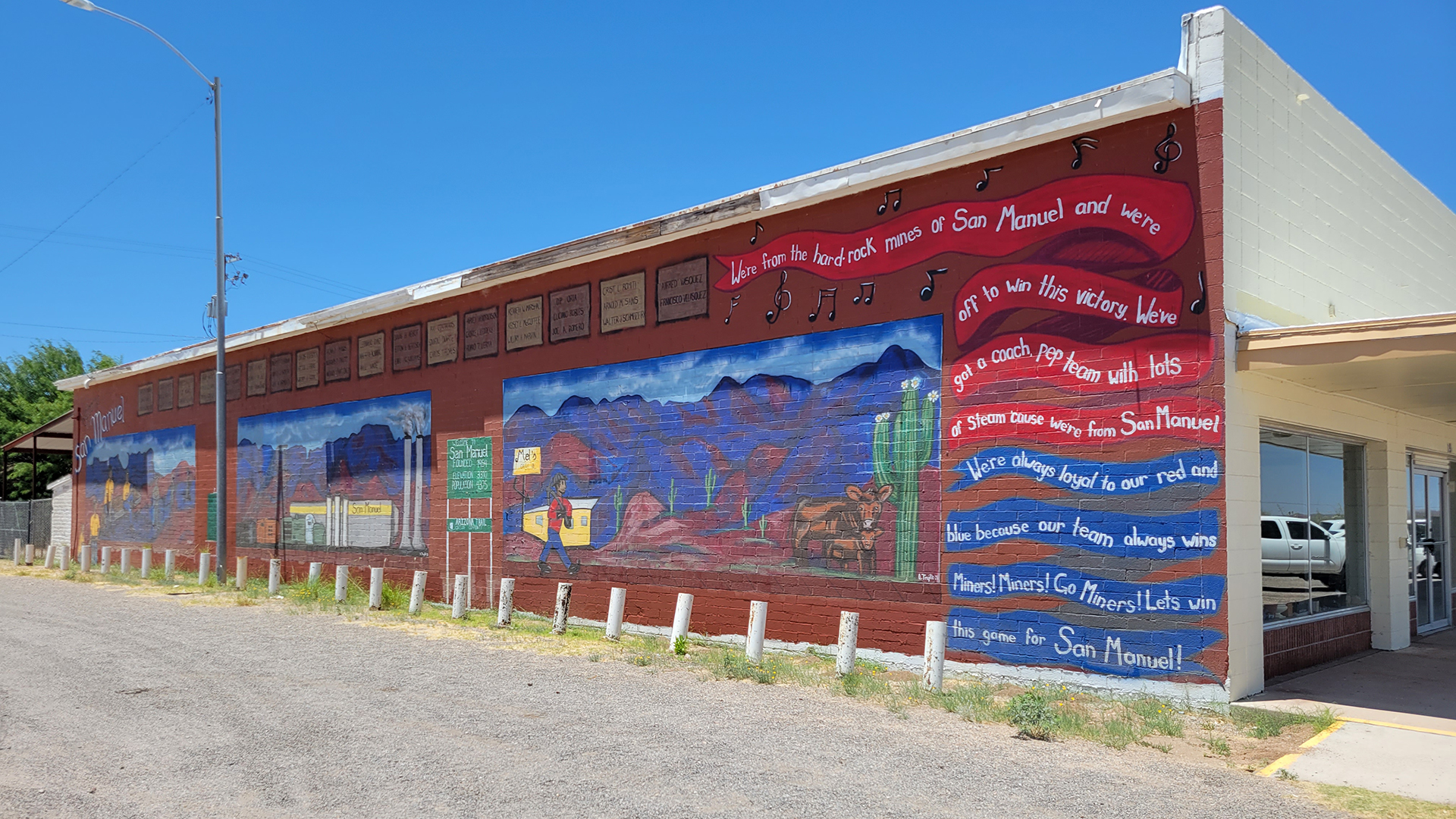 A mural painted on the side of the building owned by the San Manuel Elks Lodge.
Zac Ziegler, AZPM
Another resident who has lived in San Manuel for most of its existence is Marie Roybal. She was born in Tiger, a community that sat where the nearby open pit copper mine exists now.
"I grew up here. It was fun," she said. "We played outside at night until the moms started screaming for us, we built forts in the desert, we did all sorts of fun stuff. Then I graduated, went to college and got married."
She left the community for 15 years in total, returning to take over the jewelry store that her mother ran while her husband worked at San Manuel High School.
"You could see a change in the community over time. We all knew the mine had a life on it. At some point, it was going to run out of copper. Unfortunately, before it ran out of copper, the mine closed down."
In recent years, Roybal has held a variety of philanthropic positions, serving on the board of the local medical clinic, running a popular annual car show, and serving as leadership in the Elks Club.
She said her daughters had to leave San Manuel due to a lack of employment opportunities, though they wish they could raise their own families in the community.
"It's just that kind of a community. Neighbors all look out for each other. We all watch the street and our houses. If I'm not home and something goes on in the neighborhood, my neighbor calls me."
Her children are part of what locals call the brain drain, a departure of young people and families who worked for the mine.
Lifelong resident Ernest Ivy has seen that change firsthand while coaching the high school football team and working as assistant chief for the San Manuel Fire Department.
"We're not like a big fire department like you'd see in Tucson, but I've got a group of great guys out there. They work hard and get to things fast. Some of them played for me in football," he said.
Ivy said the part-time nature of his fire department means it is often a spot where firefighters come to get experience before moving on. Between that and his work with local high schoolers, he often interacts with the area's young people.
"I believe they should get out and go to school," Ivy said when asked what advice he gives when asked by people such as his football players. "Get an education, see the world. The military is great for that, a lot of them go to the military. Then afterward, if you decide to come back, so be it. You're still more than welcome."
A group that solely focuses on creating a place those students may want to come back to is the San Manuel Revitalization Coalition. In its four years of existence, it has done a variety of tasks ranging from planning community events to helping businesses create jobs.
"We're really trying to bring some business back into town, and we're working on programs for the children around here to give them something to do," said SMRC Vice President Don Burch, who is also a resident of San Manuel for most of its existence. "We're striving and in four years I think we've come a good little ways."
SMRC treasurer said their most popular events included a chili cook-off, the existing Copper Town Days Car Show–which the organization took over–and semi-weekly screenings of family-friendly films at its community center.
The group also had a hand in a larger project, the sale of a shopping center known as the Upper Arcade to a new owner who is working to update it.
"Even from when I first moved here four years ago, and certainly from when I first started looking at the town seven years ago when I retired and was looking for a quiet community to move to, the changes have been very, very positive," said SMRC Treasurer Laurie Smalla.
Smalla decided the area would be her retirement home after visiting friends who live in Oro Valley, but she ended up in San Manuel due to its affordability and atmosphere.
"I have never regretted moving here for one second. The community is still that small-town atmosphere. You know your neighbors, and it's a whole different atmosphere than I was used to."
"I just wanted to get involved and help what's going on in this community," said Burch, who has lived in San Manuel for nearly 50 years now. "I'm seeing a lot of progress coming for us."
Among the progress that has come to the San Manuel area is a new employer that brought nearly 100 jobs. And though it has the word 'mine' in its name, it is not in the mineral extraction business.
"What we were looking for was a large enough property that had infrastructure already there. They had an interest in economic development, and so it kind of worked on both sides," said Greta Brandt, president of The Flower Shop cannabis dispensary and The Flower Mine cultivation facility.
"As we're getting our stuff together, we now want to look at how can we best suit our employees that live in or live around the community. What is that next step for us to do to enhance their living conditions, and really be a good community partner."
She said the company is joining efforts to attract businesses such as gas stations and grocery stores while retaining local businesses such as the Ace Hardware store that exists in the area, growth that has been a target for many in the community for years.