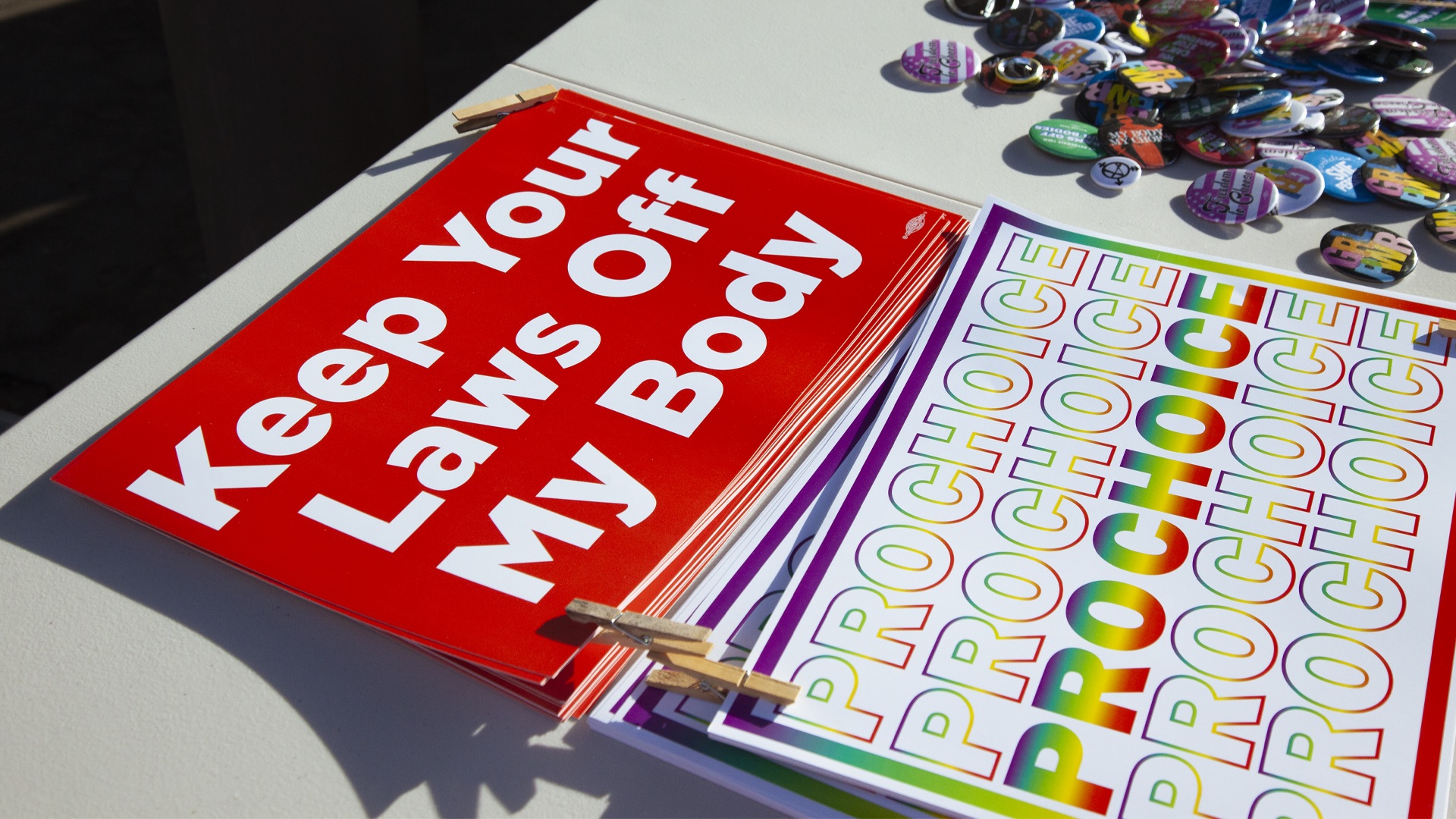 Gage Judd/AZPM
Abortion rights advocates on Tuesday began a push to ask Arizona voters to create a constitutional right to abortion, injecting the issue into the battleground state's volatile politics ahead of next year's election.
If proponents collect enough signatures, Arizona will become the latest state to put the question of reproductive rights directly to voters, who have turned out in large numbers to support abortion rights even in conservative states.
The fight over abortion rights helped Democrats limit their losses in last year's midterms after the U.S. Supreme Court ended the constitutional right to terminate a pregnancy. The issue remains salient as President Joe Biden seeks reelection in the face of sagging approval ratings.
Arizona currently bans abortion after 15 weeks of pregnancy, with limited exceptions. Abortion opponents have asked the Arizona Supreme Court to allow enforcement of a law dating to the Civil War that bans virtually all abortions.
The proposed constitutional amendment would guarantee abortion rights until a fetus could survive outside the womb, typically around 24 weeks of pregnancy. It also would allow later abortions to save the mother's life or to protect her physical or mental health.
"We know the work for achieving reproductive freedom is an uphill battle, and this ballot initiative is the next critical step in our renewed drive to protect the health and freedom of our patients and our communities," said Chris Love, senior adviser to Planned Parenthood Advocates of Arizona, the political arm of the state's leading abortion provider.
Maria Birnbaum, Arizona director for the anti-abortion group Susan B. Anthony Pro-Life America, said the proposal "aims to create an Arizona unrecognizable to those of us who live here."
"This proposal would impose painful late-term abortions up to birth," Birnbaum said in a statement. The Republican Party has struggled to navigate the politics of abortion since the Supreme Court's decision last year rescinding federal protections for the procedure put the question at the forefront of state politics and created a state-by-state patchwork of restrictions and bans.
Voters in Republican-leaning states, including Kansas and Kentucky, have responded by protecting abortion access. Voters in Ohio are deciding Tuesday whether to make it more difficult to change the state's constitution ahead of a November vote on abortion rights.
In Arizona, about two-thirds of voters said in last year's midterms that the Supreme Court's abortion ruling was an important factor in their vote, according to AP VoteCast, an expansive survey of more than 3,200 voters in Arizona. Those voters overwhelmingly favored Democrat Katie Hobbs, who narrowly won the governor's race.
"I'm thrilled that Arizonans are going to have the opportunity to make their voices heard next November, and I'm confident they will support a constitutional right to abortion," Hobbs said in a statement released Tuesday by her political adviser.
Biden won Arizona by fewer than 11,000 votes, one of his narrowest victories in 2020, and the state will again be central to his campaign. Biden made his second trip to Arizona as president Tuesday, announcing a national monument designation for the greater Grand Canyon.
The abortion rights groups behind the Arizona initiative include the American Civil Liberties Union of Arizona, Affirm Sexual and Reproductive Health, Arizona List, Planned Parenthood Advocates of Arizona, NARAL Arizona, and Healthcare Rising Arizona. They'll have to collect 384,000 signatures from registered voters by July to put the question on the 2024 ballot.