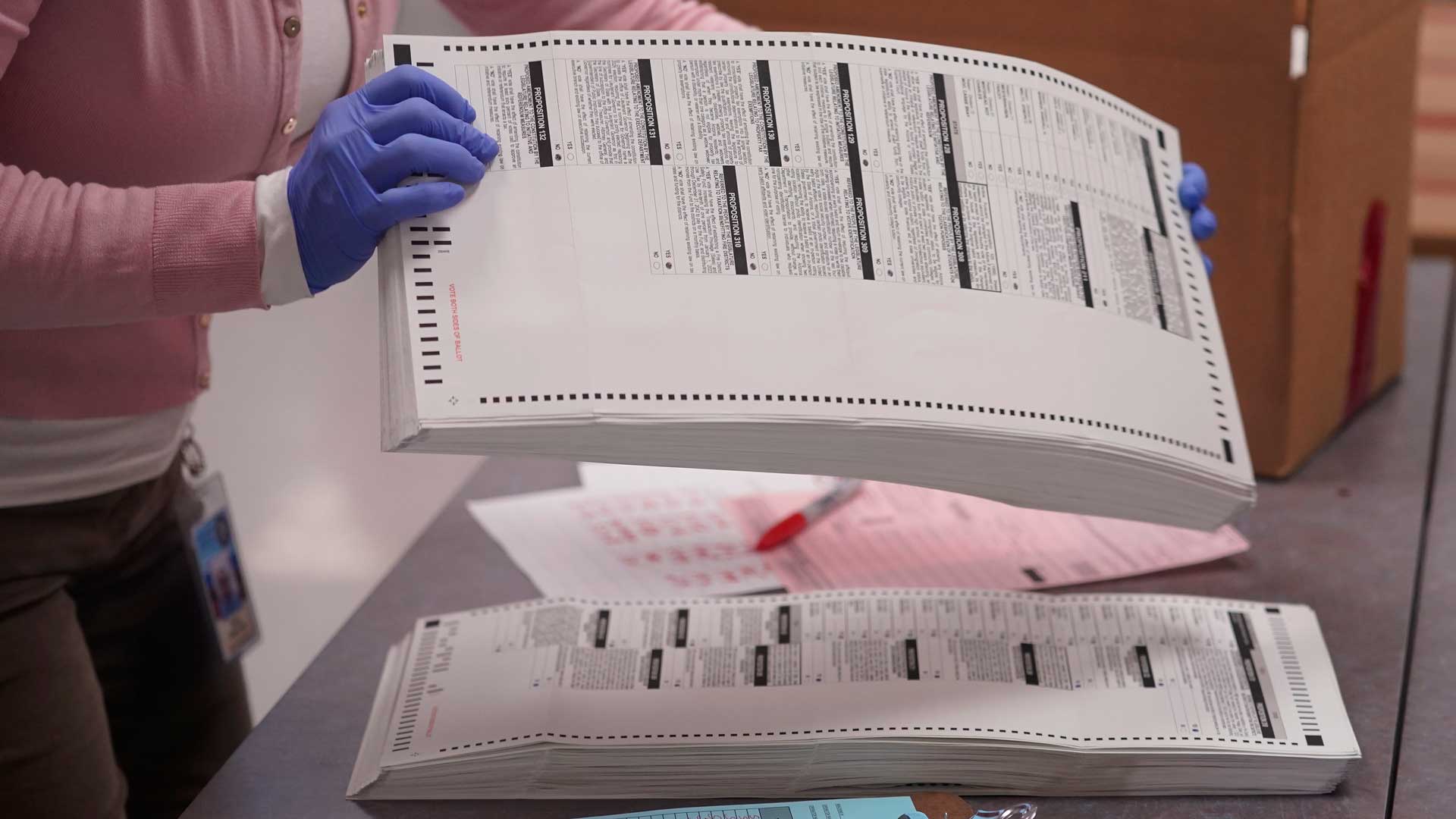 An election worker gathers tabulated ballots to be boxed inside the Maricopa County Recorders Office, Thursday, Nov. 10, 2022, in Phoenix.
AP Photo/Matt York
The Cochise County Board of Supervisors voted to not approve the contract with Authentix and Pro Vote Solutions, which proposed to add measures like watermarks and barcodes to prevent ballot fraud. Both companies proposed to also provide the paper for printing ballots.
Supervisor Ann English was against the item. She said Cochise County Recorder and former Interim Elections Director David Stevens never cited a need for added fraud prevention.
"He didn't say we need special paper," said English during Tuesday's special meeting. "He never came to us and said there's a problem that this is going to solve … So, why are we dragging out this agony when there's no need?"
English and Board Chair Peggy Judd voted to kill the amendment to the $1 million Arizona Department of Administration's Election Security Grant, which would have financed the ballot fraud prevention measures. Supervisor Tom Crosby voted in favor, saying that the measures are not a remedy to a problem.
"I see this particular contract and extension of the grant as an ounce of prevention, and I don't think that — I've never said that we've had counterfeit ballots, I'm not aware that we've had counterfeit ballots," said Crosby during Tuesday's meeting. "So, I do not say that this issue that is before us today is a remedy. It is not going to stop all negative other factors dealing with elections integrity — particularly the issues having to do with mail-in ballots."
No member of the public spoke in favor of the measure during the meeting. Some argued that the measures solve a problem that doesn't exist. Others claimed it promoted all mail-ballot elections, which they claim are ripe for fraud.
English voiced her opposition to the contract and grant funds, saying that in order to amend the deadline for that $1 million ADOA grant, the contract required that the county submit a Request For Proposal at least 30 days before the grant deadline. That deadline was initially set for April 30.
"But by the time he (Stevens) got the RFP (Request For Proposal) written with the help of Authentix, then the grant time had passed," English said. "So, why should we resurrect — and that's what we'd be doing — resurrecting a thing that already died in order to look to spend money on items that we do not need. And there's been no indication from the county or from Mr. Stevens that we had a need here to do that ... I say we let this grant end. Mr. Stevens already has spent over $180,000 with Runbeck (Election Services)."
Stevens said that English's statement claiming that he worked with Authentix on the Request For Proposal is false. He added that he worked only with the county's procurement department and Deputy Civil County Attorney Paul Correa on the RFP. He also refuted her claim that the grant extension process didn't follow the contract.
"The RFP matches the statute and the contract," Stevens said.
English said in an email to AZPM Tuesday evening that she does not have documentation that shows Stevens collaborating with Authentix on the RFP.
"When the RFP mirrors what a company proposes in response to the RFP, there is a good reason to believe the company had a part in writing the RFP," said English in the email.

Members of the public voiced accusations about a connection between the Texas-based company Authentix and former Arizona Representative and Secretary of State candidate Mark Finchem. The Washington Post reported that Finchem met with executives at Authentix after the 2020 election.
AZPM contacted Authentix and Finchem to confirm that event, but did not receive a response.
Sierra Vista Resident Daniel LaChance claimed that he met with Stevens on April 6, and said Stevens agreed with him that an all mail-ballot election cannot be certified due to "a lack of chain of custody" with the paper ballots and a "lack of voter ID."
Stevens confirmed to AZPM that the meeting with LaChance happened — along with three others — around mid-April. But he said that he did not discuss certification of all mail-ballot elections, and instead, discussed chain of custody.
"Chain of custody begins when I receive them (ballots)," said Stevens. "But until they come back in, I don't have control of them."
In an earlier work session on Tuesday, the Board approved Elections Director Bob Bartelsmeyer to fully take over the elections department with the resignation and termination of the agreement with Interim Elections Director Stevens.
Stevens' resignation as the Interim Elections Director will be final on September 7, but he will continue to serve as the County Recorder.
Bartelsmeyer will run the November election, which includes bond and property tax questions.
The termination of the agreement between the board and the county recorder places oversight of the elections department back with the County Administrator.