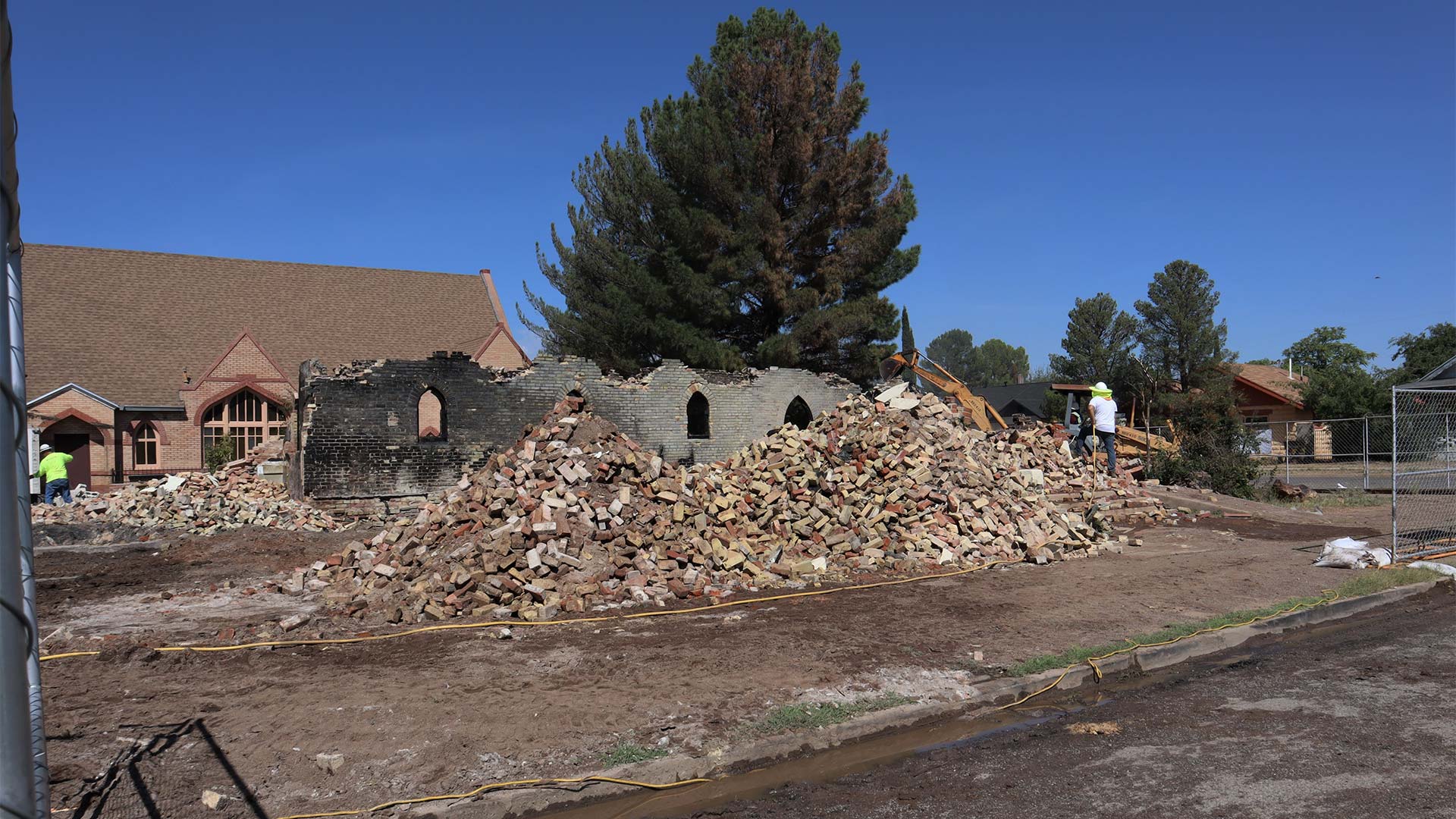 The former Saint Stephen's Episcopal Church in Douglas, AZ. The church was one of two prey to fire damage due to suspected arson. August 31, 2023. Photo by Summer Hom, AZPM News.
One of the two Douglas churches that burned due to suspected arson has been demolished as a result of the damage. The Episcopal Bishop of Arizona Jennifer Reddall said that the scale of the fire damage at Saint Stephen's Episcopal Church in Douglas left them with no other choice but to demolish the more than 100-year-old church.
"There was no way to save it … We didn't have a choice in that," said Bishop Reddall.

She said since the fire broke out in May, destroying the sanctuary and one house on the church property, the congregation at Saint Stephen's Episcopal Church has been holding services in the Methodist church on the same block.
For the First Presbyterian Church, which also burned in the same fire but still has all four walls standing, things have not progressed as smoothly.
Co-minister of the First Presbyterian Church Reverend Peggy Christiansen said that before they can begin to evaluate what they can salvage from the church that was founded in 1906, they have to remove asbestos, which will cost between $350,000-to-$450,000.
"We can't get any realistic figures from anyone until the building is cleared out of asbestos and shored up for safety," Rev. Christiansen told AZPM Thursday. "And it's taken us forever to get estimates from companies … Since we're in Douglas, we really pretty much have to rely on people being willing to come down from Tucson or Phoenix."
She said they're looking to save parts of the church: the church has received more than $50,000 dollars in donations. They have been holding services at the Methodist Church as well and have recently move to having services at the Catholic Sacred Heart Chapel in neighboring Pirtleville.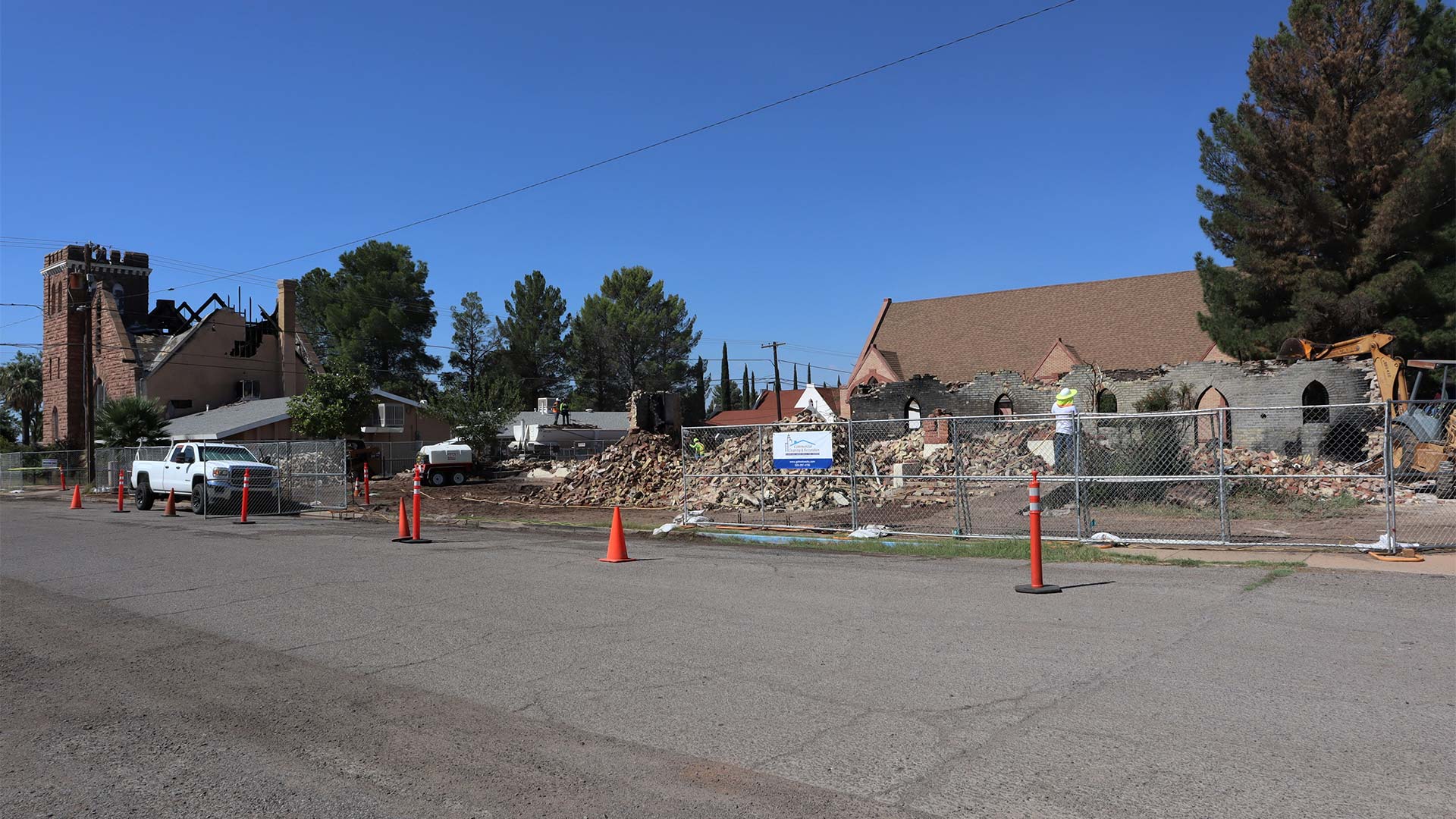 First Presbyterian Church (left) and what remains of Saint Stephen's Episcopal Church three months after a fire broke out at both churches. A suspect for arson awaits trial in federal court later this month. August 31, 2023.
Summer Hom, AZPM News
Three months after the fires broke out at Saint Stephen's Episcopal Church and First Presbyterian Church in Douglas, church leaders are grappling with the realities of the damage.
"Unfortunately, the interior of the sanctuary is pretty destroyed," said Rev. Christiansen. "We lost everything that was in there. The floor collapsed, the roof collapsed."
The damage at Saint Stephen's Episcopal Church, the second church burned in that same fire, was severe enough that nothing was salvageable, according to Bishop Reddall.
"All but one of the buildings on the property were substantially damaged: so our offices, the sanctuary itself, and a rectory — a house on the property," said Bishop Reddall. "So, those were all a total loss, and we're in the process of demolishing those, so we can begin to figure out what's next for the congregation and the community."
Both properties are more than 100 years old. The man indicted and charged with two felony counts of arson related to the fire goes to trial later this month. Court documents indicate his motivations likely were fueled by prejudice against the churches' LGBTQ and female leaders. The co-minister of First Presbyterian Church is a woman and the former vicar of Saint Stephen's Episcopal Church is openly gay, according to court records.
"Particularly because it seems that the person who burned the church down was motivated by hate, that the rest of the world has an interest in seeing that we respond with love," said Bishop Reddall.
Rev. Christiansen said that she and her congregation are not going to stop standing up for what they believe in: inclusivity.
"Our congregation believes in inclusivity, we believe that everyone is a child of God and everyone deserves to be treated with dignity and respect," Rev. Christiansen said. "We believe that women are just as capable of doing ministry as men are. We believe that gay people and straight people are all part of God's Kingdom. God doesn't discriminate."
Bishop Reddall said she doesn't yet have an estimated cost to rebuild Saint Stephen's Episcopal Church. For now, she will be looking for a new priest for the Douglas church, because the prior one has left for a new position, and to work with elected officials and community members to see what the community's needs are.
Rev. Christiansen said they hope to stabilize the property, so asbestos abatement can begin. They also hope to fix up the church's annex, which wasn't damaged in the fire, so they can begin holding services there.