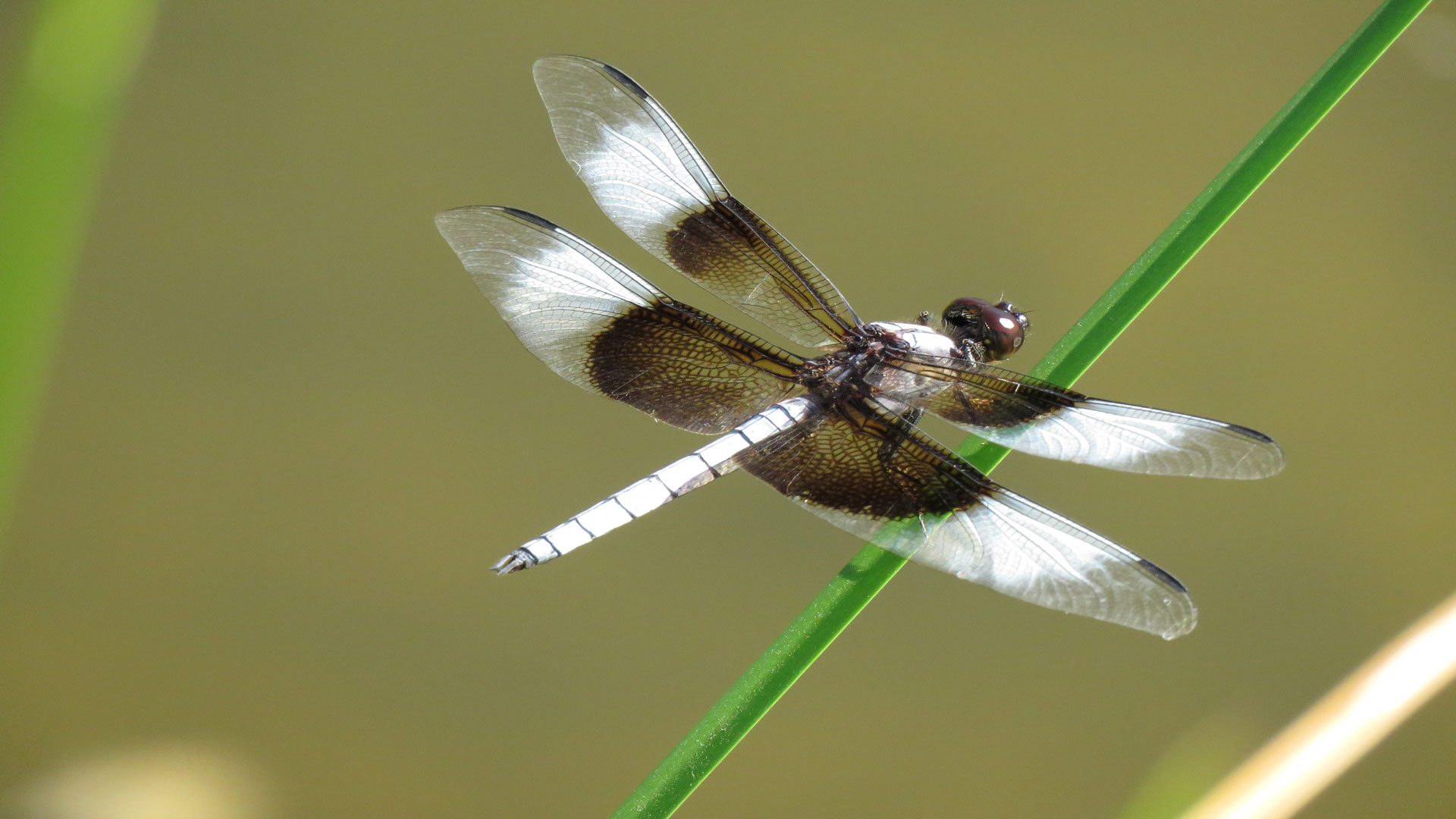 A Widow Skimmer dragonfly perches on a plant on the Santa Cruz River in Tucson, Ariz. The 2023 Dragonfly BioBlitz is hoping to document the return of insects like this to the restored Santa Cruz River.
Dr. Michael Bogan
Dragonflies are returning to Tucson, and one University of Arizona professor is asking the community to help document their comeback.
The first-ever Dragonfly BioBlitz is happening throughout the month of September to show the success of restoration efforts on the Santa Cruz River.
A bioblitz is a citizen-science effort to record as many species at a certain location as possible within a certain time period, according to the science social network hosting the event iNaturalist.
Project leader Dr. Michael Bogan is an Associate Professor in the School of Natural Resources and the Environment at the University of Arizona.
Those who want to participate in the BioBlitz just need a camera or smartphone, and an account with iNaturalist.
Users can then take photos and videos of the dragonflies they see when they visit any one of the 13 identified dragonfly locations along the Santa Cruz river. Then, they upload their images, location data, and written observations to the iNaturalist app. The resulting data will be used by Bogan and his team to expand the knowledge of the river.
According to Bogan, dragonflies and damselflies are a vital part of southern Arizona food chains. Perhaps most notably, they eat the bugs that eat us.
"Everybody loves that dragonflies and damselflies eat mosquitoes," he said.
Abundant dragonflies and damselflies also means the return of bigger animals who eat insects, including turtles, frogs, birds and raccoons.
Bogan said the Santa Cruz river dried up when Tucson started developing. However, the city's decision in 2013 to release highly treated wastewater into the river means biodiversity is improving.
Species of dragonfly on the Santa Cruz have been slowly increasing since 2013, Bogan said, and his team is hoping the BioBlitz will show even higher numbers. According to Bogan, 62 species of the insects have returned already.
Bogan said he thinks the return of these insects to the previously desolate river is a rare slice of good news in the climate conversation.
"They're really these colorful symbols of hope of the river coming back to life," he said.
More information about the program can be found on the BioBlitz webpage.