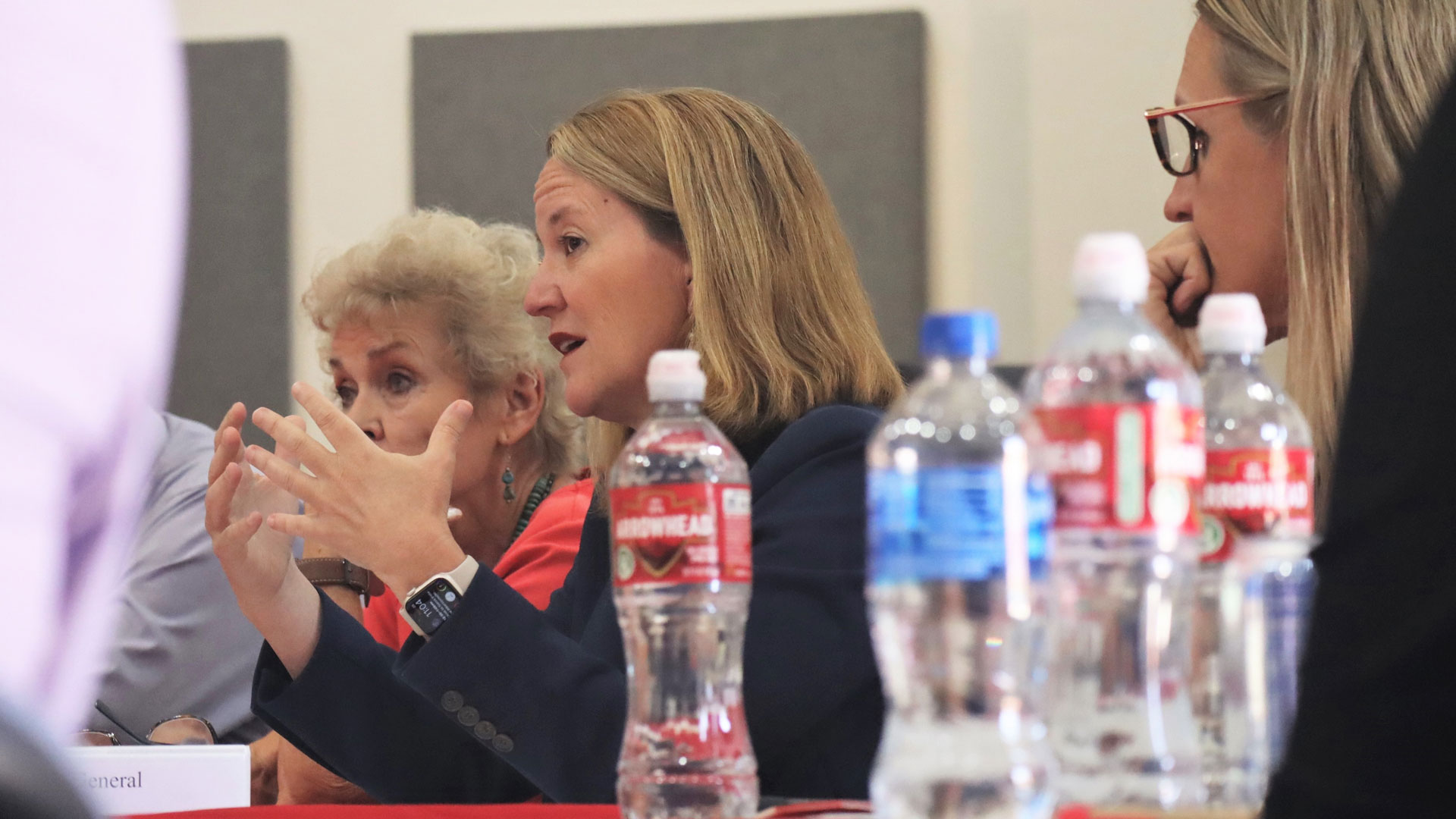 Arizona Attorney General Kris Mayes talks with healthcare providers from Cochise County about how they would like to use the county's $11.8 million of the state's opioid settlement funds. July 26, 2023. Photo by Summer Hom, AZPM News.
As the funds from the national opioid settlement begin to trickle down to the states, a coalition in Cochise County has been tasked by Arizona Attorney General Kris Mayes to suggest how to use the county's $11.8 million share.
The Cochise Addiction Recovery Partnership, otherwise known as CARP, was founded in 2017 and aims to help connect those with Substance Abuse Disorder with resources and to help them get into treatment.
"The former mayor of Bisbee Dave Smith during a public meeting, had a young mother address the dias and share her own personal struggles with addiction," said Douglas Police Chief Kraig Fullen, who is also the chair of CARP. "And was really asking for help and didn't know where to turn ... And so, we brought different professionals and representatives from the Cochise County Department of Health and Social Services, those folks that are working in non-profit areas with Substance Abuse Disorder, mental health for the initial meeting. And there was subsequent meetings after that."
The group formed at a time when there was a resurgence of heroin in the county.
"And even given our proximity here and our long history with narcotics and being a corridor for narcotics, Heroin was something that I had not seen in my tenure," said Chief Fullen. "And we were already having interactions with people on the street with their kits, their syringes, their spoons, and then, the actual heroin itself. So, it was alarming."
He said the Douglas Police Department has seen an uptick in arrests for both illegal substance possession and transportation as well as an increase in the drug overdose rate.
"We had, in 2017, five reported overdose cases," Chief Fullen told AZPM. "2018 and 2019, we were also five. 2020, it jumped to 30. 2021, 20. And then, 2022 and 2023 year to date, we had eight for each of those years."
When asked what resources are needed to combat the effects of the opioid crisis in Cochise County, the overwhelming consensus from local healthcare providers was a detox center, which the county does not have, more educational programming, and peer support.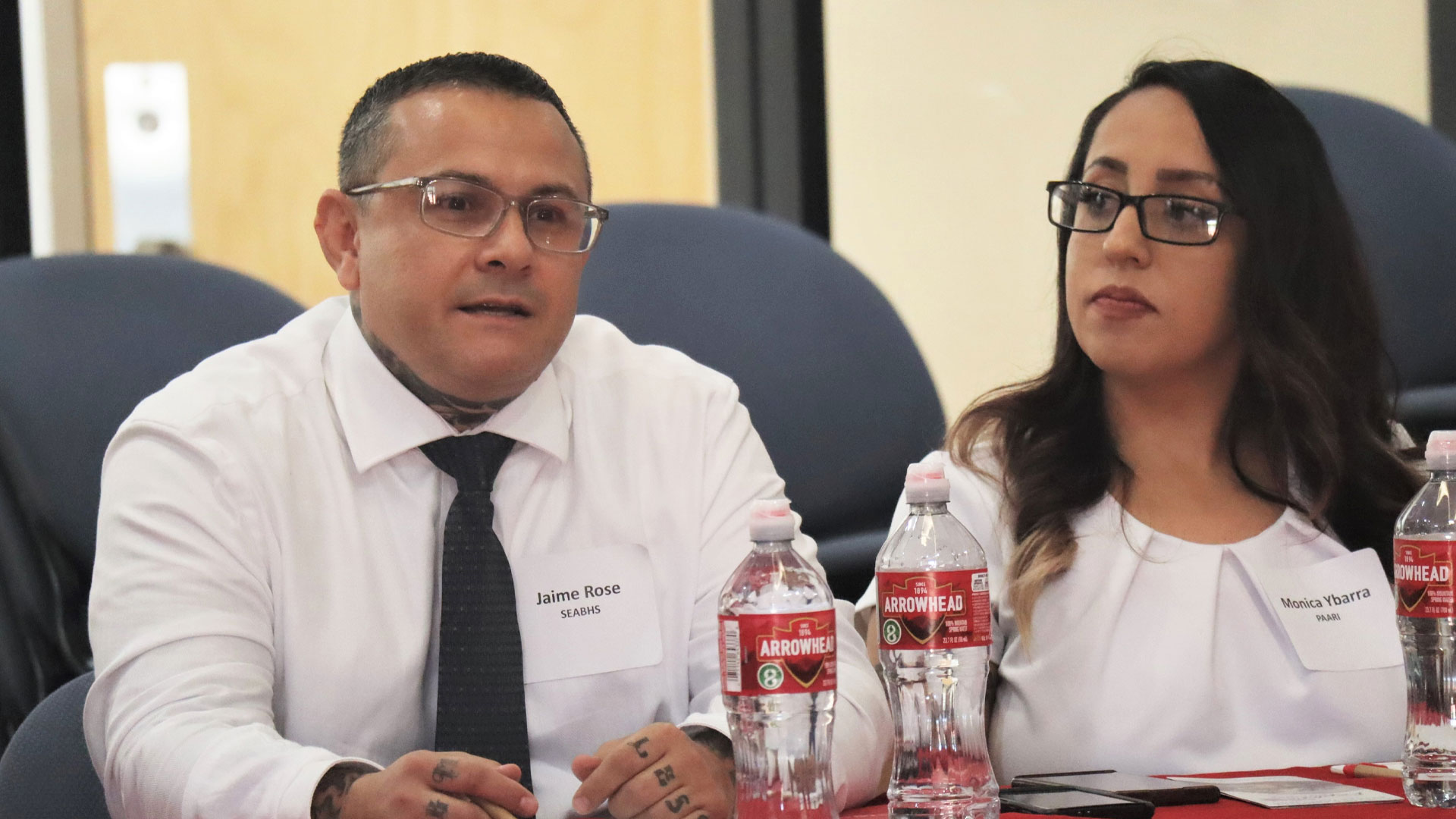 Jaime Rose, Southeast Arizona Behavioral Health Services Recovery Aid (left), and Monica Ybarra, co-chair of the Cochise Addiction Recovery Partnership, talking to Attorney General Kris Mayes during a round table discussion about the opioid settlement funds in Bisbee. July 26, 2023. Photo by Summer Hom, AZPM News.
Jaime Rose, a recovery aid with Southeast Arizona Behavioral Health Services, said that peer support for a recovering addict is immensely critical, especially in helping them find a safe place to live, food and transportation to access treatment.
"Only 3% of addicts recover," said Rose. "And that's a very small number ... When I used to be released from jail and I would want to change — I didn't want that life. But I literally looked at my city, I had nowhere to go. So, I would go to the couch at my friend's house where they were all using. You know, what chance do you stand? So we've got to give people a fighting chance if we really want to make a change. If we're really going to do this, we should do it right."
Out of the $380 million settlement that will be administered over the course of 15 years, local governments are expected to get 56%, or nearly $213 million to Arizona's 15 counties.
Cochise County will get a grand total of $11,850,573.94, or about 1.8% of the funds that will be distributed to counties.
The other 44% of the settlement funds will go to the state for opioid amelioration programs. The total amount of funds for those programs is more than $167 million.